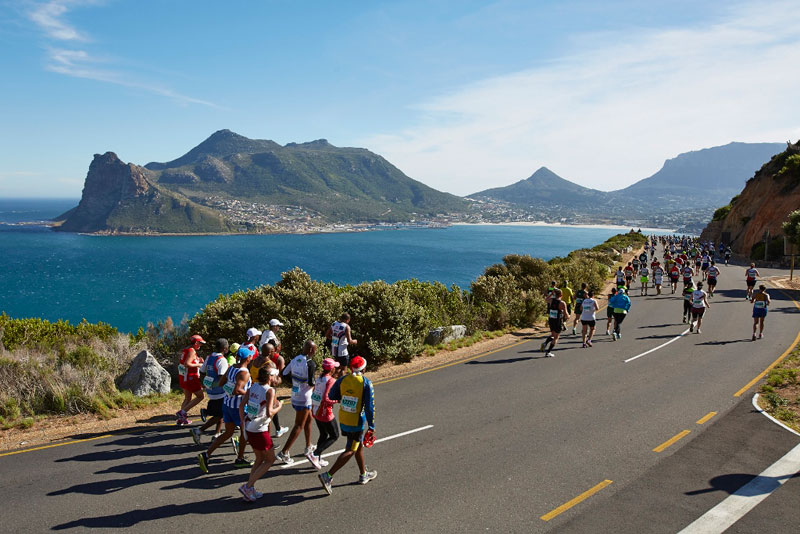 (Cape Town, March 2017) Elite runners in the 2017 Old Mutual Two Oceans Ultra Marathon will once again be racing towards a large incentive on April 15th.
Break the Two Oceans Ultra Record and win R1-million
In addition to the prize money that will be won, title sponsor Old Mutual has also put a R1-million bonus prize on the table for the first male and female to break the respective Ultra records.
"The Old Mutual Two Oceans Marathon is a highlight on the South African running and social calendar," says Karen Thomas, Head of Brand at Old Mutual. "It's a massive event that continues to grow and what really elevated the race to another level was the bonus incentive we introduced for the runners who break the record."
"More international runners have been drawn to the race since the bonus was introduced, plus it's added an extra element of excitement to the day. At Old Mutual we believe in the benefits of perseverance and commitment, so the bonus incentive is our reward to runners who wow the world with their dedication and determination. It's no easy feat to break this record, but we believe with proper planning; grit and focus, it can be done."
The R1-million bonus was first introduced to the Ultra Marathon ahead of the 2014 event, which sparked new motivation among elite runners to break the records originally set by Thompson Magawana and Frith van der Merwe.
Magawana set the men's record of 3:03:44 in 1988, while Van der Merwe set the women's record a year later in 1989 when she ran 3:30:36.
The closest any runner has come since then is Zimbabwean Marko Mambo, who ran 3:05:39 in 2005. Russian Olesya Nurgalieva ran the second fastest women's time in 2008 when she crossed the finish line in 3:34:53.
But, says Carol Vosloo, Two Oceans Marathon NPC General Manager, breaking these records will be a hard-won battle.
"The records were set on a downhill finish, which means runners now face the challenge of having to contend with an ascent to the finish line at UCT.
"We don't think it's impossible to break these records, but Old Mutual's Virtual Coach, Norrie Williamson estimates that only runners with lightning fast marathon times – 2:07 for the men and 2:23 for the women – will have a fighting chance."
Coach Norrie put together a pacing chart of required splits to match Magawana and Van der Merwe's respective records:
The pace to finish in 3:03:44 on current Two Oceans route (men's record)
Top of Wynberg Hill on Main Road: approx. 3.5km – 00:10:58
Corner of Station Rd & Main Rd in Retreat: approx. 10km – 00:31:04
Clovelly Rd and Main Rd Junction: approx. 20km – 1:02:52
Noordhoek Veterinary Clinic: 28km – 1:28:01
Four Seasons Farm in Hout Bay: 42km – 2:14:49
Top of Constantia Nek: approx. 46km – 2:31:01
Kirstenbosch Top Gate: approx. 50.5km – 2:44:13
Start of Chet's Hill: approx. 3km to go – 2:53:42
Finish Line: 3:03:44
The pace to finish in 3:30:36 on current Two Oceans route (women's record)
Top of Wynberg Hill on Main Road: approx. 3.5km – 00:12:36
Corner of Station Rd & Main Rd in Retreat: approx. 10km – 00:35:42
Clovelly Rd and Main Rd Junction: approx. 20km – 1:12:25
Noordhoek Veterinary Clinic: 28km – 1:41:16
Four Seasons Farm in Hout Bay: 42km – 2:35:06
Top of Constantia Nek: approx. 46km – 2:53:49
Kirstenbosch Top Gate: approx. 50.5km – 3:08:52
Start of Chet's Hill: approx. 3km to go – 3:19:55
Finish Line: 3:30:3