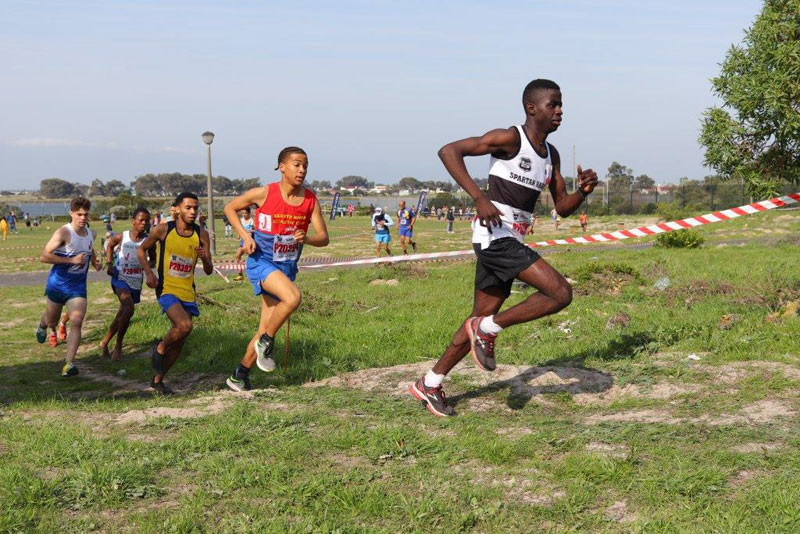 Lwandle AC proved that although they may be a young club, they were more than capable hosts for the 4th Cross Country League event held at Broadlands Farm, just outside Gordon's Bay.
4th Cross Country League 2019 – Broadlands Farm
The picturesque farm setting, provided plenty photo opportunities, even for those who wanted to take a selfie with one of the cows.  This was also one of the 1st venues to provide some much needed water splashing and mud, although some of the mud may also have been of the flavoured, been-through-a-cow-already, kind.  Strangely enough, the water was mostly avoided.
The scene was set for some furious racing though, with Edward Jack of Central picking things up where he left of by winning another 6km run, this time in 18:42, ahead of the fast improving Elyas Ayyoub and Sherwin Jooste.  The girls 18 run over 4km was won by VOB's Alexa Mesham in a brisk 14:52, holding off Farren Wenn and Anja van Heerden.  In the Girls 20 race over 6km Athemba Nqumashe of Bottelary AC managed another win, pulling away from the early leader Kia Gibbs and the ever present Caitlyn Schlehmeyer.  Oliver Stewart was a boy on a mission in the Boys 20 race over 8km, taking off from the gun, but he was overhauled by eventual winner Carlo Flink of Itheko, who crossed the line in 24:26.  Gershon Aziza claimed 3rd in that race.
By the time the fierce Senior 10km came, even a herd of goats wanted to join in on the action, but they were quickly whisked away as they did not pay the entry fee.  The winner coming out of these races can never be predicted as some courses suite runners remarkably differently.  Andre Afrika of Eerste River AC seemed to relish the heart-break hill on each lap as he came out a worthy winner after lap 5 with a time of 30:29.  He was followed home by marathon great Duane Fortuin and Keaton Lott.  Zintle Xiniwe of Boxer claimed victory in the Women's race, followed by Leanda du Bruyn and Vuyiseka Ncumenge.
In the 4km dash, Sibusiso Magwaza crossed the line 1st, followed by Emile Paulsen and a smiling Andre Afrika.  Kyla van Graan, running for Murray and Roberts, was victor ahead of Leanda du Bruyn and Nocwaka Mteto.
Probably inspired by all the running going on on Broadlands Farm, a piglet was spotted close to the route digging for some inspiration before darting off to its pen like a bat outa hell. See how cross country inspires others?
League 5 will be hosted by Top Form on 28 July 2019 and should prove to be as much fun as always.  See you there and happy Training!
Article and image by Brian Records