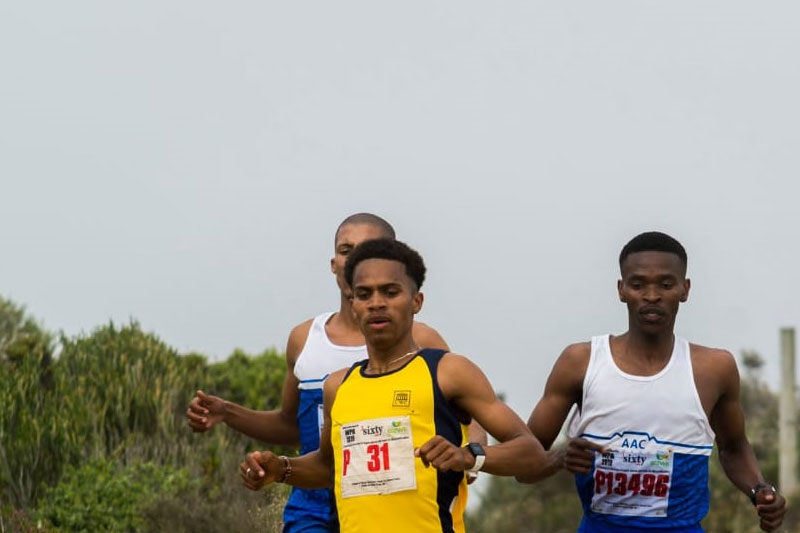 Battle lines have been drawn with the WPA Cross Country Championships just around the corner and some of those battles are turning out to be quite fierce. The chilly breeze at Elfindale's Cross Country League 5 on this past Sunday could easily have been mistaken for the steely resolve some of the runners had, but most of them do turn out to be quite friendly. Friends on and off the fields of play, but never, ever expect an inch to be given at the sharp end.
5th Cross Country League 2019 – Elfindale
Alexa Mesham of VOB continued on her merry winning way by taking the Girls 18 run over 4km, crossing the line in 16:45, this time followed home by Gina de Klerk, while consistent Kharnya Francis had to settle for 3rd. Maybe spurred on by Alexa's win, young Elyas Ayyoub, also of VOB, won a thriller in the Boys 18 race over 6km in a time of 21:50. Hard work is paying off for this young lad and we wait to see how he can still grow into the sport. A fierce sprint to the line was won by Johagen Jansen, taking 2nd ahead of Edward Jack.
VOB made it 3 wins when Kia Gibbs won the Girls 20 race over 6km in 26:26. Athemba Nqumashe settled for the 2nd spot, while she was once again followed by Caitlyn Schlehmeyer. Hopefully these youngsters from VOB will be able to carry their performances through to the Senior Ranks in the not too distant future! Carlo Flink of Itheko was his dominant self again when he won the Boys 20 four lapper ahead of Oliver Stewart and Mzwamadoda Nonjiko. He stopped the clock at 28:27, testament to the technicality of this particular course.
Andre Afrika is showing some good consistency, by taking another victory in the Senior 10km Beast, this time in 34:45. Something really lit up in this guys running over the past year and it is clear to see to all that he is hungry for more. He took this win ahead of Vuyolwethu Mbukushe and Raidon Balie. With the next League race a mere 5 days away, some of the other top guys were clearly sandbagging, but Andre would have been hard to beat, regardless. Boxer's Vuyiseka Ncumenge took the win in the Women's race, followed by a fast finishing Nolubabalo Dyonase and Sophie Cope.
As always, the day was closed off by the 4km Dash and the running here was quite fierce. Rowaldo Ratz was quite rats over the uneven terrain and he won it ahead of Anthony Timoteus and Sibusiso Magwaza, while Kayla van Graan took the honours in the Women's race ahead of the Giant Slayer Virgill-Lee Afrika and Sharlan Boer. The latter 2 making their trip for this event all the way from Worcester.
This coming Saturday is the Final League of 6 and the Team Competition is hotting up. We thank Top Form for hosting us and challenge Velocity to give us a surprise at the final League. Remember that WPA Champs is just around the corner, so get your online entries done!
article and image by Brian Records