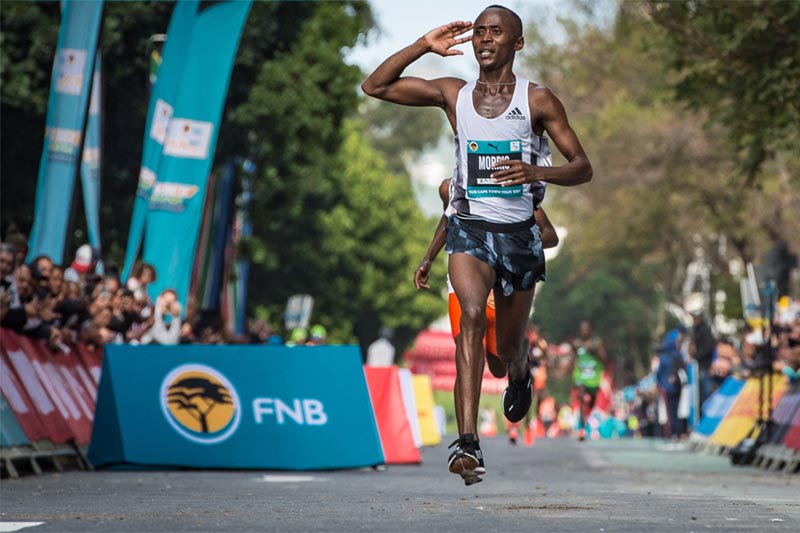 Morris Gachaga took line honours for the third consecutive time when he won the 2019 FNB Cape Town 12 ONERUN in Cape Town on Sunday 19 May.
Gachaga three-peats at 2019 FNB Cape Town 12 ONERUN
In cool and near perfect conditions some 14 300 runners set off at 09h00 from Woodbridge Island in Milnerton to take on the 12km to Cape Town.
With arguably the strongest field ever assembled the race was either going to turn into a fast and furious affair with the course record of 33:27 under threat, or a more tactical race of attrition. In the end it turned out to be the latter as the leading contingent of athletes surged repeatedly.
The first kilometer passed in 2:47 – record pace, and the excitement levels were high as the prerace talk was all about a new course record and a new World Best time. But a slight head wind in the first few kilometers saw the athletes take the foot off of the pedal and slow down. Five kilometers came and went in 14:22 with all the main contenders in the pack. With two time defending champion, Morris Gachaga, Abdallah Mande (4th in 2018), John Langat (3rd in 2018), Moses Koech, Alfred Ng'eno and Rhonzas Kilimo along with South Africa's Stephen Mokoka and Elroy Gelant all in the mix, the race was shaping up to a furious finish.
The second 5km was covered in 13:50 as Abdallah Mande decided to test the waters throwing in surge after surge once half way (6km) had been hit. The field was quickly stretched out into single file as one by one the main contenders fell by the way side of the relentless onslaught of Mande. Only Morris Gachaga was able to go with the hard running Mande.
Stephen Mokoka, unable to respond to the surge by Mande and Gachaga, settled in to try and whittle down the 50m gap that the leading duo had opened up after 7km. As Mande and Gachaga hit 11km at the bottom of Wale Street, Mokoka had closed up on them until they attacked again in the final 500m. This time though it was Gachaga who threw down the gauntlet in the PUMA Beat Bolt Sprint chute and quickly opened a gap of 3m which he was able to hold.
Gachagawas so confident of his win that he started punching the air with 300m to go. The diminutive Kenyan crossed the line a mere 11 seconds adrift from his own course record and world best time of 33:27, clocking 33:38 with Mande second in 33:39 and Stephen Mokoka third (33:50).
"I wanted to win my third title here today. The record was not as important for me. Win first, then worry about the record," said Gachaga after his race. "When Abdallah (Mande) went, I knew it was the move and had to stay with him. I was worried about my kick after my Paris Marathon in April, but I haven't lost it. It was my kick that carried me through the day."
Brillian Kipkoech smashes women's record at 2019 FNB Cape Town 12 ONERUN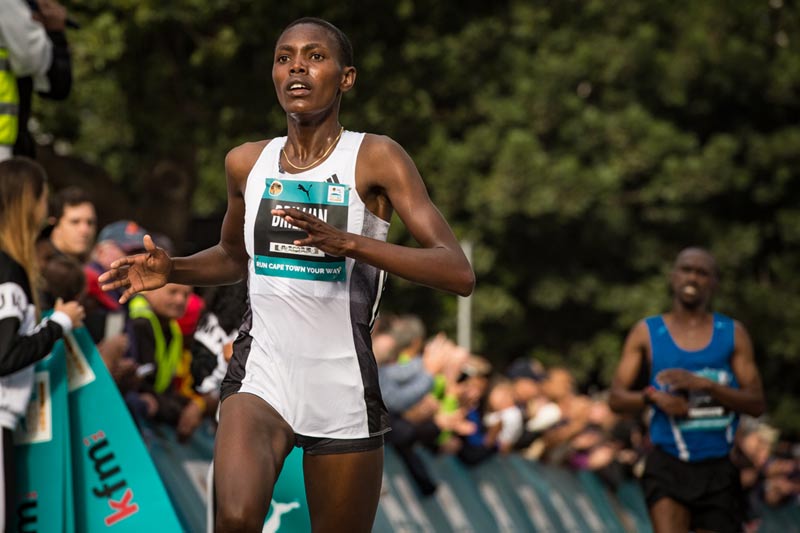 Brillian Kipkoech timed her race to perfection as she fed off the hard front running of 2018 Commonwealth Games 10 000m champion, Stella Chesang. The Ugandan had every intention of attacking the five-year old course record of Vivian Cheruiyot of 38:22 set in the inaugural race in 2015. The course record was on as half way came and went in 15:58. Tucked in behind Chesang were Sofiya Chege and Degitu Azamirew. Irvette van Zyl after having paid close attention in the first 3km had dropped off and was out of contention of repeating her 2016 win.
Kipkoech challenged for the first time in the final 3km of the race and just like Gachaga in the men's race, made her attack in the final 500m. Chesang, having driven the pace from the start, had nothing left in her legs as she gave way for the second year running and had to settle for the runners' up spot. Kipkoech smashed the previous course record of 38:22, coming home in 38:05 with Chesang again the bridesmaid (38:09) and Sofiya Chege third (38:10). The first South African home was Irvette van Zyl in 6th, improving her best time from 39:40 run in 2016 to 39:22.
"I made my move at the 11km mark. I wanted to see how my body felt and it responded well. So I attacked again with about 500m to go and was able to move away. I did not know about the course record, so I am very happy today," said Kipkoech.
The FNB Cape Town 12 ONERUN kick-started the 2019 FNB Run Your City Series which includes the FNB Joburg 10K CITYRUN and FNB Durban 10K CITYSURFRUN. "We would like to extend our congratulations to all the participants who took part in this highly competitive race, especially the runners who demonstrated their dedication and pure endurance until the end. Every runner's dedication, commitment and passion to race is truly noteworthy and has helped the bank in achieving the bronze label status with the International Association of Athletics Federations (IAAF)," adds Bonga Sebesho, Head of Sponsorships at FNB.
Images by David Tarpey
2019 FNB Cape Town 12 ONERUN TOP 10 RESULTS
Men: 1 Morris Gachaga 00:33:38, 2 Abdallah Mande 00:33:39, 3 Stephen Mokoka 00:33:50, 4 Alfred NG'Eno 00:33:52, 5 Moses Koech 00:33:53, 6 Kelvin Kibiwott 00:34:09, 7 Elroy Gelant 00:34:14, 8 Rhonzas Kilimo 00:34:19, 9 Joel Ayeko 00:34:24, 10 John Langat 00:34:36
Women: 1 Brillian Kipkoech 00:38:05, 2 Stella Chesang 00:38:09, 3 Sofiya Chege 00:38:10, 4 Degitu Azamirew 00:38:11, 5 Muliye Dekebo 00:38:46, 6 Irvette van Zyl 00:39:22, 7 Tish Jones 00:40:31, 8 Kesa Molotsane 00:40:45, 9 Fortunate Chidzivo 00:41:01, 10 Lebo Phalula 00:41:22
CHARITY SUPPORT: When entering the 2019 FNB Cape Town 12 ONERUNonline, runners could choose to make a monetary donation towards either or all four of the event's charities: 1. help2read, 2. Cotlands, 3. Die Burger Kinderfondsand 4. The Cape Of Good HopeSPCA.
EXCITING NEWS:At the 5th running of the FNB Cape Town 12 ONERUN gold medals aka "Morris Gachaga Medals" wereawarded to the first 100 runners that cross the finish line, while silver medals were awarded to positions 101 – 500.
NEXT UP: FNB Run Your City Series
Date: Event:
1. Tuesday, 24 September 2019 FNB Joburg 10K CITYRUN
2. Sunday, 13 October 2019 FNB Durban 10K CITYSURFRUN