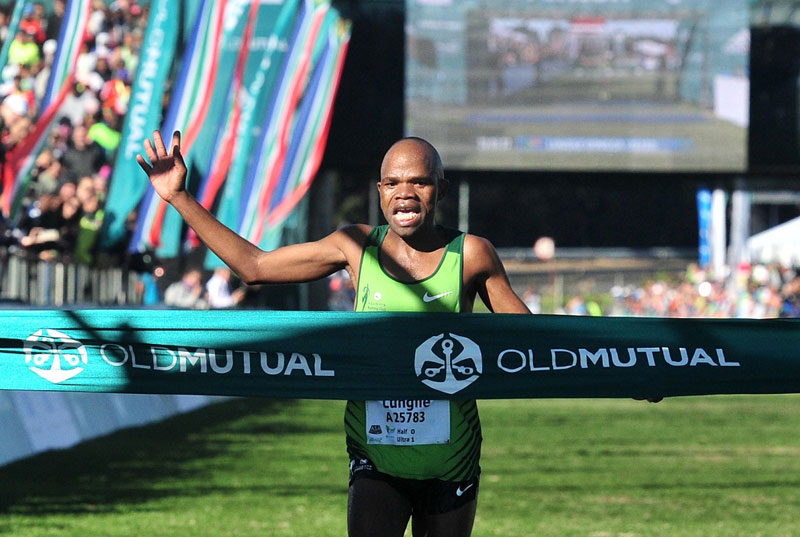 (Cape Town, 15 April 2017) Olympic marathoner Lungile Gongqa took a comfortable win in the 2017 Old Mutual Two Oceans Marathon, crossing the finish line in 03:09:43 and becoming the first Capetonian since 1973 to take the Ultra title.
Lungile Gonqua Two Oceans the Cape's Champion
Gongqa, running his first Ultra Marathon in Nedbank colours, was part of the lead bunch from the start, but broke away after the 47km mark – and again at 52km – to ultimately outpace Maxed Elite Lesotho athletes Warinyane Lebopo (2nd in 03:10:21) and Teboho Sello (3rd in 03:11:48) to the finish line.
Maryna Damantsevich wins Two Oceans Women's title
In the women's race, Belarusian Maryna Damantsevich had a convincing lead by the half marathon mark, and set the pace early on after a mishap at the start convinced her she had fallen behind. She finished her race with a 10-minute lead.
"Someone bumped into me at the start and I fell a few times. I thought I was in second place, but couldn't find the woman in front of me, so I ran faster to catch up," Damantsevich explained via coach Anatoliy Bychkov.
"I am very happy about my win, and I loved everything about the race."
Jenna Challenor had a strong maiden Ultra, and finished second in a time of 03:47:32. Tanith Maxwell followed in third place, finishing in 03:55:42.
The women's race was left wide open after a hamstring injury brought defending champ Caroline Wöstmann's race to an abrupt end at the 11km mark.
In the Half Marathon men's race, Namakoe Nkhasi successfully defended his title and set a new OMTOM Half Marathon course record in a time of 01:03:15, beating Khoarahlane Seutlaoli (1:03:45) in second place, and David Manja (1:04:19) in third place.
Nkhasi was ecstatic about his record-setting win and added that not even the windy conditions could keep his eyes off the prize.
In the women's race, Irvette van Zyl reclaimed her Half Marathon title in a time of 01:13:53. Nolene Conrad arrived at the finish line about 30 seconds later finishing in second place (01:14:27), while Louisa Leballo came third (01:15:00).
"This is a very special race, despite the tough conditions" said Van Zyl. "The wind provided quite a challenge, but I am so happy to come back and take the win."
After a few days of rain, the 2017 edition of the world's most beautiful marathon dawned to a cool and windy morning with the promise of clear skies. Although there was a stiff breeze along parts of the route, runners described the day's conditions as great for running.
"Today was about embracing what the Old Mutual Two Oceans Marathon really is about – a celebration of running and runners. The #RunAsOne spirit was palpable at the start, along the route, and at the finish, we always love to witness how one event can unite people from all cultural and socio-economic backgrounds." said Carol Vosloo, general manager of the Two Oceans Marathon NPC.
"We also implemented our #GOGREEN waste management plan this weekend, coupled with our anti-littering campaign. We are still waiting on feedback from our feeding stations, but we are excited to see the non-organic litter discarded into the Throw Zones being transformed into at least 500 school desks for needy schools in and around Cape Town."
"Today was another incredible day of racing at the Old Mutual Two Oceans Marathon," said Karen Thomas, Old Mutual Head of Brand. "Every year I can't wait to see what the world's best athletes will achieve at the world's most beautiful marathon, and this has been another occasion where their prowess has blown me away. I'm sure everyone who witnessed the race on television and the supporters along the route will agree. Congratulations to both of today's worthy winners."
"A highlight of the Old Mutual Two Oceans Marathon is that you get to see world class runners in action and get to watch everyday runners tackle the same route," added Thomas. "This is what makes the Two Oceans Marathon special; it's an event that caters not only to all level of runner, but also one where everyone is cheered on wildly by the crowds. Old Mutual is proud to be associated with a race that makes so many people feel so special."
Medical Overview
According to race doctor, Dr Adrian Rotunno, the medical tent didn't see too many trauma incidents, which can be attributed to favourable running conditions.
"Some of the most common medical issues included mild dehydration, and a few incidents of exercise-associated postural hypotension where only the simple treatment with lower limb elevation was necessary. Cramping was another complaint as the day progressed."
Old Mutual R1-million Bonus Stands
Title Sponsor Old Mutual's R1-million prize bonus to the male and female runner breaking the Ultra Marathon records remains safe, as the 1988 and 1989 records established by Thompson Magawana (03:03:44) and Frith van der Merwe (03:30:36) respectively, continue to stand.
Two Oceans 2017 Race Results
56km Men
1st: Lungile Gongqa – Nedbank RC Western Cape (3:09:43)
2nd: Warinyane Lebopo – Maxed Elite – Lesotho (3:10:21)
3rd: Teboho Sello – Maxed Elite – Lesotho (3:11:48)
56km Ladies
1st: Maryna Damantsevich – Nedbank RC International – Belarus (3:37:13)
2nd: Jenna Challenor – KPMG Running Club KZN (3:47:32)
3rd: Tanith Maxwell – Boxer Superstores AC (3:55:42)
21km Men
1st: Namakoe Nkhasi – Nedbank RC International – Lesotho (1:03:15) * new record
2nd: Khoarahlane Seutlaoli – Maxed Elite – Lesotho (1:03:45)
3rd: David Manja – Nedbank Development Club Central North West (1:04:19)
21km Ladies
1st: Irvette van Zyl – Nedbank RC Gauteng North (1:13:53)
2nd: Nolene Conrad – KPMG RC WP (1:14:27)
3rd: Louisa Leballo – Nedbank RC Gauteng North (1:15:00)