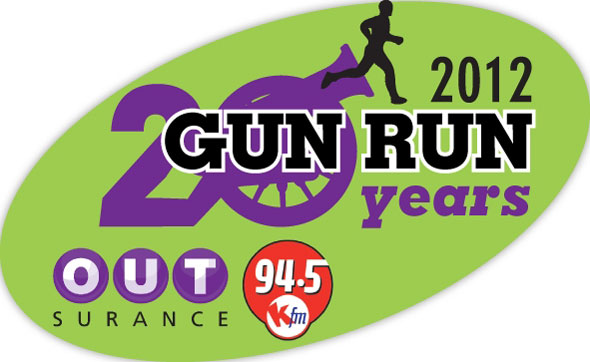 Entries for one of Cape Town's biggest and most popular road running events, the OUTsurance 94.5 Kfm Gun Run, are open and participants can enter online at www.thegunrun.co.za or pick up an entry form from leading sports stores around the city.
The event takes place on Sunday 14 October and participants can choose to take part in the 21km half marathon, 10km run/walk or the 5km fun run/walk, aimed at families, younger participants, beginners and walkers.
"This is the seventh year we have been involved with the Gun Run and plans are being put in place to make it the best one yet.  Last year the event attracted over 11 000 participants, despite the Rugby World Cup semi final taking place on the same day, so we expect to host close to 15 000 on race day," said marketing director for OUTsurance, Peter Cronje.
Last year saw the introduction of the RaceTec timing system for the half marathon, which will again make use of this system that offers state of the art technology and ensures that the processing of results and times is far easier and more user-friendly.  Those runners who already have a RaceTec chip can use it for the half marathon, while those that do not will need to buy one for R100.  Runners will not require a chip for the 10km or 5km events.
Runners are advised to note the amended start times for the 10km and 5km.  The 21km starts at 07h00, the 10km at 08h00 and the 5km at a later start time of 09h00.  Cut off has moved to 10h30 so participants have ample time to complete their event.
Colleen Louw, station manager for 94.5 Kfm said: "The station has again planned some exciting activations out on route, in particular the water station just outside our offices in Somerset Road and we'll have our DJ's either running or cheering everyone on."
Participants can enter online or pick up an entry form from any Sportsmans Warehouse, where entries will be taken in store.  Entry forms and all the latest up to date event information can be found at www.thegunrun.co.za.  Contact Top Events on 021-511 7130 or info@topevents.co.za.
Entries close on Friday 28 September and no late entries will be accepted after this date.  Only entries for the 5km fun run/walk will be taken at registration and on race day.
The JAG Foundation has been appointed as the official beneficiary for the event and all funds raised will go towards helping them with their cause.  JAG engages children in programmes that teach values and enhance self-esteem, self-discipline, goals, focus and sportsmanship.
Alcohol and drugs are the root cause of most social ills including gangsterism, crime, domestic violence, broken homes, unemployment and HIV/AIDS.  JAG provides children from disadvantaged communities with alternative life choices, steering them away from the accepted or natural life path in these communities caused by these social ills.  The JAG Foundation uses sport as a catalyst for change, exposing these children to an alternate life path through mentoring, coaching, knowledge and organised physical activity programmes.  Visit www.jagfoundation.org.za for more information.
OUTsurance will once again be supporting the charity drive by donating R200 to JAG for each person that completes an obligation free insurance quote.  Those interested should sms "run" to 31494 and an OUTsurance advisor will call them back.