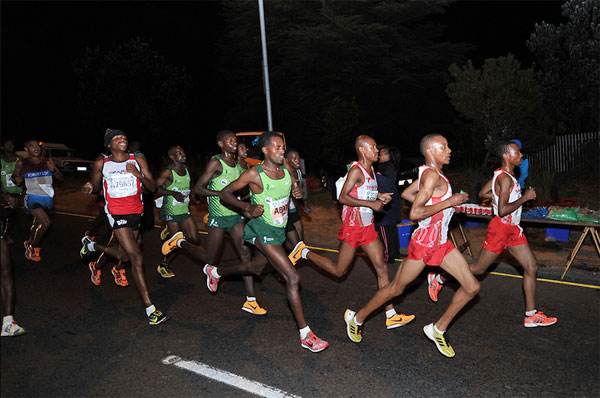 The 21,1 km has grown to such an extent that entries are restricted with none available after closing in the year prior to the race.
Over 13 000 of the 16 112 entries finished which provided considerable atmosphere and a mass congregation on the UCT rugby fields. The weather conditions at the foot of the imposing Devil's Peak were a warm 23 degrees and with no wind provided enjoyment for the large number of convivial club gazebos in the demarcated area.
This creates a finish for the 56 km which was not possible back in the 1980s on the cramped Villager Rugby Club Brookside grounds. The wonderful welcome is compensation for the tougher finish which includes two sharp inclines and no longer the roll downhill to Claremont.
The 21,1 is a testing route and to break the 90 minute silver medal standard requires speed, strength and excellent condition and conditions on the day.
The amended route, from 2012, includes Edinburgh Drive which is a kilometre climb at about the 2 km mark. A tough pull so early after 6 am and cold muscles. The start  was chilly although it did warm up. Wind conditions were not ideal but better than the previous years strong South Easter headwind for the first 7 km.
The winning time, 64 minutes 16 seconds, reflects the difficulty of the course as Stephen Mokoka defended his 2013 title to give him his third victory since 2009. Only one visitor, Ethiopian Asefa Negewo, made the top 10.
Diana Lebo Phalula upset pre-race favourite Rene Kalmer, winner in 2010 and 2012, with Ethiopian Gezashigh Gemeda well behind in 3 rd.
Rene Kalmer ran Copenhagen Half recently in a PB 71 minutes for an unaided course and with subsequent participation in the Spar Ladies series has had a busy time racing. Her sister Christine took a commendable 6 th place.
Notable performances were produced by Awie Veldsman, 1:28'59 at age 64 and Clive Owen who followed him for age group 2 nd in 1:29'38. Both long time performers at elite level and absolute gentlemen who will give freely of their time and advice, which is something young Granwin Katzen will not lack.
Running for Lion of Africa Itheko club he won the junior section in 1:15'57 and has a competitive future as he emulates his well performed father Graham.
His nearest challenger was 2 minutes 28 seconds adrift and with a top 10 covering 13 minutes the depth appears thin in this specific race. With few running from the townships, most are possibly deterred due to the higher cost of this marquee event. Sponsors are probably required as can be seen from the VOB K-Way sponsored club having Buhle Yokwana filling 3 rd.
Quality runners can only emerge from solid support structures and this is not possible without considerable attention and  makhulu mali.
Report by Peter Wrensch