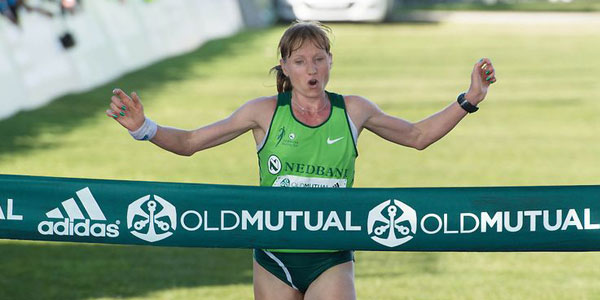 Frith van der Merwe's superb record 3:30'36 was never in doubt after quarter of a century – and it may endure many times this number – so interest lay in the contest for first.
This proved no contest at all as another Russian, Nina Podnebesnova, 34, romped in with three and half minutes to spare over the gutsy dimunitive Shitaye Gemechu Debellu, also 34, from Ethiopia.
Nina's countrywomen, the Nurgalieva twins, 38, excelled again with gold medals and have been marvelous supporters of their sponsors and the event, even as they approach Masters 40 in two years time. Elena made the podium in third and Olesya came 6 th with only one other lady breaking the 4 hour mark for a silver medal.
Unusually young for the 56 km ultra, Chelitu Bogale Asefa, 22, filled that 7 th position and it would be interesting to hear her comments on the experience and whether she now has aspirations of making this her race and targeting winning. She has 17 minutes to find for her first goal and nearly 27 to emulate the incomparable Frith, but this race requires experience as well as natural speed to excel.
Paulina Njeya was a creditable 5 th in 3:50'48, but at 36 cannot be expected to make vast improvement, so a South African winner is unlikely until someone like Rene Kalmer moves up. This is not likely for some time because she has Commonwealth Games and her priority Brazil 2016 Olympics.
The other great lady of South African athletics, Zola Pieterse, after whom township takes were named Zola Budds, ran a cracking 4:07'58 for 3 rd in the 40-49 category even though she only has two years left in it.
There is place for emerging runners to emulate her but it is a poor indictment on our athletic structures and coaching that there are none on the horizon.
Report by Peter Wrensch