Taking the Comrades to the community.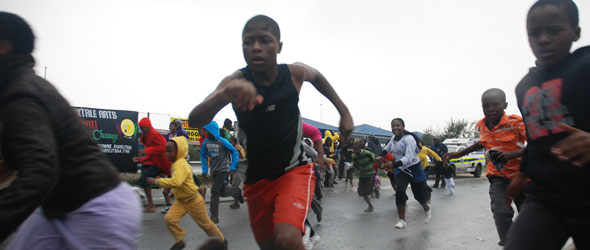 The spirit of the Comrades Marathon was brought to Harare, Khayelitsha, in Cape Town this weekend through a community engagement fun run, organised by Sport and Development NGO SCORE.  Bringing together community members of all ages to promote a healthy lifestyle and highlight the importance of participation in community activities, over 250 participants took part. Ranging from Primary school learners to the elderly, all ages ran through the streets of Harare, despite the weather conditions.
"We usually watch the Comrades on TV, but now it is coming to us," said Ntombomzi Maarman, who ran beside her sister and daughter.
"People think events like this are only for white people. You see it happening in Blouberg and Fish Hoek, never in the townships," she continues.
Ntombomzi was encouraged to take part after her daughter Siyanda, a netball player in SCORE programmes told her about the run. Explaining that she wanted her mother to experience the same benefits as she has, she said "Healthy exercise is good for your body, so when you see the opportunity, you should take it. It is very encouraging to see so many people in the community here."
"I feel alive now, I'm young again today!" Said Ntombzi after completing the run.
Of the forty communities that SCORE activities take place in, SCORE aim to engage at least twenty five across South Africa to take part in fun runs as part of a national campaign to get community members active in sport.