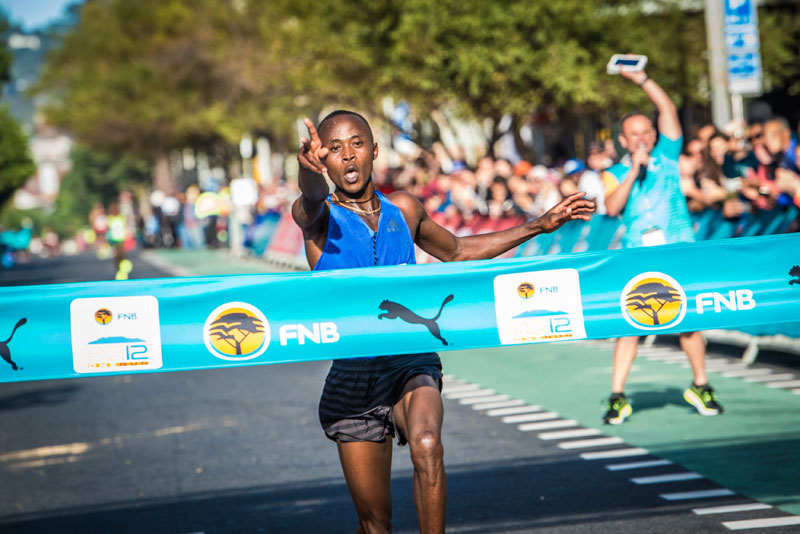 Cape Town – Kenya's 22-year-old Morris Gachaga may be softly spoken, but there is nothing wrong with his legs – and did they do some serious talking at the 2017 FNB Cape Town 12 ONERUN on Sunday 21 May, when the diminutive runner smashed the previous World Best on a point to point course by four seconds. Gachaga crossed the line in 33:27 eclipsing the 33:31 of Sammy Kitwara run at the Bay to Breakers in May, 2009.
Morris Gachaga smashes World Best at FNB Cape Town 12 ONERUN
Over 13 000 runners lined the start at Woodbridge Island (Milnerton, Cape Town) in near perfect weather conditions. Once the gun went, the early pace was set by the ever front running Lucky Mohale but he was soon pulled back by Elroy Gelant, before David Manja surged to the front to pull a lead group including Gelant, Namakoe Nkasi (winner of the FNB Joburg 10K CITYRUN), Mohale and Kenya's Morris Gachaga. It was in fact the Kenyan who started the serious surging to take the bunch through 4km in 11:05. Pre-race favourite and defending Champion, Stephen Mokoka fell off the pace very early on and was never in contention from there.
Just passed the halfway mark and Gachaga surged again, gesturing for Gelant to go with him and take up the pace, but Gelant declined which meant that Gachaga and Namakoe Nkasi started to pull away. Just before the athletes entered the Company Gardens after 9km, Gachaga surged again and took total control of the race. The solitary figure of Gachaga entered Bree street for the final 800m, bursting into a sprint to cross the finish line in 33:27 to smash the previous World Best. Nkasi finished second (33:43) with Gelant having to settle for third for the second year in a row (33:54).
"I expected a tougher race from (Stephen) Mokoka, (Elroy) Gelant and Namakoe (Nkasi), but when they did not go with me after halfway I attacked. At 9km I knew the race was mine so I pushed the pace. Breaking the World Best was a bonus.  Coming here was a privilege for me."
Tish Jones (UK) was the surprise winner in the women's race after taking control within the first 3km and never looked back. Jones crossed the line in 39:50 ahead of a fast finishing Nolene Conrad (41:08), with Maria Shai rounding out the top three (41:14).
"My legs were strong after having trained for London Marathon (she finished 18th)," says Jones.  "I really didn't expect to win here, but the ladies just never went with me and I concentrated on maintaining my pace. I'm surprised, but really happy."
EVENT INFORMATION:  FNB Cape Town 12 ONERUN
Date:    Sunday, 21 May 2017
Start Time:    09:00
Start Venue:    Woodbridge Island, c/o R27 and Loxton Road, Milnerton (Cape Town)
Finish Venue:    Portside Building, c/o Mechau and Bree Streets (Cape Town, CBD)
"This has been another successful FNB Cape Town 12 ONERUN.  We are happy with how the Mother City has over the years embraced this race and have made it an event where Capetonians from all walks of life come out in their numbers. Congratulations to all the athletes, particularly the winners who showed perseverance and enthusiasm until the finish line," said Stephan Claassen, Western Cape FNB Business Provincial Head.
RESULTS:  2017 FNB Cape Town 12 ONERUN
Date:  Sunday, 21 May 2017
ELITE MEN
1 Morris Gachaga 00:33:27, 2 Namakoe Nkasi 00:33:43, 3 Elroy Gelant 00:33:54, 4 Gladwin Mzazi 00:34:10, 5 David Manja 00:34:10, 6 Stephen Makoka 00:34:43, 7 Joel Mmone 00:34:56, 8 Lucky Mohale 00:35:14, 9 Sibusiso Nzima 00:35:38, 10 Mbongeni Ngcazozo 00:35:47
ELITE WOMEN
1 Tish Jones 00:39:50, 2 Nolene Conrad 00:41:08, 3 Maria Shai 00:41:14, 4 Lebogang Phalula 00:41:20, 5 Rutendo Nyahora 00:41:24, 6 Mapasoka Makhanya 00:41:52, 7 Cornelia Joubert 00:42:03, 8 Zintle Xiniwe 00:42.25, 9 Glenrose Xaba 00:42:33, 10 Christine Kalmer 00:43:09