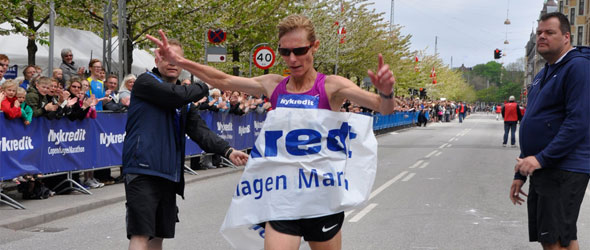 (Cape Town, 25 February 2016) Four time Olympian, Colleen De Reuck will make her Ultra Marathon debut at the Old Mutual Two Oceans Marathon on Saturday 26 March.
Colleen De Reuck makes Ultra debut
De Reuck has an array running achievements, including 5th place at the 1996 World Cross Country Championships in Stellenbosch. Her best ever performance at a World Cross Country Championships came in 2002 where she won the Bronze Medal in the 8km race (running in the colours of the United States).
Very few athletes can boast making it to an Olympic Games, let alone four, yet Colleen de Reuck has done just that competing for South Africa at the 1992 Olympic Games in the Marathon (she finished 9th) at the 1996 Games in the 10 000m (13th), again in the Marathon in Sydney in 2000 (she finished 31st), before becoming an American Citizen and running in the 2004 Olympic Marathon in their colours.
Her CV is impressive, with a best Marathon time of 2:26.36 clocked in Berlin in 1996 in the process of winning the race. De Reuck has won a total of four international marathons in a career that has spanned over three decades. Her last victory came in 2013 at 49 years of age when she won the Indianapolis Marathon in a time of 2:39.25. Her most recent Marathon was the US Olympic trial in 2016 where she placed in 64th overall, clocking 2:49.56.
De Reuck is renowned as a fighter. Coach Lindsay Parry who has amongst others the 2015 Old Mutual Two Marathon and Comrades Marathon Champion in his stable is wary of de Reuck. "Once she get's this steely look in her eyes you know you are in for a race."
Whilst de Reuck has not yet raced an Ultra, she is by no means here for a holiday.
"In discussions with Colleen, she said to us she is looking for a strong race and is targeting something around a top 5 position," said Dana Coetzee, club Manager for KPMG who has signed de Reuck for the race.
While she may have not yet run an Ultra, Colleen de Reuck is no stranger to racing for hours on end. Competing in her first Iron Man (Triathlon) in Kona in 2015, de Reuck won her age group crossing the finish line in an impressive 10:30.41 and running a 3:15 marathon off a 180km bike leg. There is no doubt how tough she is.
"It is a great honour for us to have Colleen make her Ultra debut at the world's most beautiful marathon," says Carol Vosloo, General Manager of the Two Oceans Marathon NPC.
"The Old Mutual Two Oceans Marathon always attracts a stellar field and with Colleen participating this year, we have no doubt that racing will be explosive on 26 March."
Colleen de Reuck CV:
10km – 31:29
15km – 48:19
21.1km – 68.38
Marathon – 2:26.36
Berlin Marathon, 1996               1st – 2:26.35
St Louis Marathon, 2004           1st – 2:28.25
Kopenhagen Marathon 2010 1st – 2:30.51
Indianapolis Marathon 2013       1st – 2:39.25
Olympic Games
1992 – Marathon                       9th – 2:39.03
1996 – 10 000m                        13th – 32:14.69
2000 – Marathon                       31st – 2:36.48
2004 – Marathon                       38th – 2:46.30 (representing USA)
World Championships
1997 – 10 000m                        8th – 32:03.81
2011 – Marathon                       36th – 2:44.35 (representing USA)
World Cross Country Championships
1996 – 6.4km                            5th
2002 – 8km                               3rd
2003 – 8km                               8th
2005 – 8km                               13th
2006 – 8km                               33rd