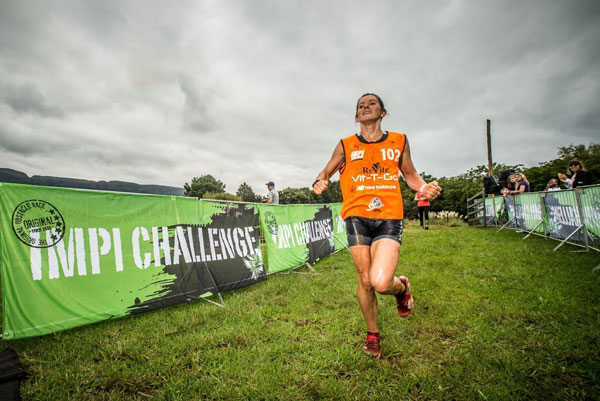 The much anticipated IMPI Challenge returns to Lievland Wine Estate and Wiesenhof Legacy Park (Stellenbosch) on Saturday, 05 and Sunday, 06 April 2014.
Multisport athlete Carla Van Huyssteen claimed gold at her very first IMPI Elite Race in Gauteng in March this year.  Van Huyssteen will make her Cape Town debut at the IMPI Elite Race on Saturday, 05 April 2014.  "After getting to see the structure and nature of the IMPI Elite Race in Gauteng, I decided to follow the series and head to Cape Town," says Van Huyssteen.  "I'll be going into the Cape Town event blind, as I literally have no idea who my competition will be.   The toughest part of the IMPI Elite Race is the length of the trail run route.   Having to stop at obstacles on this route breaks your rhythm on the run".
"My goal will be to run as best I can and hopefully top the podium," continues Van Huyssteen.  "Because the IMPI Elite Race is a trail race that features more "natural" obstacles, it fits well into my normal triathlon based training regime that includes running.  I also do basic strength training and swimming that does help with upper body strength.  The IMPI Challenge is a really fun, family orientated, must do event.  The obstacles are challenging, but doable".
Stellenbosch based multisport athlete Matthew Daneel managed a 3rd place position at the IMPI Challenge Cape Town in 2013.  "I had heard about the event from friends and had to take part," says Daneel.  "We entered a team in 2012, but in 2013 as an extra challenge I entered the IMPI Elite Race.  The toughest part of the IMPI Elite Race is maintaining self-belief.  You are so exhausted towards the end, that when you get to an obstacle you find yourself wondering how you're going to find the energy to overcome it.  You need to believe in yourself and remain positive till the end. Your mind can be your biggest foe.   I really enjoy the obstacles that you can't tackle straight away, but mostly I enjoy the post-race vibe and festivities.  Last year I managed the third spot on the podium, I would love an improvement on that result this time round".
Currently just under 3000 adventure addicts and lovers of the outdoors have entered the IMPI Challenge Cape Town.  Event Organisers expect this amount to increase to 3500 before the start of the weekend, making the 2014 IMPI Challenge Cape Town the largest IMPI Event to date.
EVENT INFORMATION:
Combining trail running with an adventure style obstacle course, there are four structures to choose from when entering the IMPI Challenge:
Traditional IMPI Challenge:  Conquer 18 obstacles over 10 – 12km
MPI Dash – Compacted Challenge:  Families have the chance to compete together.  The course will be 5 – 7km with 12 obstacles (ages 10 – 15 years, all adults welcome).
IMPI Elite:  The course will be 15 – 20km with 25 tough obstacles.
IMPI Mini:  This mini course will be around 1km and feature smaller versions of some of our favourite obstacles (ages 6 – 10 years, all adults welcome).
The race categories cater for a variety of athletes, from elite sportspersons, competent and beginner runners and families looking for a fun experience.  Participants can enter individually or as part of a team (teams vary in size from 2 – 10 people, although team members start together, they do not need to finish together).
EVENT DETAILS:
Date:                        Saturday, 05 and Sunday, 06 April 2014
Venue:             Lievland Wine Estate and Wiesenhof Legacy Park, Stellenbosch
Categories:     IMPI Challenge, IMPI Dash, IMPI Elite and IMPI Mini