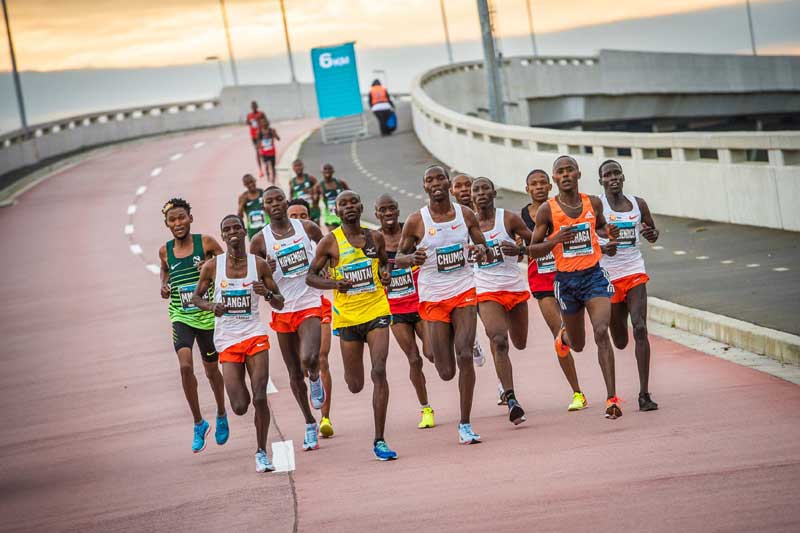 Cape Town, South Africa – Having finished third at his FNB Cape Town 12 ONERUN debut in 2018, Kenyan John Langat is ready for round two at the FNB Cape Town 12 ONERUN on Sunday, 19 May 2019.
Langat returns for onslaught on Mother City at FNB Cape Town 12 ONERUN
In 2018 Langat had to watch as course and world record holder, Morris Gachaga and fellow training partner, Victor Chumo edged him out of what would have been the perfect 12km debut. Langat crossed the line in third clocking 33:47, 2 seconds behind Chumo and 5seconds off Gachaga in one of the tightest finishes in the history of the race.
In 2019 Langathas every intention of topping the podium this time around. "I let them go in the final kilometer. I just did not have the speed to go with them last year. This year, if it does come down to a sprint again, I will be ready. But I also need to be able to counter any surges in the race. So I am training hard for this," said Langat.
Langat is not mincing his words, already he has clocked a 61:07 Season's Best in the Half Marathon when he finished 4th at the Venloop Venlo Half Marathon in Holland on 31 March. With a personal best of 27:58 on the road for 10km (Appingedam, Netherlands 27 June – 2015), he certainly is a strong contender for line honors on Sunday, 19 May at the 2019 edition of the FNB Cape Town 12 ONERUN, the 5th running of the race.
Adding to the allure of the race, is that the FNB Cape Town 12 ONERUN has been awarded Bronze Label Status by the IAAF, meaning that the competition that will descend onto Cape Town will be of the highest caliber yet, and Langat knows that his preparation has to be near perfect. "Road races are becoming more and more competitive and with the FNB Cape Town 12 ONERUN now having Bronze Label Status, I know that the competition will be even deeper than ever before. So I cannot leave anything to chance. If I win here, this will mean that my status as an athlete grows immensely. I know I have to be at my best for this race."
Langat is renowned for both his strength and his speed, having clocked a 2:10.49 (Daegu, Korea 3 April 2016) for the marathon and 45:37 for 10 miles (Tilburg, Netherlands 6 September 2015). With a feel for the route after having run in 2018, Langat knows where the attacks will likely come from and where he needs to assert himself. "The last short climb was where I lost it in 2018. Knowing the route now, I have a much better understanding of how to pace myself this year."
Langat has represented Kenya on two occasions in cross country. The 22-year old finished 4th in the U20 race at the Africa Championships in 2014, but found the going to be a bit tougher a year later at the World Cross Country Championships in Qingzhen, China where he had to settle for 16th place.Langat was still finding his 'feet' at the time, having only started to feature on the global stage in 2013. He is now a much harder, faster and more resilient athlete and can certainly rate his chances on Sunday, 19 May.
EVENT INFORMATION: FNB Cape Town 12 ONERUN
Date: Sunday, 19 May 2019
Start Venue: Woodbridge Island, c/o R27 and Loxton Road, Milnerton (Cape Town)
Finish Venue: Bree Street (Cape Town, CBD)
Entry Fee: Standard Entry: R185 (licensed) / R225 (unlicensed)
Gold Package Entry: R850 (licensed) / R890 (unlicensed)
Entries Close: Monday, 06 May 2019
Charity Support: When entering online, runners can choose to make a monetary donation towards either or all four of the FNB Cape Town ONERUN Charities: 1. help2read, 2. Cotlands, 3. Die Burger Kinderfondsand 4. The Cape Of Good HopeSPCA.
This year each event charity has also been allocated x100 entries which will be available at R500 each. When entering online, runners can choose this specific entry option. The proceeds will go directly to the selected charity.