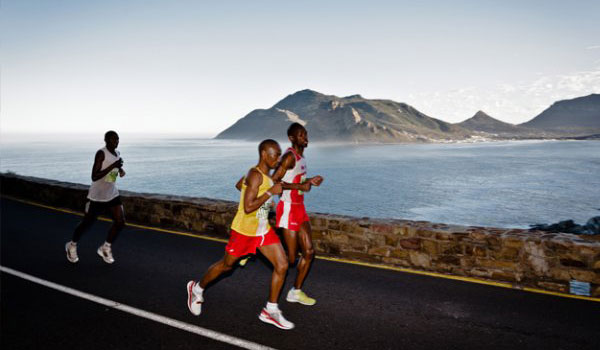 A week remains to Two Oceans weekend with an Indian summer spell of temperatures in the 30s with windless conditions enabling the vast number of entrants to wind their training down in perfect conditions.
Saturday 12 April offers a final 10 km sponsored by Telkom on a flat Bellville South course. This is the final in a tapering series of road races offered in the Western Cape as preparation for the three main events on Easter Saturday. A successful 30 km was hosted by Tygerberg- Northlink Athletic Club in near perfect overcast conditions on the notoriously tough hills a fortnight ago and followed by the scenic Leapfrog 21 km in coastal Gordon's Bay last Saturday.
Road races are enjoying huge support with large fields the standard at present. Tygerberg-Northlink hosted their race without a sponsor this year and thus needed the record 1352 participants. Two Oceans was oversubscribed once again in the half-marathon and many are still inquiring about substitute numbers, which word has it are no longer permissible.
Cape Town will be packed with visitors for the event, in addition to the traditional Easter tourists, with over 25 000 participants expected on the Saturday alone. Planning is advised in acquiring race numbers at registration in the Cape Town International Convention Centre and for race day. The 21 & 56 km start in Newlands Main Road as well as the finish at the University of Cape Town are congested with parking space off campus at a premium.
Good Friday commences early with the Two Oceans Trail races, followed by a full family program of Fun Runs catering for all ages.
The Expo is held in conjunction with the registration and offers suppliers an ideal opportunity to market to tens of thousands.
Registration commences on Wednesday 16 April at 10 am until 19h00, and the same hours for Thursday 17. Good Friday the final opportunity are shorter with a 9 am opening but a 17h00 close.
Do not forget to take the RaceTec chip with your ID and confirmation of entry letter, before affixing it securely to the shoe used on race day!
John Brimble a pioneer of the first excursion around the Peninsula lines up for his 35 th and Chet Sainsbury, synonymous with the race itself and recognized in the Sainsbury medal for a time between & hours, is in shape for his 32 nd.
Another world class event in prospect which has attracted greater interest with the R 1 million bonus on offer for breaking either of the records of Thompson Magawana's of 3 hours 3 minutes 44 seconds or Frith van der Merwe's 3 hours 30 minutes 36 seconds. Considering that these have stood since 1988 & 1989 respectively it would require a herculean effort from a high class performer to pocket the big cash bonus.
Author: Peter Wrensch