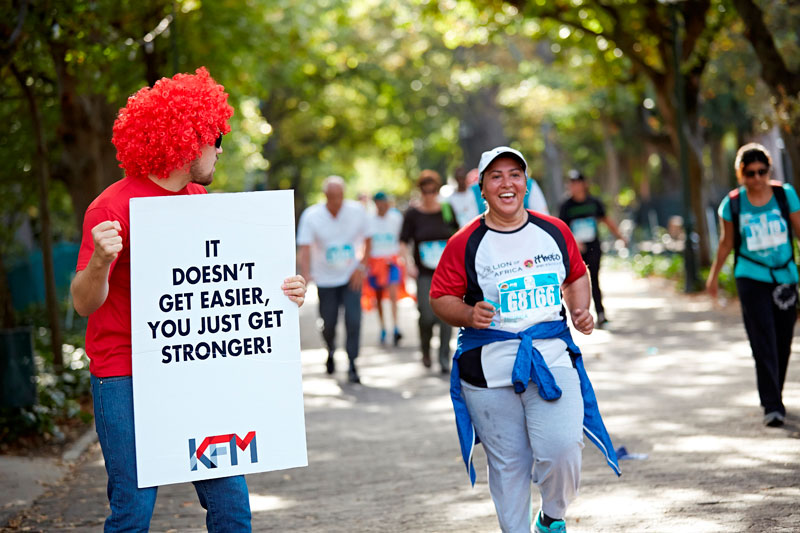 Hit the New Year running in preparation for the second annual FNB Cape Town 12 ONERUN that will take the city by storm on Sunday, 15 May 2016.
FNB Cape Town 12 ONERUN
According to Sue Ullyett, event manager for the FNB Cape Town 12 ONERUN, the event is all about having as much fun as possible before, during and after the run.  "Starting at Woodbridge Islandin Milnerton,the route hugs the coastline, through the harbour and continues up Adderley Street through the heart of the Mother City, before finishing in Bree Street outside the FNB offices at Portside.  The vibe, fresh sea breeze, on route activations and finish line celebrations make for an exciting experience that will leave runners wanting more.Runners, walkers, family and friends absolutely have to be part of this iconic event."
12 reasons to enter the FNB Cape Town 12 ONERUN:
1.    It's a fun event that offers you a unique experience of a point-to-point 12km route with a convenient MyCiti bus trip to the start at Woodbridge Island in Milnerton, passing historic city landmarks and finishing outside Portside.
2.    Get your PUMA event T-shirt for free if you are one of the first 3 000 FNB clients to enter online and pay using your FNB credit or debit card.
3.    Come and join us for a fun, party, fancy dress vibe and enjoy on route entertainment from bands, DJs and various artists at the 24 encouragement points along the route.
4.    It's a fast, flat 12km route with no cut off time and walkers are welcome.
5.    Guaranteed to run a personal best if it's the first 12km you've ever run!
6.    Get a chance to run with some of the best athletes from around the world.
7.    Run with South Africa's top athletes and interact with them and the international athletes during a Q&A session at the Registration.
8.    Run with Deon Bing and Sibongile Mafu from the KFM Breakfast Team – if they can keep up with you!
9.    It starts at the decent hour of 9am – giving you time to enjoy a coffee.
10.    It finishes downhill along vibey, interesting Bree Street that offers a look at the funky side of Cape Town, with great restaurants and interesting things on offer.
11.    Treat yourself to a luxury race experience and take advantage of the Gold Package that offers participants a premier race experience.
12.    Be a part of the funky Friday 5k runs starting and finishing from Portside at Bree Street every Friday morning at 06h30 – the perfect way to start your weekend.
The FNB Cape Town 12 ONERUN was named "Race of the Year" at the Western Province Athletics Annual Awards function held at the end of 2015.
Charity Support:  When entering online, runners can choose to support either or both of the FNB Cape Town ONERUN Charities:  The Cape Of Good Hope SPCA and Die Burger Kersfonds.