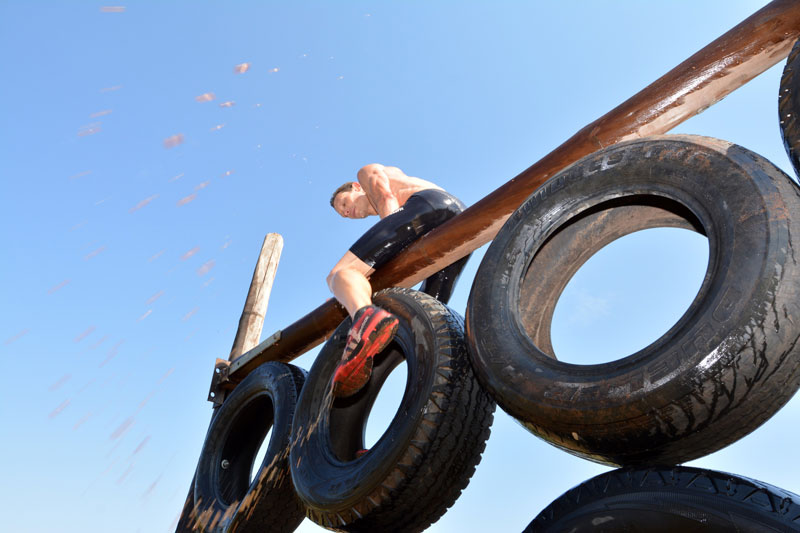 Gauteng IMPI – The Van Gaalens Cheese Farm in Hartebeespoort (North West Province) was buzzing with excitement on Saturday, 14 March 2015 when close to 1000 adventure seekers lined up to be part of the action of the first IMPI Challenge of 2015.
Gauteng IMPI Challenge 2015
Claude Eksteen was the competitor to beat in the men's Elite Race, running to victory in a lightning fast time of 01 hour 42 minutes 05 seconds "I felt good today," said Eksteen.  "The new obstacles definitely made things more interesting, while running the course in reverse to last year mixed things up a bit. I went out hard in the beginning.  The IMPI races feature a lot of trail running, this suits me.  I recommend this event to others because of the vibe.  Nothing is too extreme and there is a good variation, with an added fun aspect.  Your weaknesses and fears will be challenged, but not to the extreme".  Greg Avierinos came in second, while Thomas Van Tonder finished third.
IMPI newcomer Patricia Bahlmann set the course on fire in the women's Elite Race. With a finishing time of 02 hours 07 minutes 24 seconds, she was unstoppable."I actually entered the IMPI Elite Race by default," said Bahlmann.  "I was supposed to take part in the AfricanX Trailrun this weekend, and was literally boarding the plane when my partner phoned to say that his brother had been in an accident and that he would not be able to compete.  Claude Eksteen then invited me to do the IMPI Elite Race instead.  It was amazing, the running was hard and the obstacles were fabulous.  I am very much a trail runner the obstacles are a bonus as they make the event more challenging.  I am very excited as I have found an event that I will definitely keep taking part in".  Anita Obrien came in second, while Carina Marx finished third.
The Festival Village was teaming with activity driven by entertainment, good food and a great vibe.  A marked spectator route gave family members and friends the opportunity to show support and cheer on loved ones.
Best Dressed: A huge highlight of the IMPI Challenge, IMPIs are given free rein on creativity.  The best dressed IMPI and/or team stand the chance to win awesome prizes compliments of our sponsors.Â
NEXT UP:  IMPI Cape Town #1 / Lievland Wine Estate and Wiesenhof Legacy Park (Stellenbosch)