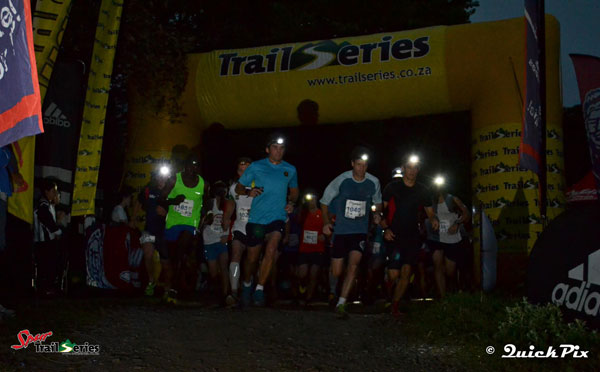 The penultimate race in the Spur KZN Trail Series took place in the tranquil setting of the Kenneth Stainbank Nature Reserve, despite the weather spicing things up with clouds building overhead and the threat of rain becoming more and more imminent closer to start time.
The Championship Race saw men and women complete two laps of the 5.1km route and it was a great crowd-pleaser! Runners were spurred on upon completing their first lap as the rain made things interesting, and it was great to see so many grind it out and complete both laps.
Mark Mitchell was first over the line again coming home in a time of 49:05, the only person to break 50 minutes. His rival, the ever smiling Owen Bengo crossed shortly after to take 2nd place in 50:10, with Michael Hay hot on his heels. He came home in 50:14 to round out the top three in the Men's Open category.
In the Ladies Race, series leader and now overall winner, Trish Bahlman picked up her third win in a row to dominate proceedings once again. Her time of 54:44 was enough for her to win by an astonishing margin of over 12 minutes! Second lady over the line for the 3rd consecutive race, went to Jean Hackland who is showing great consistency has surely wrapped up 2nd place in the Open Female for this Championship. She crossed under the arch in a time of 01:06:51, with Dawn Mackay crossing the line 3rd female overall and first veteran in a time of 01:15:13.
Same same, but different
In the Men's 5.1km short course Challenge Race, it was none other than Series leader in the Minimee Category, Dylan O'Brien who claimed his 3rd win in a row and took an unassailable lead in the Series, coming home in 27:46 with Josh Reid coming home in 2nd place overall but 1st Open Male in a time of 28:22. Third male over the line and 1st Veteran went to Steven Gossman, who is also enjoying a great Series with some super results, crossing under the arch in a shade under 30min in a time of 29:17.
In the Ladies Challenge Race, it was once again the young Julliette Goebel who keeps on impressing, coming home 3rd overall over the line and first female in an incredible time of 28:41. Second lady over the line was Birde Tussaint, who crossed 16 seconds later in 28:57. The last place on the podium went to another podium regular this Series, Roxanne Vale who crossed the line in 30:29.
The Spur KZN Trail Series comes to an end this Saturday at iSithumba. It promises to be an exhilarating climax with a few categories yet to be decided.
A big thank you to sponsors, Spur, adidas, BOS, Protea Hotels and Graham Beck for their support and enthusiasm in making this Series happen.
Race Results
Championship (Long)
Men
Mark Mitchell 49:05
Owen Bengo 50:10
Michael Hay 50:14
Women
Trish Bahlmann 54:44
Jean Hackland 1:06:51
Dawn Mackay 1:15:13
Challenge (Short)
Men
Dylan O'Brien 27:46
Josh Reid 28:22
Steven Gossman 29:17
Women
Julliete Goebel 28:41
Birde Tussaint 28:57
Roxanne Vale 30:29