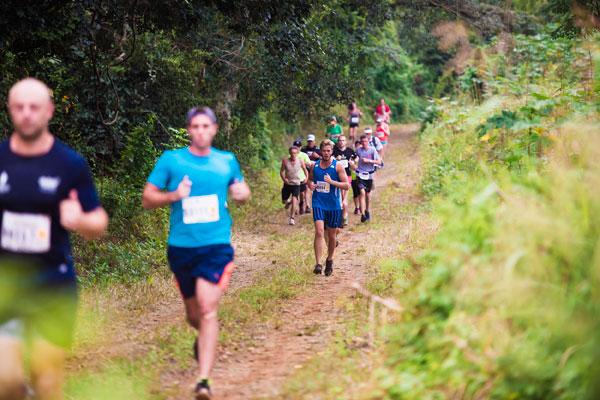 This fun-filled festival provided interesting day and evening activities for visitors to the North Coast resort catering for both young and old – was hosted by uMhlanga Tourism under the chairmanship of Peter Rose, in association with eThekwini Municipality, and produced by Firstline Promotions, over the Easter weekend.
uMhlanga Easter Festival and Trail Run and Walk – 18 – 21 April 2014
After the hugely successful uMhlanga Liberty Summer Festival Trail Run we welcomed back the highly anticipated uMhlanga Easter Festival 5km / 10km / 15km Trail Run and Walk which took place on Sunday 20 April at 6am, as part of the 2014 uMhlanga Easter Festival. This event caters for all levels of fitness as we host  three races, the 5km and 10km run and walk and an 15km trail run. The start and finish for the race was at the Millennium Stage.
The first man home in the coveted 15 km was Claude Eksteen in a time of 01:04:25, and the first woman was Jetaime Ribbink in a time of 01:26:20. The  10km run and walk was run by Dylan van der Merwe in a time of 45min 42sec (men) and   Nicole van der Merwe in a time of 53min 31 secs (women) and for the Liberty sponsored 5km run and walk – Joseph Mangawangule in 26 mins 9 secs (men) and Deidre Simpson in 39 mins 54 secs (women). An attraction of the race was the swelling waters and in some instances runners had to be ferried across the river.
The uMhlanga beaches had daily activations happening from 18-21 April on the Main Beach. Daily activities had beachgoers basking in the summer sun whilst families were entertained with a variety of fun and games on the stage and beach, daily from 10am until 2pm with talent competitions, kiddies sing-alongs and games. There was an Easter Egg hunt, face painting, a tug of war and Mr Funtubbles visited the beach. These activities  took place on uMhlanga Main Beach and on the Millennium Beach Stage. The Beach Activations – and the hugely popular Easter Miss uMhlanga – were co-ordinated and MC'd by Kevin Ellis well known Durban personality.