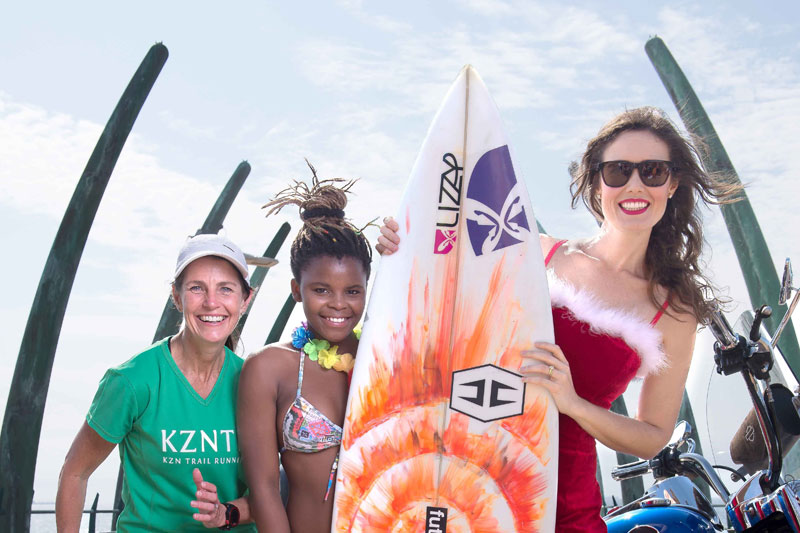 uMhlanga Trail Run – One of the main events at this year's uMhlanga Summer Festival is the highly-anticipated uMhlanga Trail Run that takes place on Sunday 18 December.
uMhlanga Trail Run on Sunday 18 December
This is the 19 running of the popular event in the seventh festival. The distances that keen participants can tackle are the challenging 12km or 18km and for the entry level runners, the shorter 5km race.
The first race gets underway at 6am, with the two longer races setting off, and the shorter race having an individual start ten minutes later. All distances will have a river crossing and a section on the beach. The race takes you out and back on an adventurous trail through the wooded areas around the suburbs of uMhlanga. The start and finish is along the promenade near the Millennium Stage.
"Our event is going from strength to strength and we are extremely proud of it," a delighted Buzz Bolton from Riverside Trails stated. "We have clocked up 7,262 runners and walkers who have participated in the race since its inception on 15 December 2010.  A tally that we are all extremely proud of, and hope to grow in the coming years."
Defending champions for the gruelling 18km are partners Claude Eksteen and Trish Bahlman. And in the 12km race competent road runners who are equally comfortable going offroad, Comrades Marathon runner Eric Ngubane and Lisa Collett who recently claimed victory in the Goss and Balfe South Coast Marathon.
Talking more on the route, Vaughn Smit from Riverside Trails explains, "We are expecting a competitive field, with a couple of out-of-towners lining up against our top runners. They will run along some picturesque paths through the forest and sugar cane fields. The route includes a few small climbs, river crossing, single track and beach sand to challenge you and to add to the experience of our run."
There will be two water tables on the 18km, one on the 12km route and another one placed at the finish for all runners. For the podium finishers, there is a reward of prize money. In the 18km first place is awarded R1,000, second place R500 and third R250 for both the top men and ladies. In the 12km first wins R500, second R250 and third walks away with R150 for both the top men and ladies. In the short 5km distance the money awarded is R200 for first, R150 for second and R100 for third for both the top men and ladies.
The entry fees are R140 for 18km, R120 for 12km and R70 for the 5km for all online entries. Online entries close on Thursday 15 December. Late entries are R160 for 18km, R140 for 12km and R90 for 5km. Parking is available along Lagoon Drive.
For more info visit www.umhlangatrailrun.co.za or to enter, go to www.roag.co.za