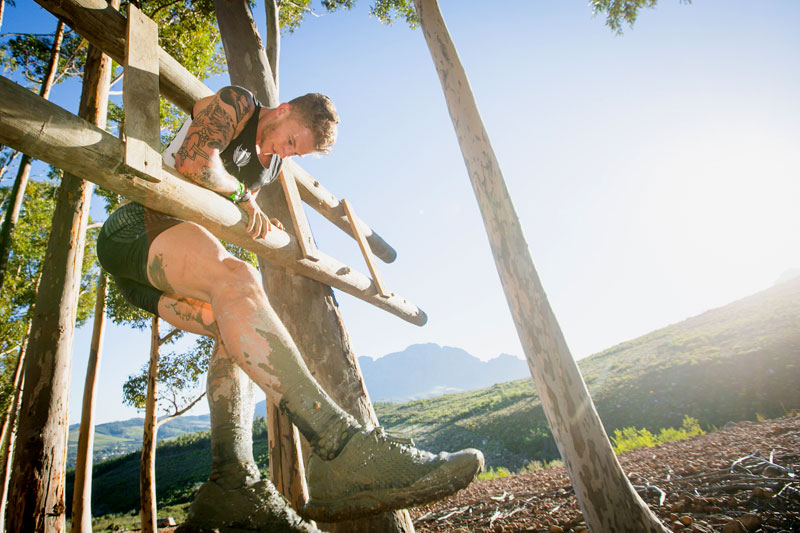 Cape – Armin Botha (Potchefstroom) and Dominique D'Oliveira (Bellville) claimed gold in the men's and women's Fedhealth IMPI Challenge Elite Race at Coetzenburg (Stellenbosch) on Sunday, 08 April 2018 in an impressive time of 02 hours 49 seconds and 03 hours 05 minutes 57 seconds respectively.
Botha, D'Oliveira dominate Fedhealth IMPI Challenge Elite Race
Making his Fedhealth IMPI Challenge Elite Race debut on the day, Botha admits to only recently entering the Obstacle Course Racing (OCR)scene. "I heard that the Fedhealth IMPI Challenge is one of the big events to do," says Botha. "I knew that I'd be going up against the top okes, and was just hoping to podium. The obstacles were hard especially the brick carry, while the scenery was beautiful. I was blessed with the win. I'd like to take on the entire Fedhealth IMPI Challenge series (KZN, Gauteng and Cape Town) and will hopefully keep the trend going."
Trevor Lagerwey came in second in the Fedhealth IMPI Challenge Elite Race, while Louis Smit finished third.
It was an emotional day of racing for D'Oliveira. "Today's race was really special. I've been struggling with injury since January. This morning when I woke up I still wasn't sure whether or not I'd race. There was no clear sign that I shouldn't race though. The route was tough. Hanneke Danhauser and I stayed together for the first half of the race, pushing and motivating each other. Unfortunately Hanneke had to withdraw due to injury. From there I took it in my stride. I was just grateful to finish, winning was a bonus. I really enjoyed the obstacles. I'll definite be back in November to take on the Fedhealth IMPI Challenge Elite Race at the Wiesenhof Wildlife Park in Stellenbosch."
Cathy Weedall came in second in the Fedhealth IMPI Challenge Elite Race, while Cyrie Bonnard finished third.
The Fedhealth IMPI Challenge Elite Race pitted IMPI Warriors against a 21km trail run route that featured 26 obstacles.
In 2018 the Elite Race boasts an impressive increased prize purse of R42 000. Prize money is allocated to the top 5 finishers as well as the first elite men's and women's finisher over the age of 45. As the Elite Champions Botha and D'Oliveira each took home a whopping R10 000.
"The Fedhealth IMPI Challenge Cape Town #1 was the perfect start to the season," says Pieter Du Plessis, Fedhealth IMPI Challenge Race Director. "We would like to thank each and every entrant for adding to the experience of the IMPI Challenge. Designed to test fitness levels and challenge fears, the IMPI Challenge also celebrates accomplishments. We witnessed a lot of accomplishments over the past two days in all five event categories from the Elite Race to the IMPI Mini. We can't wait to take this experience to KZN in June."
Says Jeremy Yatt, Fedhealth Principal Officer: "Looking back on our first 2018 Fedhealth IMPI Challenge in Stellenbosch, we loved seeing so many people joining us on the trails and giving their all to overcome the obstacles. Fun was had by all, and we are pleased with the outcome and turn-out. Getting out there in the fresh air and spending time with the people closest to you is what the Fedhealth family is all about, after all. We look forward to the three remaining Fedhealth IMPI events!"
photo credit Mark Sampson
NEXT UP: 2018 Fedhealth IMPI Challenge
Date: IMPI Challenge: Venues:
Saturday, 16 and Sunday, 17 June 2018 Fedhealth IMPI Challenge #2 Virginia Trails (KZN)
Saturday, 06 and Sunday, 07 October 2018 Fedhealth IMPI Challenge #3 Van Gaalens Cheese Farm (Gauteng)
Saturday, 17 and Sunday, 18 November 2018 Fedhealth IMPI Challenge #4 Wiesenhof Wildlife Park, Stellenbosch (Cape Town)
There are five categories to choose from when entering the Fedhealth IMPI Challenge:
Categories: Entry Fee:
1. IMPI Elite: 18-20km with 26 tough obstacles (age 18+ years); timed event with prize money R550.00
2. IMPI Corporate: the 10km Challenge distance with extra benefits (age 16+ years) R500.00
3. IMPI Challenge: 10km with 18 obstacles (age 18+ years) R400.00
4. IMPI Dash: 5km with 11 obstacles (ages 10+, all adults welcome) R300.00
5. IMPI Mini: 1km with 8 smaller supervised obstacles (ages 6 – 10 years) R100.00
Entrants are encouraged to let creativity reign in the best dressed competition! Competition winners will take home awesome prizes compliments of event sponsors.