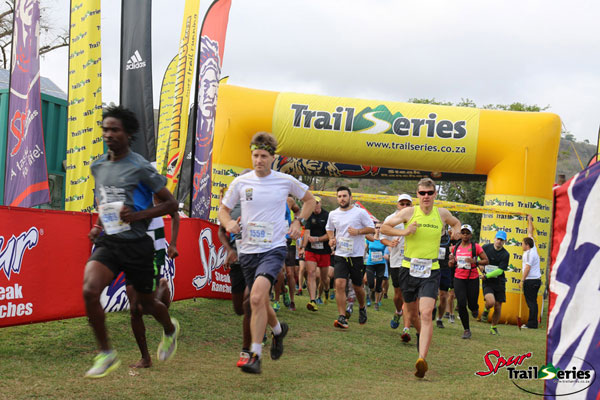 Speed was at the order of the day in race 1 of the 2014 Spur KZN Trail Series™ on Sunday as the KZN runners blitzed the Inanda Dam course in record times.
In what is arguably the fastest course in the Series the front runners dipped below the 03:30 min per km mark and left the rest of the field in awe.
In the men's 10.8km long course Championship race, Mbhasobhi Gumede got off to an electric start and finished in a time of 39:00. Trish Bahlmann picked up where she left off in 2013 and took first place in the ladies race with a time of 46:02.
The Inanda Dam Running Club came to race the 5km short course Challenge and race they certainly did! The top four all finished within eight seconds of each other with Siyobonga Malumga getting the win in a phenomenal time of 15:54. In the ladies race, Nomthandoza Mlotshwa ran home in first place over the line and was the only lady to run under 20 minutes, finishing in a time of 19:48.
It was an exciting start to what is set to be a hotly contested Series and we look forward to the racing rivalries developing over the next three races.
The next race of the Series will take place this Wednesday evening at the Kenneth Stainbank Nature Reserve. This is a night race and is sure to bring an extra element to the trails.
A big thanks to our sponsors; Spur Steak Ranches, adidas, BOS Ice Tea and Protea Hotels for making this Series possible!
image credit: Greg Labuscagne