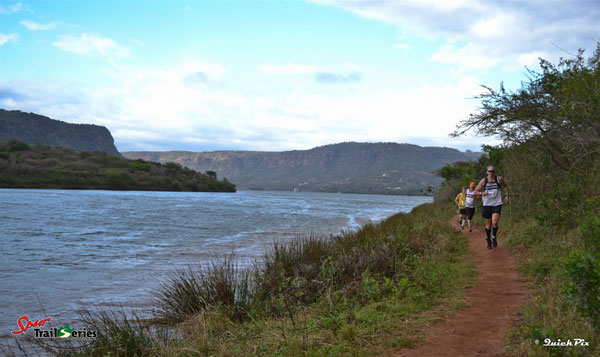 The first race in the Spur KZN Trail Series took place at Inanda Dam this Sunday with almost 200 runners converging on the beautiful venue for a great morning of trail running. Runners were treated to cool and cloudy conditions but the rain thankfully stayed away, paving the way for some fast finishing times.
In the 12.5km Championship Race, the early Series initiative was grabbed by Al Leslie, who came roaring home in 52:17 to place 1st overall and 1st Open Male. Second over the line but 1st Veteran home went to David Ogg who made sure Leslie could never relax, by crossing under the finishing arch in an impressive time of 53:05, less than a minute behind. Third male over the line went to Glen Morgan who timed a great 56:17 to ensure he made the podium and also claimed 2nd Open Male. In the Ladies Championship Race, Trish Bahlmaan showed the men a thing or two as she blitzed the 12.5km course to come home 3rd overall and 1st Open Lady. She ran a superb time of 54:18, leaving the rest of the women's field in her dust.
The 5km Challenge Race was off to a blistering start as David Naude whipped through the course in a fantastic time of 19:40 to set up an early Series advantage. Sneaking up on Naude was 14 year old Dylan O'Brien, who showed great pace to come home just 20 seconds behind him and take 1st place in the Minimee Category (11-14 years old) with a time of 20:00. The performance of the day however, has got to go to 11 year old Juliette Goebel. This young lady not only crossed the finish line as the first lady, but did so in an astonishing time of 20:59! Second lady over the line was Roxanne Vale who came home in 21:23.
Overall it was a great day of racing to kick off the 3rd edition of the Spur KZN Trail Series. Three races remain in the series over the next three weeks, with the next one taking place this Wednesday evening at Giba Gorge. This will be a night race and promises to add that extra bit of excitement to proceedings as runners have to negotiate their way around the course with only the light from a head torch.