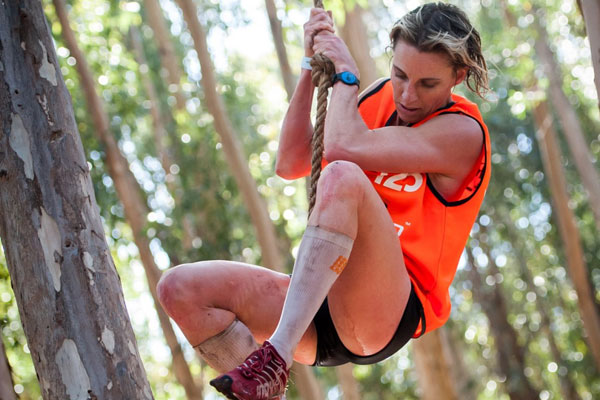 The picturesque Lievland Wine Estate (Stellenbosch) was a hub of excitement on Saturday, 18 and Sunday, 19 October 2014 when just over 5500 eager sports enthusiasts and lovers of the outdoors toed the line to partake in the action of the much anticipated IMPI Challenge.
Multisport athlete Stuart Marais claimed gold in the men's IMPI Elite Race with an impressive finishing time of 02hours04minutes03seconds, while Chantel Nienaber claimed a long overdue victory in the women's IMPI Elite Race with a deserving finishing time of 02hours36minutes23seconds.
According to Marais, the IMPI Elite Race was a lot of fun.  "There was a battle out front with Iain and myself constantly taking the lead.  I got into a good rhythm after the bricks and managed to build a good gap.  IMPI is a strong man's game and the competition was tough.  This is great because racing keeps me energised.  The IMPI Challenge is different to any other race.  It's fun and doesn't take all day.  There is also an event for the children.  All in all it's a fun day, which is in essence what sport is about".  Iain Don-Wauchope came in second, while Christiaan Greyling finished third.
"This was definitely the toughest IMPI Elite Race yet," says Nienaber.  "IMPI Director, Pieter Du Plessis did warn us beforehand though.  I put in a few good runs, just pushing a head in the beginning as I had no idea what would be thrown at us.  I was very focussed on this event and trained really hard so I am glad that I finally got the title after many months of hard work".  Dominique D'Oliveira came in second, while Tanya Rabie finished third.
Awesome Prize:  Having been the first male and female IMPI to cross the finish line after successfully completing all obstacles, Stuart Marais and Chantel Nienaber each took home a whopping R10 000.00 prize purse.
Event Information:  IMPI Challenge Cape Town #2
Combining trail running with an adventure style obstacle course, the IMPI Challenge is a spectator friendly event that is ideal for the entire family!
Date:                 Saturday, 18 October 2014 and Sunday, 19 October 2014
Venue:             Lievland Wine Estate and Wiesenhof Legacy Park (Stellenbosch)
Categories:     IMPI Challenge, IMPI Dash, IMPI Elite and IMPI Mini
IMPI's categories cater for a variety of athletes, from elite sportspersons, competent and beginner runners and families looking for a fun experience.
There are four structures to choose from when entering the IMPI Challenge:
IMPI Challenge:  10 – 12km with 18 obstacles (age 18+ years)
IMPI Dash:  5 – 7km with 12 obstacles (ages 10+, all adults welcome)
IMPI Mini:  1km with smaller supervised obstacles (ages 6 – 10 years).  Unlimited circuits of the course.
IMPI Elite:  15 – 20km with 25 tough obstacles (age 18+ years); timed event with prize money.
Participants cold enter individually or as part of a team (teams vary in size from 2 – 25 people, although team members start together, they do not need to finish together).
Best Dressed:  One of the many highlights of the IMPI Challenge, IMPIs are encouraged to let creativity reign.  The best dressed individual and/or team are rewarded with awesome prizes compliments of our sponsors.