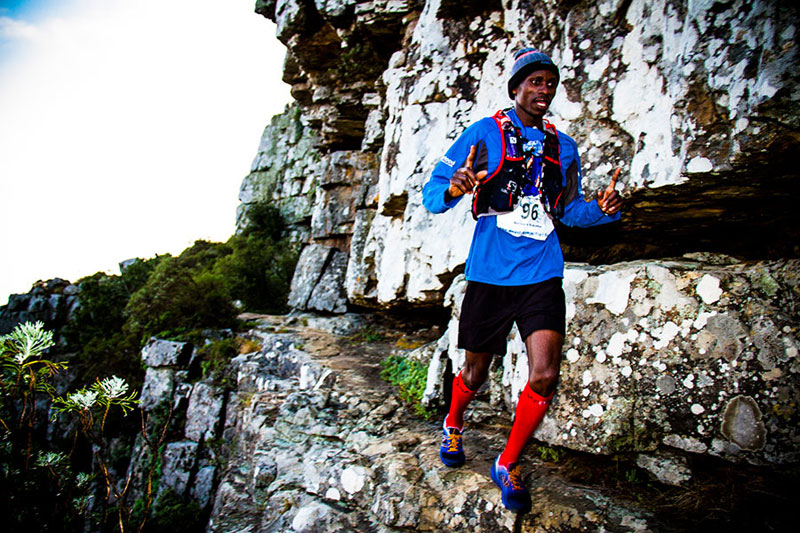 (Cape Town, 24 May 2015)  Bernard Rukadza and Landie Greyling won the inaugural Old Mutual Two Oceans Beast Trail Run – an event that marked a tough day in the office for everyone that participated in the 47km and 22km races.
Rukadza, Christiaan Greyling and Dion Middelkoop ran together for most of the way – even taking time to tweet route selfies in a show of trail camaraderie – until Middelkoop suffered from cramps before the three leaders started their descent off Table Mountain, taking him out of contention for the win.
"It was such an awesome race but I didn't even plan on winning," said Rukadza of his victory.
"We kicked off the race at a pretty slow pace and I started to push a little harder when I caught up with Christiaan and Dion."
"It was a challenging route that tested my technical skills. The trails were world-class, so I am really happy about my win."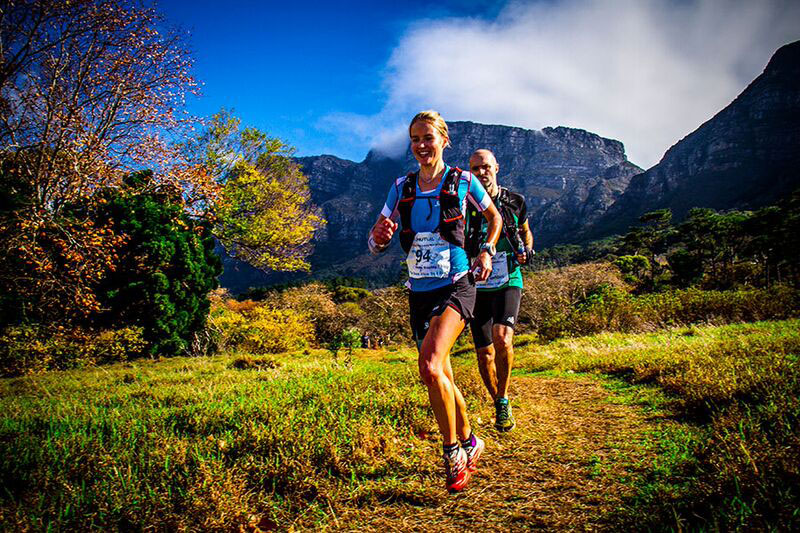 Trail queen and four-time Old Mutual Two Oceans 22km Trail Run champion Landie Greyling once again made her presence known when she led the ladies' race from the start and maintained her lead, finishing in a time of 06:37:29. Sylvie Scherzinger reached the finish line about 30 minutes later, coming in second (07:06:53), with Linda Doke in third place (07:15:45).
"The Beast definitely lived up to its name and I will remember this race for a long time," said Greyling.
"The sunny but chilly day made for the perfect race conditions, and it was a challenging day out. It was such a privilege to explore the iconic Table Mountain and this is definitely a race that all serious trail runners need to add to their race calendar."
The Greyling couple added that it is rare to run a race that provides such a variety of single track and trails, coupled with technical toughness and the reward of spectacular scenery, while Middelkoop wants to see it as a world champs event due to the challenging but balanced nature of the course.
In the 22km men's race, nobody could out-pace rising star Craig Burns, who took a comfortable win in a time of 02:03:39.
"This win is a big one for me," said the 24 year old runner from Stellenbosch, who maintained a strong pace and led from the start.
"It was a tough and technical route with a lot of climbing, and we battled rocks and slippery sand. But once we broke through the thick low cloud cover we were treated to some spectacular views of Cape Town and all the way to the Boland which made up for all the suffering! It was an amazing race."
Takalani Nthulane-Ndandani won the 22km ladies' race in a time of 02:32:54.
The Witpoortjie resident travelled to Cape Town by train with her husband and 22km 3rd place winner Mazu Ndandani to participate in the OMTOM Beast.
"It was fun and very tough! Yesterday's rain made the route quite slippery, but Mazu and I enjoyed every minute of it," said Nthulane-Ndandani.
Her husband added that they had expected the race to be tough. "We love running these events though, and the 28 hour train journey from Johannesburg was worth it. The views were amazing and the route was well marked, and we are definitely back next year."
The inaugural Old Mutual Two Oceans Beast Trail Run was launched earlier this year to complement the sold-out Trail Runs already in place over the Easter Weekend.
"This was the perfect day for trail running," said Carol Vosloo, Old Mutual Two Oceans Marathon general manager.
"The Old Zoo provided a picturesque race setting against the backdrop of Table Mountain, and we have only received compliments from our participants, who were treated to a world-class route, a tough and technical course and spectacular scenery."
"We are grateful that SanParks opened their trails to us once again and we look forward to building the OMTOM Beast in the years to come."
The OMTOM Beast is organised in conjunction with trail specialists, Energy Events.
Bernard Rakudza and Landie Greyling image credit: Govan Basson
Beast Trail Run Results
47km Men
1st: Bernard Rukadza (05:41:25)
2nd: Christiaan Greyling (05:43:10)
3rd: Dion Middelkoop (05:54:08)
1st Vet: Dion Middelkoop
1st Master: Ludwig Lille (06:37:18)
47km Ladies
1st: Landie Greyling (06:37:29)
2nd: Sylvie Scherzinger (07:06:53)
3rd: Linda Doke (07:15:45)
1st Vet: Sylvie Scherzinger
22km Men
1st: Craig Burns (02:03:39)
2nd: Victor Gugushe (02:06:59)
3rd: Mazu Ndandani & Ruan Myburgh (02:14:38)
1st Vet: Jaysen Golding (02:20:56)
1st Master: Seppie Erasmus (02:59:03)
22km Ladies
1st: Takalani Nthulane-Ndandani (02:32:54)
2nd: Samantha Reilly (02:33:44)
3rd: Vimbainashe (Vimbai) Mhike (02:37:35)
1st Vet: Julie Huckle (02:37:53)
1st Master: Allison Ball (03:20:41)