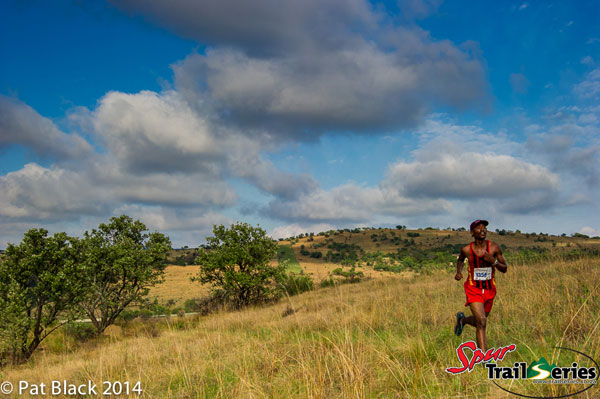 Almost 700 trail runners made their way to the Pelindaba Nature Reserve this weekend to take on the final race of the Spur Gauteng Summer Trail Series™. They weren't disappointed as the Highveld weather played along, delivering a perfect morning to kick off a typical summer Sunday.
Some of the biggest names in South African trail running showed up to join in the fun but it was Edwin Sesipi, a regular on the Spur Trail Series™ circuit, who came out on top and claimed the overall long course Championship Series title. He showed his class as he fought off competition like the national long distance trail running champion, Thabang Madiba, Drakensberg Grand Traverse record holder, Ryno Griesel and young gun, Ruan Meintjies to win the 11.3km long course in a time of 42:48.
In the ladies race it was Nicolette Griffioen and Meg Mackenzie who chased each other at the front of the field to be the only ladies to break the hour barrier. Griffioen came out on top with a time of 55:06 with Mackenzie following shortly after in 55:40. Although Lerentia Strydom beat Takalani Ndandani to the line on the day, this was not enough to claim the Series title which went to Ndandani.
In the short course Challenge, Luke Schlebusch made it three in a row as he was first over the line again in the 6.9km race. He finished in a time of 26:43 in front of Ryan Mathaba who came in in 27:48. Mathaba also claimed the short course Challenge Series title while Schlebusch, who was competing in the junior category, took first place in this category.
Adél Terblance claimed her third straight win in the short course Challenge and was the only lady to cross the finish line under 35 minutes to win in a time of 34:20.
It was the perfect end to what was a fantastic Series with Gauteng trail runners coming to the party every weekend. A big thanks to sponsors, Spur Steak Ranches, adidas, BOS Ice Tea, Protea Hotels, Graham Beck wines and Runner's World for their continued support to make the Spur Trail Series™ possible. And of course a massive thanks to the runners without whom none of these events would be possible.
Spur Gauteng Summer Trail Series™ Overall Results
Long Course Championship
Senior Men
1.    Edwin Sesipi
2.    Ruan Meintjies
3.    Tranquil Gumbo
Senior Women
1.    Takalani Ndandani
2.    Lerentia Strydom
3.    Jenna Bowes
Veteran Men
1.    Frank Kienhofer
2.    Mark Phipson
3.    Wessel Kritzinger
Veteran Women
1.    Benita Kritzinger
2.    Christél Nel
3.    Rachel Manyathi
Master Men
1.    Brian Chamberlain
2.    Simon Yates
3.    Hennie Keen
Master Women
1.    Lee Douglas
2.    Marti Pettit
3.    Julie Bayes
Short Course Challenge
Senior Men
1.    Ryan Mathaba
2.    Jacobus Jonker
3.    Mazu Ndandani
Senior Women
1.    Adél Terblanche
2.    Vimbainashe Mhike
3.    Zoe Brentano
Veteran Men
1.    Chris Dorfling
2.    Dieter Zimmerman
3.    Peter Ypenburg
Veteran Women
1.    Eva Alexandrov
2.    Christel Fairlie
3.    Diane Schlebusch
Master Men
1.    David Schlebusch
2.    Bruce Mostert
3.    Johnie Jonker
Master Women
1.    Noleen Willoughby
2.    Lynn Whyte
3.    Sue Gulcher
Junior (15-17 years)
1.    Luke Schlebusch
2.    Anrich Zimmerman
3.    Daniel Zimmermann
Minimee (11 – 14 years)
1.    Keegan Dally
2.    Kyle Farnham
3.    Caleb Rademan
Peewee (6 – 10 years)
1.    Tiaan Dorfling
2.    Scott Farnham
3.    Tenielle Swanepoel