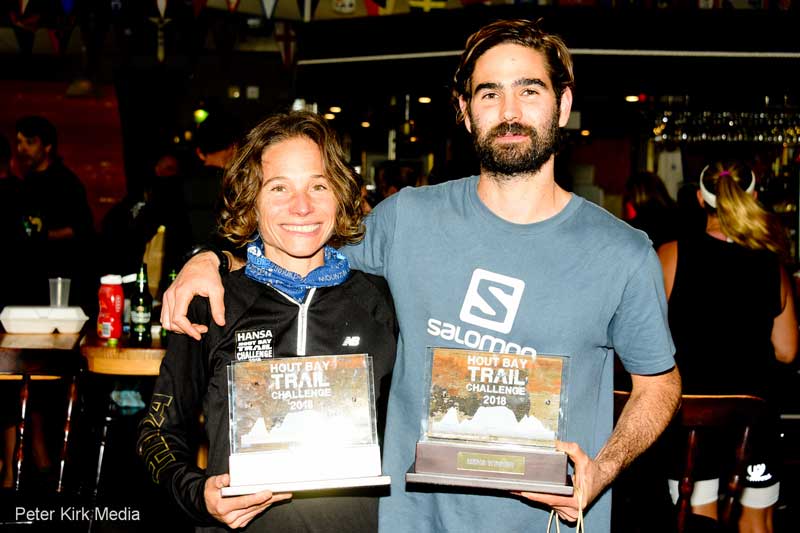 Cape Town, 28th July 2018 – Back from international competition in Europe, Kane Reilly raised the South African trail running bar to new levels with a superb record-breaking victory in the 17th Hout Bay Trail Challenge yesterday.
Kane Reilly takes Hout Bay Trail Challenge 40km

Two hundred and fifty participants, running solo or in teams, completed the challenging 40km circuit of Hout Bay mountain peaks in perfect conditions, starting and finishing at the harbour and summiting Karbonkelberg, Suther Peak, Llandudno Ravine, the Back Table and Vlakkenberg before traversing Constantiaberg and descending to East Fort for a final beach crossing.
By his standards, Reilly had below-par performances at Zegama in Spain and Mont Blanc in France in the past six weeks – the first two of the high profile Golden Trail Series. Bad sinusitis scuppered his chances at Mont Blanc, where his 5th place the previous year had promised hopes of a top ten finish.
But Hout Bay is Reilly's happy hunting ground. Having achieved the unthinkable by breaking the four-hour barrier for the new, longer course last year in 3 hr 59 min 34 sec, he simply cranked up the ante, racing clear from early on to cross the finish line in 3:54:34 – exactly five minutes inside his time last year.
"I wasn't sure whether I would be able to go for the record today," admitted Reilly, "but I felt relaxed and strong and was able to race well. The presence of top athletes like Ben Brimble and Robbie Rorich in the field made me keep up the pace as I was expecting them to challenge me.
"Last year I struggled a bit on the final climb up Vlakkenberg and lost time, but this year was better. I was expecting to hit the wall, but found myself at the top without much of a problem."
Robert Shaff, running the first leg in the mixed team competition, stayed within contact of Reilly for the first half of the climb up Karbonkelberg, before conceding. "It was ridiculous – I was only running the first leg and he had 40km ahead and he just ran away from me," Shaff reflected after arriving at the first transition at Suikerbossie 6 minutes in arrears.
Thereafter Reilly was on his own, giving a mater-class of controlled trail racing over technical terrain to achieve victory.
Brimble placed second, almost half an hour behind Reilly, with Rorich, who spent significant time navigating his was back on the trail after running off course on more than once occasion, third.
Katya Soggot too strong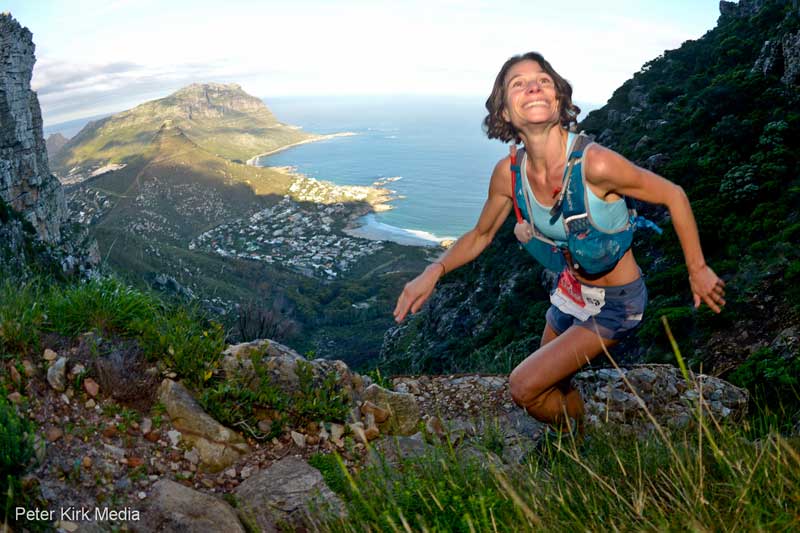 Evergreen veteran, Katya Soggot, was too strong for Sam Reilly – Kane's sister – returning to the scene of her 2010 record-breaking triumph to regain the title in an excellent 4: 59:17.
Reilly ended the first leg just 7 seconds behind Soggot and outran her on the final leg, but Soggot's strength over the Back Table in the second sector proved decisive and she won by just under five minutes.
report by Steve Granger
Results
Men:1 Kane Reilly 3:54:34; 2 Ben Brimble 4:22:47; 3 Robbie Rorich 4:31:15; 4 Dom Wills 4:32:48; 5 Joshua Chigome 4:33:59; 6 Louis Theron 4:44:38; 7 Kevin Spratley 4:44:38; 8 Michael Davison 4:58:55; 9 Ben Janse van Vuuren 5:03:28 10 Dale Symons 5:07:16
Veterans: 1 Spratley; 2 Davison; 3 Janse van Vuuren
Masters: 1 Costa Dimopolus 6:00:34; 2 David Stonestreet 6:35:36; 3 Richard Ayres 6:46:16
Women: 1 Katya Soggot 4:59:17; 2 Samantha Reilly 5:04:06; 3 Julia Huckle 5:53:59; 4 Sophia Ndlovu 6:20:33; 5 Erica Terblanche 6:53:08
Veterans: 1 Soggot; 2 Terblanche; 3 Tracey Forbes 6:56:31
Masters: 1 Huckle
Men's Teams: 1 Altravets (Pieter Calitz, Martin Kleynhans, Stephen Davis) 4:43:05; 2 Gold Ross Kenzie 4:43:26; 3 Team Up The 5:10:45
Mixed teams: 1 More Fire (Robert Twiddle, Bianca Tarboton, LindaDetering) 4:24:23; 2 Are We There Yet 4:32:48; 3 Team Frontrunners 5:29:05
Women's Teams: 1 Salomon Ladies (Hayley Preen; Danielle Feldman; Kristin Heath) 4:39:36; 2 Threesome 6:27:04; 3 Mountain Goats 6:47:47