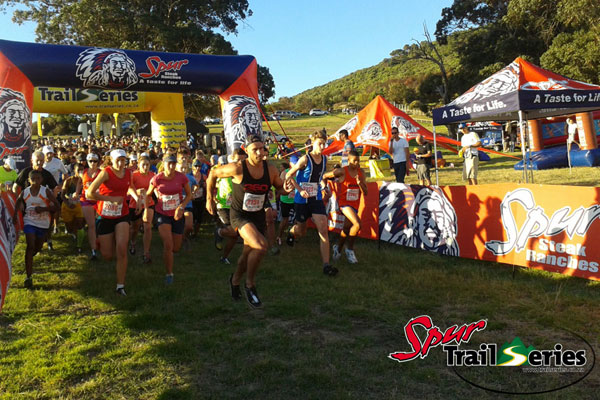 Scorching running expected at Spur Cape Summer Trail Series™ 2015
With entries almost filled up to capacity and the Cape summer showing its best side it's a definite that the Spur Cape Summer Trail Series™ will get off to a cracking start this Wednesday.
The Spur Trail Series™ is one of the most popular trail running events on the South African trail running calendar with each race in the countrywide Series usually selling out and this year seems to be no different. The first race at the Tygerberg Nature Reserve are close to capacity and approximately 800 runners are expected to take on this challenging course on 14 January.
In order to cater for the growing number of runners, the Spur Trail Series™ will for the first time implement batching. In both the long and the short course, four batches will set off two minutes apart in order to alleviate congestion on route and make the experience more enjoyable to both the front runners as well as the back-enders.
Bernard Rukadza will once again be the man to beat as he returns to defend his summer long course Championship title. Some of his strongest competition will come from long-time short course top performers, Raydon Balie and Riaan Wildskut, as well as triathlon veteran, Lieuwe Boonstra.
In the ladies field, Marié Wessels will be lining up as favourite but this is always a wide open race and it remains to be seen who will give her a run for her money.
The battle in the short course Challenge will be fierce as always, with runners having to go all out from the get-go to gain the initiative over such a short distance. We can't wait to see the youngsters Dawood Goeieman, Daniel Arendse, Hayley Preen and Mia Doyle go head to head – four young runners who are sure to go from strength to strength in the next few years!
Limited entries are still available and online entries will remain open until Monday, 12 January at 8:30. The full schedule of this year's Spur Cape Summer Trail Series™ is as follows:
•    14 January: Race 1 – Tygerberg Nature Reserve (SUNSET)
•    28 January: Race 2 – Constantia Greenbelt (SUNSET)
•    1 February: Race 3 – Lebanon Forest, Elgin Valley
•    7 February: Mountain XL – Silvermine Nature Reserve
•    22 February: Race 4 (Including XL) – Oak Valley, Elgin