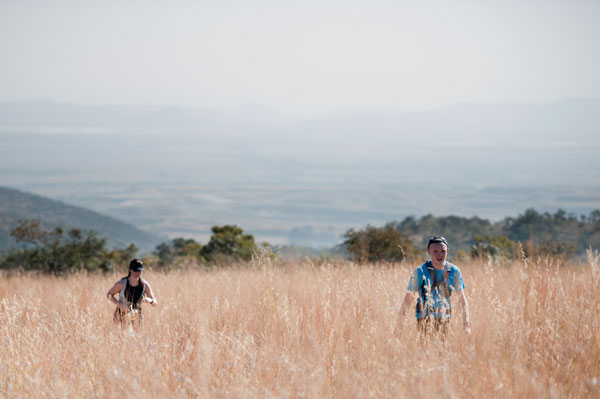 Trail Running enthusiasts taking on the 2014 FNB Platinum Trail Run presented by ISUZU in Buffelspoort (North West Province) on Sunday, 25 May 2014 can look forward to a memorable experience in the heart of the Magaliesberg.
"FNB Platinum Trail Run entrants can look forward to an interesting and challenging run in the Magaliesberg," says Nicola Collins, Event Manager.  "A neutral zone through the ATKV will provide a good warm up before the legs are introduced to the infamous Magaliesberg terrain! Runners can expect a perfect mix of terrain, including grassy tracks, loose rocky sections and single track.  With three distances to choose from the FNB Platinum Trail Run caters for all runners from beginners to seasoned athletes".
ROUTE BREAKDOWN:
All three distances will follow the same route from the ATKV, which includes a neutral zone through the ATKV, a river crossing and a section along a shady canal. From here the route goes up a beautiful gully which is rocky and fairly technical. A tunnel underneath the road will bring runners to more open running, before splitting the three routes.
The 24km route will turn right and along a grassy path before meeting the major climb of the day which will take runners up to a plateau with spectacular 360° views. Some flatter running will follow on top of the plateau before a steep descent leads the route back down toward the Buffelspoort Dam. A single track along the dam begins the return to the finish line at the ATKV.  This route is recommended for the more experienced trail runner.
The 12km route will turn left at the split with some undulating terrain before joining the 24km route on the descent to the Buffelspoort Dam.  The 12km route is suited to intermediate runners looking for a challenge. This is also a great option for road runners looking to do their first trail run.
The 8km route will follow the 24km route along the grassy path but will continue back to the ATKV through orange orchards.  Although a level of fitness is required, the 8km route is aimed at all levels of runners, from beginners to the whole family.
EVENT INFORMATION:
| | |
| --- | --- |
| DATE: | Sunday, 25 May 2014 |
| VENUE: | ATKV Buffelspoort (North West Province) |
| DISTANCE: | 24km |
|   | 12km |
|   | 8km |
| START TIMES: | 09h15 – 24km |
|   | 09h30 – 12km |
|   | 09h30 – 8km |
Number Collection will take place at the ATKV on:
Friday, 23 May 2014 between 16:00 – 19:00.
Saturday, 24 May 2014 between 09:00 – 13:00
Sunday, 25 May 2014 between 06:00 – 09:00
A limited number of late entries will be accepted at Number Collection.
Trail runners can stock up on much needed energy in the Bokomo Breakfast Zone the morning of the event.