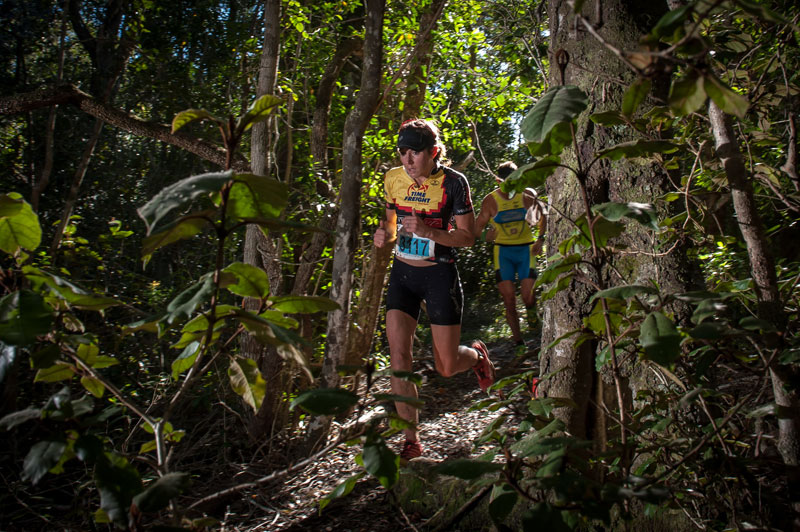 Knysna, South Africa – Top XTERRA SA Warriors, Carla Van Huyssteen and Stuart Marais will be seen throwing down the gauntlet at South Africa's leading off-road triathlon, the Totalsports XTERRA Pezula presented by REHIDRAT® SPORT that will take place at the picturesque Conrad Pezula Field Of Dreams (Knysna) on Thursday, 09 July 2015.
Xterra Pezula Title
"Claiming a title is one thing, but defending it one year later is much harder," says Van Huyssteen, whose winning time in 2014 was 01 hour 55 minutes 53 seconds.   "The women's field is really strong this year.  With some great runners and bikers having entered the race, the only strategy that I can have is to go out hard from the start.  All the female entrants have various strengths.  It's going to be the athlete with the complete package that takes the win".
According to Marais, he enjoys the duathlon format of XTERRA Pezula.  "It changes the race dynamic, which has me close to, if notat the front of the race.  It also offers triathletes a fun race option during our winter season.  From a course perspective, it is fantastic.  It's a lot of fun, very fast and extremely challenging.  I recommend this event to anyone wanting to get a taste of XTERRA.  The race is short and doable.  There is no swim, so this takes away the initial fear of triathlon".
Forming part of the much loved Pick 'n Pay Knysna Oyster Festival, XTERRA Pezula is the ideal event for the entire family.  Junior XTERRA Warriors will follow in the footsteps of their heroes by taking part in the Totalsports XTERRA Pezula Kids Race on the Wednesday, the day before the much anticipated Totalsports XTERRA Lite and Totalsports XTERRA.
Wednesday, 08 July 2015
Venue:    Conrad PezulaField Of Dreams (Knysna)
Totalsports XTERRA Kids:    AGE GROUP 6-8yrs: MTB: 1,5km; Trail Run: 500m
AGE GROUP 9-11: MTB: 5km; Trail Run: 2km
AGE GROUP 12-14: MTB: 10km; Trail Run: 3km
Cost:    R60
Junior XTERRA Warriors will each receive a fun Totalsports XTERRA Kids goody bag that will include a drawstring bag, a box of scrumptious ProNutro and a surprise gift from ISUZU. Medals will be awarded to all finishers.
Thursday, 09 July 2015
Venue:    Conrad PezulaField Of Dreams (Knysna)
TotalsportsXTERRA:    Trail Run: 3km; MTB: 23km; Trail Run: 7km
TotalsportsXTERRA Lite:    Trail Run: 3km; MTB: 12,5km; Trail Run: 3km
Cost:    XTERRA Individual / R420
XTERRA Team / R540
XTERRA Lite Individual / R250
XTERRA Lite Team / R360
All Totalsports XTERRA and Totalsports XTERRA Lite entrants can look forward to receiving a goody bag filled will spectacular sponsors gifts including:  an event t-shirt, a Fedhealth t-shirt, a Totalsports XTERRA Peak, an ISUZU XTERRA gym towel and two REHIDRAT® sachets.