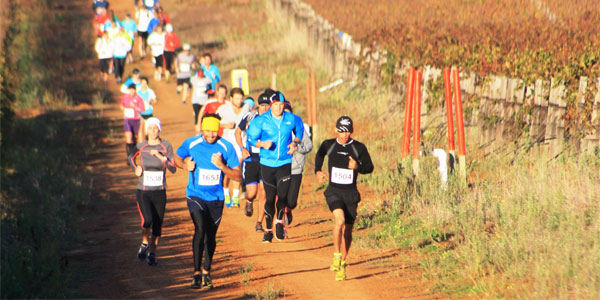 EDIT: FALKE TRAIL RUN POSTPONED
The winter Falke Trail Run will be hosted at Muratie, originally scheduled for tomorrow (Saturday, 5 July) has been postponed to Sunday, 13 July due to expected heavy rain and extreme cold weather predicted for the Western Cape this weekend.
The winter Falke Trail Run will be hosted at the historic Muratie wine estate tucked into the exquisite Knorhoek Valley north of Stellenbosch on Saturday, 5 July.
More than 300 participants took to the track for the first event of the four-part Falke Trail Run Series at Delvera in May with the spring and summer events scheduled for October and December.  Outdoor enthusiasts as well as keen trail run athletes should not miss out on this opportunity to spend a lovely winter's morning in the beautiful Cape Winelands.  Single singletrack heaven climbing in the forest just above the cellar with awesome views!
Limited space available so secure your spot by pre-entering online before Wednesday, 2 July.  Registration opens on the day of the event at 08h00 with the runs starting at 09h00.  Participants can choose between a 7km at R80 entry and a 12km at R100.   Timing will be done by Amarider Trail Tag – available for rent or to buy.  All finishers will receive a medal and a coke.  A refreshment station on both routes with Powerade, fruit & nuts will keep runners hydrated.  Coffee will be for sale from early morning.  The restaurant will be open for lunch – make sure you book!
The Dirtopia Trail Centre also stocks the latest range of Falke running socks, including the Falke Trail Running sock offering state-of-the-art comfort and moisture-control with a double reinforced heel and toe, additional ankle support as well as heel and toe cushioning to stabilise and protect against impact.  Extra fine toe seams eliminate discomfort and reduces exposure to blisters, while the wide rib cuff keeps out grime and grit when tackling your favourite off-road trail.  Specially constructed mesh panels combined with the unique Falke Drynamix Moisture Management system keeps feet cool and dry.  The Falke Trail Running sock is available in coal, lagune, pistache and fuschia at R46 per pair.