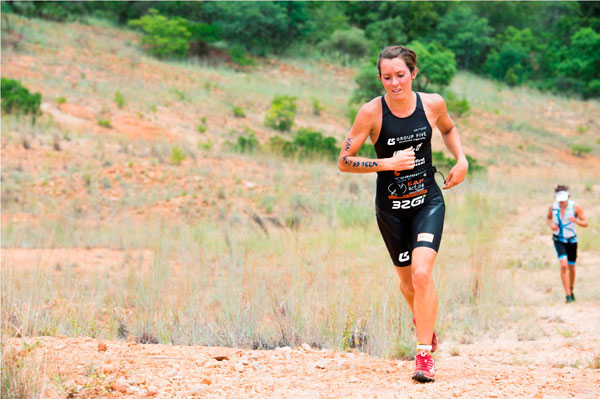 Top South African XTERRA Warriors Dan Hugo and Carla Van Huyssteen claimed victory in the men's and women's categories respectively of the Totalsports XTERRA Buffelspoort Full presented by REHIDRAT® SPORT on Saturday, 25 January 2014. 
Hugo completed this much loved off-road triathlon in a combined time of 02hours31minutes, while Van Huyssteen's winning time was 02hours58minutes02seconds.
According to Hugo it was a weekend of firsts.  "I've been sponsored by Specialized for seven years now.  It is really special having them as the official bike partner of the Totalsports XTERRA.  I am also thankful to Totalsports and REHIDRAT® who are both my sponsors as well as the event sponsors.  I'm always positive when I've had a good swim.  There were surprises on both the mountain bike and trail run course.  These surprises always lend themselves towards character building.  Hendrico Burger and his route building team are sneaky that way. With Flora being here I look at the event from a tourist's perspective, and we definitely got a true African Experience today," said Hugo.  Nico Sterk came in second, while Bradley Weiss finished third.
Four-time XTERRA World Champion, Conrad Stoltz was forced to withdraw due to mechanical issues.  "I'm really disappointed.  XTERRA Buffelspoort is such a special event and I really wanted to race well.  Although my bike suffered a sidewall puncture, I managed to plug it and was confident I could still pull off a win as I was feeling good.   But this being what I call the 'Africa kind of course' I soon picked up another puncture and knew that it was just a matter of time before my bike had another flat.  Unfortunately I'd run out of air and was unable to fix it.  I've had flats before and I've won races, I've broken a chain before and I've won races.  I'm always up for a challenge.  Going into the Totalsports XTERRA Grabouw in February, I will just give my best," says Stoltz.
"I was so nervous coming into this event," said Van Huyssteen.  "I actually felt nauseous and couldn't help but laugh at myself.  When I got to the swim discipline I told myself to relax.  XTERRA is so much fun, no matter what happens whether I place first or last, I was just going to have fun.  The altitude was definitely in my favour.  In Pietermaritsburg I've been focussing on power building through hill training.  I really wanted to be the first South African girl across the finish line today.  I saw that Flora was suffering on the bike, so I decided to push really hard even if I ended up breaking myself.  It really is special winning in South Africa.  The support is extra special," said Van Huyssteen.  Flora Duffy came in second, while Nicolette Griffioen finished third.
EVENT INFORMATION:       Totalsports XTERRA Full presented by REHIDRAT® SPORT
Date:                                                   Saturday, 25 January 2014
Venue:                                               Buffelspoort Dam
Format:                                                          1.5km swim, 26.5km mountain bike and 12km trail run
Started at:                                         08h30
The Totalsports XTERRA Lite presented by REHIDRAT® SPORT will kick off at Buffelspoort Dam at 09:00 on Sunday, 26 January 2014.  The Totalsports XTERRA Lite features a 400m swim, 17km mountain bike and 6km trail run.
XTERRA Warriors can look forward to stocking up on energy at the much loved Bokomo Breakfast Zone, while the REHIDRAT® Zone will be a welcomed oasis for Warriors after a tough day of racing.
All entrants will receive a goody bag and event t-shirt, while all finishers will be rewarded a stunning Totalsports XTERRA medal.
RESULTS:
Totalsports XTERRA Buffelspoort Full presented by REHIDRAT® SPORT

Saturday, 25 January 2014

Womens Overall Top 15

Place
Surname
Name
FinishTime
1
Van Huyssteen
Carla
02:58:02
2
Duffy
Flora
03:05:56
3
Griffioen
Nicolette
03:08:31
4
Van Tromp
Sylvia
03:15:06
5
Moolman
Adrienne
03:21:10
6
Grobler
Nicci
03:31:25
7
Smith
Carolyn
03:34:09
8
Southgate
Karyn
03:36:44
9
Leicester
Johandri
03:39:34
10
Visser
Herme
03:40:55
11
Vercuiel
Erika
03:41:45
12
Hirst
Lora
03:48:47
13
Le Roux
Renante
03:49:02
14
Swiegelaar
Nina
03:49:21
15
Rossouw
Annarie
03:51:53
Totalsports XTERRA Buffelspoort Full presented by REHIDRAT® SPORT

Saturday, 25 January 2014

Men's Overall Top 15

Place
Surname
Name
FinishTime
1
Hugo
Dan
02:31:00
2
Sterk
Nico
02:37:37
3
Weiss
Bradley
02:39:56
4
Blignaut
Theo
02:41:39
5
Carleton
Daniel
02:47:29
6
Baptiste
Trevor
02:51:21
7
Daneel
Matthew
02:52:32
8
Young
Johnny
02:53:07
9
van Niekerk
Markus
02:53:18
10
Neethling
Jeffrey
02:53:44
11
Andrews
Craig
02:56:30
12
Freeman
Bryn
02:56:50
13
Purtell
Darryn
03:00:37
14
Smith
Craig
03:05:07
15
Pirow
Piers
03:05:08