Part 3 (final for now) of  Facet 2 of what makes
the Comrades Marathon an ultimate run
More of the finish-line feeling: With relief, achievement, the affirmation and culmination comes more. Unwrapped by the run is an acceptance and a fuller appreciation of ourselves just we are  – understanding, maybe our quirks and nuances, maybe more, enjoyment of our lives, even a pinch of admiration.
In those last 50 m, richness floods the senses, inner and outer, now scoured by the effort of the run: bright the taste of air, tight the hunger's grab at soup, prickling the connections with so many others and what they feel.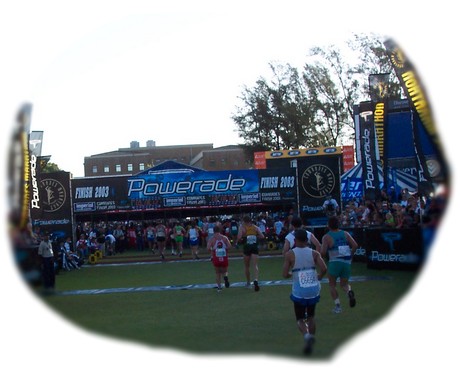 We experience nothing less than what it's like fully to be; body, mind, soul singing a song of human being.
Maybe we also feel tired and sore; feelings hard to ignore. As we recover, even if it takes long, a flare, a match struck, an inner fire lights. Those 55 miles pop a cork; we quiver, then can let ourselves revel in the pop, fizz and burst of life.
Nudge in the ribs and its reward
It's funny. To cope with the Comrades distance you have to think you can do it. Once this thought has been internalised, the jump to thinking that it's easy is not big. So comes complacency; so comes the need for a jab in the ribs.
Most of us, you will understand, need often to get our feet on the road to get through Comrades. Peter Bosch didn't. In the days before runners had to qualify, his training was to give up smoking. Okay so he was student-young and hubris-strong. He found out at the end how hard it was really was but he got his medal.
Anyway, if you can get through without training, it's only part of the story. There will always be a level which you can't make without training: try winning without training; if that's too hard then getting a silver medal, or even under 10 hours; or maybe try going back the next year.
A Comrades choice: do we slip through or do we work for something. For some of us, even if we do train, we might not get to the end or get there on time.
The point is that less-trained legs aren't likely to get to the end. If nothing else it's the chafe in the shoe, the bottom of our feet, that need to be able to do around 90000 footsteps without breaking.
The nice about training is how much it gives back; oh, so much more than double. Besides maybe ensuring the Comrades goal, training lights up an evergreen tree hung full with presents, sweets and fun.
Getting out the door 4 or 5 days a week, into the near dawn-dark or a luscious sunset, is a kind of perfection. So is the spring in the step and the fire in the eye – you can see that I easily ignore the tired legs – and the tug of a fully belly and a warm bed after a long run in the cold.
Runners will say they get perspective out there. They can find an active peace that dissolves their stress. Runners touch with themselves and with nature as they are really are.
The weekly long slow run is extra-special, filled with flip-plopping footsteps, rustling breath, sunrises, maybe rain, wind, heat and sweat. Often filled too with 5:30 friends, gossip and endorphin-glow, a little sublimation sure and always hope.
I'm sure all runners find that the next coffee, beer, nachos, unfolding view, chat is better after a run than before a run.
Maybe it's not just the Comrades distance that nudges us in our ribs when we skip a run or two. Maybe the jab also comes how much we like just being out there, happily running, happily strong.
The changing Comrades distance
The Comrades distance teases. It seeks, I hope, to unsettle those who need standardisation and predictability.
The idea as we know, was not so much a standardised distance but to run between the Durban and Pietermaritzburg; far enough that a change here or there makes no difference. The distance changes from year to year with the alternating start venue. The effort might be same because there are more up's on the shorter up-run, because you end up 700m higher in altitude than the start. While you might not pant as much on the down run, it is longer and you need be downhill running strong.
The distance also changes when the finish venue changes, if road works interfere with the normal route, and with ideas on how best to manage the human stream and traffic flow.
Mostly the range of change isn't big – a couple of hundred metres or so. And we say this casually about anything from 200 to 800 metres. But now and again, mostly likely, just when you are ready for your silver medal attempt, just when you are at the very best you will ever be, the Comrades route can grow by 2 km and then what?
Both start lines are settled. But for many even the start creates an issue: tt adds extra uncounted metres and extra minutes to the run. TV shows that it takes around 7 minutes for the last runners to cross the start line, a bit longer if you count those who get there late.
The changing distance and the slightly changing route are part of the character of Comrades. Always the run is long enough that a kilometre or two longer or shorter makes little difference to the experience and its aims. The adversity, the challenge in the distance is always there.
The Comrades distance creates it magic when we keep going right to the end however far it is. It comes when our deeper selves respond and, as Vic Clapham knew, our spirit is uncorked.
Facet 3 of what makes the Comrades an ultimate, is the spirit it releases.
©Wildbooks Ink. It would be polite and legally correct if republishing this work or part of it would be preceded by the express written permission of Wildbooks Ink from wildbooks@mysticalmiles.com on the terms it prescribes.  Excerpts may be used if the writer, Paul Vorwerk, is prominently, fully and clearly indicated and that prominent and specific reference is made to the original content and this site.