Ah …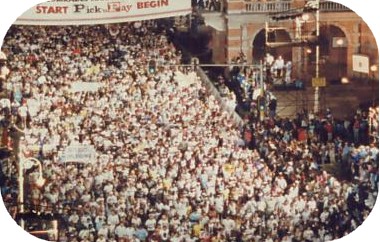 paragraph I see now (July 2011) that the Comrades organiser's will allow substitutions. Great. Anyway here's what I had been thinking:
Wouldn't it be nice
to run with 18 000 other runners? With more if they turned up?  I'd love it. The Comrades experience is that much richer with as many runners as possible.
The run in the year 2000 proved that that logistics of lots are not too difficult.
Early entries
I'm sure the early entry and limit have practical and good benefits for the organisers. They also are good for runners like me. The commitment created by having to enter the October before the run gets is good. Without it I found it hard to get started again because starting again from zero is hard.
The lure of another medal, another run, is strong, but not always enough to kick me out the door. I know. For three years I wanted to run never got out on the road enough. The late April entry deadline, made it just too easy to put off starting out. January came quickly and, well, too soon it was too late.
The October entry ensures that I get into the race, gets me out on the road – maybe not enough but that will come.
Early entry with a limit creates a problem
I also know that sometimes, having entered and trained,  it is impossible, to get to the start line. There might be a death in the family; maybe a new baby, an injury, a big negotiation.
Equally I know that some wannabees enter to book their spot but won't get to the start line, will hardly try; one I know won't even start training. It's enough for him just to enter the run.
The problem is that the early entry with a limit means that genuine runners can't get in. No-shows on the day, for good reason or not, block legitimate hopefuls from running. That's a problem. If  no-shows, not-really-intending-to-run-runners keep out keen runners, then it's not good for the race.
Entry Substitutions
So why not allow substitutions?
Make it possible to run those who can and still want to run. Part of what makes the Comrades the ultimate that it is, is that it encourages ordinary people to do something extraordinary. Genuine runners should be given every chance.
If too many runners struggle to get into the run, soon enough, runners will give up the idea that they have to get the Comrades experience
This year, 2011, only ~13000 of the 19000+ entries actually lined up to start.  A waste of good entries.
Sure substitutions need admin and a system needs to be set up. The Pick'nPay Argus Cycle tour in Cape Town, also with many thousand entries manages substitutions so there is experience to draw on. I've done a business needs analysis for a workable system – so it shouldn't be too hard to set it up.
Entries that won't be taken up should be handed back to the Comrades administrators (other than, say, swapped or sold among the runners) and allocated on a fair basis to hopefuls. It's not to say that those who entered and can't run should get their money back.
Those who want to run could to pay the entry fee as well as a substitution-administration fee if the cost of handling substitutions is too high. The late substitutions who get in will forego the T-shirt and running in their Comrades race number if priniting can't be done in time and it's a condition of a substitution.
Running, taking part in the ultimate run, maybe even getting a medal, is actually enough.
And, sure, a date needs to be set as a cut-off for substitutions.
So substitutions needn't cost Comrades anything;  and as long as they are within the overall race limit, there will be no changes orders for supplies, badges or medals.
Current overall limit
I understand the need for a limit on entries. It adds certainty to the planning and logistics for organisers and sponsors. It reduces the chance of over- or under-catering. The limit reduces waste  – although only up to a point. Too many no- shows and the waste is back.
Even though the current limit of 18000 looks enough, entries should be monitored. If there are consistently over 18000 want-to-runs, the limit should be increased.
Everything should be done to enable those who want to run, to run.
So ..
Let's allow the Comrades Spirit to grow by enabling as many qualified runners as want to face the challenge on the day by
keeping the limit, but monitor it and increase if necessary
keeping the early entries
providing for entry substitutions