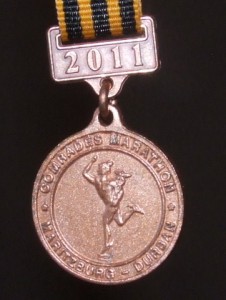 Part of perfect ultra-running is being able to run with, let's say, ultra-efficiency for hours on end. The best I got to was maybe 6 hours on tar with hills; maybe 10 hours on a paved, flat 100-miler; and, around 14 hours on mountain trails as long as I didn't twist an ankle or two.
At the right effort level, wear on body-legs-mind is minimal. With a little refuelling and good hydration, the effort is, let's say again, near-effortlessly sustainable. No recovery required besides maybe an espresso, maybe a beer, a little snack and dreamy snooze.
Body-in-motion, every system functioning strongly and in harmony, active, meditative, soul-filling, spirit free – a kind of the fullest being, a kind of perfection.
It takes a while and lots of running to get there. No doubt about that. For 2 ½ years I've been trying. While I'm on my way back – I can get into that zone for maybe an hour if the route is flat or down, I've still got some way to go to keep it up for most of a day.
In a way it's a pity. The Comrades Marathon is much more enjoyable running in that easy, effortless state for maybe half the run. That means only half a run of concentration, effort, discomfort. Because of what Comrades embodies – a race, a culmination, a goal – I run a little faster and the effortless state ends earlier anyway.
Not that I mind. I like the idea of all the easier work in training – lots of spirit-free running  – and then to race, to get there in close to the best time possible on the day with the training done. Racing has its own riches.
Reflection: Maybe I could have gone a faster this year. But it wouldn't have been much – not much more than 20 min. But  faster increases the risk of failing. I wanted a finish, a medal. I played it safe. Given how glad I was that the race ended there in Alexandra Park and not up in Hilton I was pretty close to being finished by Comrades even if I finished it. And now it strikes me that I'm glad Vic Clapham lived in Pietermaritzburg and not in Howick – another giant climbs and a good few kilometres further.