Friday is normally my rest day. Plus this should have been a rest week, according my theory of having an easy week after 4 effort weeks.
I missed yesterday because I just didn't want to step into the dark, swirling, drenching rain. When it cleared and the sun came out, I nearly but not quite reorganised my day to run.
By this morning I was keen to catch up the missed run and to see what a day's rest would bring. So I set off early to see if I could PB  my 8.72 km route – my regular 8 km run. Felt great – Legs strong, good focus – until I checked my watch and laughed.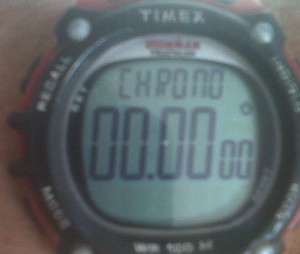 Part of me hadn't turned on the stopwatch.
I like that part of me – the ultra-me who knows and does the long runs. Welcome back!  This other more often ego-me, the one who decides to do Comrades and make a thing about it, gets all panicky too easily.
Ultra-me knows best what I can do and should be doing. He's taking charge even now. Great. The PB didn't matter. It could even have been too much
I know  – well if I feel good – I'll get it next week
Before then I can look forward to tomorrow's 20 km easy effort run.