Comrades Training Theory
The short version of  the theory of the distance part of Comrades training is this:
Starting with what you can cope with in January

run weeks of increasing mileage so that first 10 weeks average is rounghly 10% less than the second 10 weeks average

with a once a week long run of not more than one-third of the weekly distance
except for at least three runs over 32 km runs
building towards a peak week 4 weeks out from Comrades run day

all within your limits so you don't break down and arrive fresh at the start which means

 maybe three easier weeks in between the build up weeks (one every 4 to 5 weeks)
continually assessing what you are doing and its impact on you and your life as a measure of the impact of your training
and cutting back if you are doing too much.
Comrades Training Practice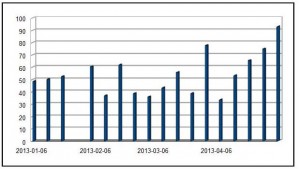 This is how the theory has worked so far this year, 2013, for me (I know its not world beating stuff. I do what I can, taking a bit of a chance  by pushing my limits):
I was sure I could cope with 40 km a week in January and aimed at doing 40 km average for the first 10 weeks, 50 km for the last 10 so averaging 45 for the 20 weeks of training. The Comrades minimum total distance training. Its not much i know but enough to get me a finish in not much more than 11 hours because I still have a bit of speed in me.

I thought I could do a bit more and aimed at 45 km in the first phase, 55 in the second phase to average 50.
Its working out to a bit more, an average of 52 km per week.
I've done 4 runs over 32km – two standard marathons, the 56-km Two Oceans marathon and my own 44-km run according to map my run, I call it 40 kms but log 42 just in case. The point really was that it took 4:40:35 and that was just great.
Having set a base of 45 km a week I built towards the peak week – aiming at replicating this years Comrades' distance of about 87 km.
I got there this last week on Saturday, laying down ~90 km. I did push than more than safe, but I really wanted a 4+ hour run.  I sniffled on Sunday, haven't run today. but am otherwise uninjured and undrained and am feeling better all the time and looking forward to the run.
I'm happy.
Now for the taper.