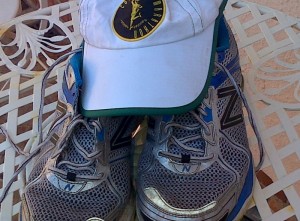 Long enough ago …
I ran 11 Comrades, one after the other, got sick, got better and a medal a couple years later then stopped for too many years.
So this is a kind of second time around and definitely starting over. My record for Comrades Two – two Vic Clapham medals, one DNS and one failure in which I got to about 84 km before the 12 hours ran out. Right, running 84 km in 12 hours is a failure.
To put my Comrades Two into perspective, 20 years ago I ran I silver, now I charge the last 500 m to get in before the final 12-hour cut-off.  My average for Comrades One was under 9 hours with two just under 10 hours, one 10+ hour run and two under 8 hours.
But hey, if getting a Vic Clapham medal (11 to 12 hours) is the way to honour our Vic, I'd happily run that long every year I can get to the startline of his masterpiece at least okay enough to run with not too many holes in me.
Training right
This year I was strong to ultra-run. Something I haven't really been for maybe 13 years. The strong of running regularly over many months, gradually increasing mileage and having an easy week now an again and, not getting sick or injured during that time.
I think its right to say that if you manage yourself right through all the training, you can manage yourself through the day of the run.
Running enough adapts all the running systems  and gets them working together – legs strong, cooling system efficient, digestion-absorption supporting running, motivation making sure that I know a sleep after finishing is better than a sleep that stops me finishing in time – (my kind of running humour in case you're wondering why I brought sleep into the equation); in short all of what it takes to run.
In practice it means having fun on 4-hour runs, get back and still have energy for the kids and to mow the lawn. And to look forward to lots more run-in sunrises.
Running on the day
In running-on-the-day terms my training meant I got to the start line maybe 12 kg lighter than when I last ran Comrades two years ago, and with more then the minimum miles in my legs; enough I would have guessed for an 11-hour Comrades.
Not that I was there for a race against the clock and course and conditions.  I was going to share the run with friends Hans Koeleman and Simone Guikema from Amsterdam, Holland. I was confident that I had enough to finish no matter what and sure enough that's what happened
More than that I knew that I knew enough about what and when to eat and drink along the way. I do. I know how to use my fat supplies for energy (enough I'm sure to get around the world a couple of times), how to keep up my blood sugar up and how many and what electrolytes to take when. I kinda know it all and know it right, do it all and do it right. Except for one thing.
So I had enough when I hit the heavy heat and wind on Harrison flats to get to the end in a slower time. My legs never got sore during or after the event because I walked lots on the ups.
The only problem
The one thing I can't do is get the past the point where I just can't drink anymore. Slurp-fatigue.Swallow-overload. I tear open the water sachet or Energade bag, or swallow at the Pepsi cup and my throat opens to let in a little and then … that's it. Gag. No more for a good km or two.
Under the 2012 conditions, going at that slower pace which increased the time-gaps between the water tabled, I dehydrated. Not enough to blow the run, but enough to make walking the ups even slower.  I cheated a bit on the downs and let gravity drag me into running quite merrily (more humour – it's what really gets me through, with my shoes and cap). Thank goodness the last 18 km has lots of downs.
When I'm dehydrated my mind keeps working at whether I will make it with what I have left. I like that. When it is sure my old body had enough it wanted to drink even less. By then it was getting dark and cooler anyway. Sure enough, I crossed the line with a big grin. Ultra-success. Comrades success. But well depleted. 3 l of drip depleted.
I've been more or as dehydrated at the end of a run, even at this year's Two Oceans 56km run. Usually I stagger away, think about and sometimes start drinking a beer and gradually replenish. But this time I though it best to get a drip which ended up as three and get a bigger part of the Comades family experience – those great doctors and carers in the medical tent. They restored just about all the vitality I need to smile and doze on the way back to Durban.
Other than that I got off lightly. I'll lose a toenail on my right big toe. But it will grow again and maybe look better than the old one.  And a got more light from the Comrades glow, so that I'll be back next year if all goes well.
The learnings
The learnings reinforce the essential basics:
Do the right training right. Know how how to eat and drink on the run. Know how to cope with conditions on the day, even if it means toughing it out.