Part 2 of  Facet 2 of what makes
the Comrades Marathon an ultimate run
First, more of the feeling on crossing the Comrades finish line.  With relief and achievement comes: a marvellous affirmation of all that you dared, all that you did, all you prepared, all you endured; acknowledgement that you campaigned and survived; a culmination well-resolved that allows you first to rest and assimilate what you did; then to fan the embers of the fire that you will next burn. And there is still more in that feeling but now for more on the Comrades distance.
Is ~90km easy?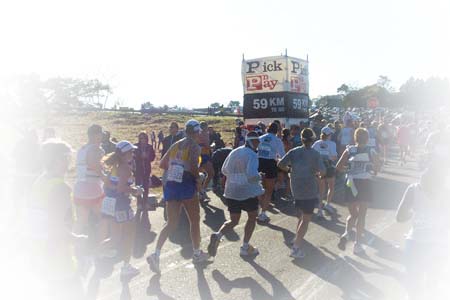 On TV, Comrades looks easy, even from the side of the road. If only a few people took part, it would look harder. But the constant stream of runners, ordinary enough looking, makes it easier to trivialise the run.
The front runners relentlessly race to the finish. Besides a sweaty stagger they hardly look, from the outside at least, as if the distance was much of a problem. While they walk the finish arena sipping maybe soup, other runners are out on the road and will be for hours still. They smile and wave. They crowd to be on camera. Some wear funny hats. It's a long party – chatter, jokes, music thump-bump, spectator cheers and runners' responses.
But it's not only that. Under the festive noise, the TV commentary, the exuberant interviewers, is a quieter soundtrack: a faint gurgle as runners' endurance slowly drains; the rasp of a blister, the crackle of a crumbling will; the effort of a foot forced forward.
The TV doesn't show this increasing, compounding wear on the runners; doesn't show the increasing concentration etched on the runners faces. It's inside the runners who feel it and have to manage it.
Anyone tempted to call Comrades easy merely needs to relate it to how they feel after a day of sitting at an office desk, of standing for an hour doing a presentation or in a queue, or how far from the gym-entrance they try to park – then multiply the fatigue by twelve or fifteen or a thousand.
I remember a colleague, Frank saying, "You can walk it." I'm not sure I could, I walk too slowly and walking uses untrained muscles. "Maybe I could," I said, "but can you?" Reality is a good test of lots of things that go on in words.
So if you are tempted to say Comrades is easy, enter the event, go and do it.
If you've run Comrades before it's easy to think that it's an easy run. You just need to train a bit. We forget the hard parts too quickly. My 8th Comrades was the hardest. I thought I would never run again. It took 5 month before I started running again. But by January the next year I was looking forward to the 9th.
But maybe the easiest thought of all is that Comrades distance is too far, that its roads are too hard, the views uninspiring – I mean how many of us go off the route to look down into the Valley of a Thousand Hills. It's too easy to reject Comrades and quickly  multiply the justifications for avoiding its test.
Shifts
The Comrades distance needs a mind-shift. You have to expand what you think is possible. If your mind won't conceive the distance, if you can't, so to ay, fit it in your head, running it is so much harder.
Comrades also needs a body-shift, mostly out of the door. Because, you can if you want to think about this a little, mind and body are one, actually it needs to start the cycle of mind-body->body-mind shifts.
With great spirit you can enter the race and commit to its training; dreaming of the medal you will earn. It's just as easy, 3 or 4 times a week to run easy runs and think you are doing enough; to skip a run or six in January. Race day is a long way off, you understand, there is time to train. But because you build your running strength by constant accumulation, your body does need to shift more and your mind does need to shift your body out the warm bed, out the cosy music in the car on the way home after work, into the running world.
There's another thing. The glow of beating the hills and cut-off of a run-of-the-mill-perfect 42.2 km January marathon is great. In Cape Town we are lucky to have my favourite marathon, the Red Hill. Beautiful route (that takes in a small part of the Tuffer Puffer), a serious climb and a very good determinant of two things: one being how fit or unfit you are, the other that it predicts the best Comrades time you can achieve that year – ~2.5 time that marathon time.
You know deep down that all you can do over the next four months is to get strong enough to do that prediction.
It takes little jolt, maybe that of a double espresso after the breakfast to celebrate the finish, to remember that on Comrades' day, 42.2 km isn't even half way. It's true, you see, that running a 42 km is an achievement in itself. The problem is that 42 km over a hard course, then another 42 also over a hard course, then a little more.
That jolt reminds me that even when I was at my strongest, doing 140km a week with training runs of 44 km on consecutive weekends, I needed to snooze after each one. Maybe it was just that I didn't want to mow the lawn. But actually after running 44 km I didn't feel like running more right then – I preferred the after-run snooze, feet in the sun, in the lingering memory of the run and the sizzle and fizz of a perfect after-run breakfast, and the crackling smell of more fresh coffee. Still, as I drifted off, I remembered that 90 km is quite a long way too.
Part 3, the last, of the Perfect distance comes next
©Wildbooks Ink. It would be polite and legally correct if republishing this work or part of it would be preceded by the express written permission of Wildbooks Ink from wildbooks@mysticalmiles.com on the terms it prescribes.  Excerpts may be used if the writer, Paul Vorwerk, is prominently, fully and clearly indicated and that prominent and specific reference is made to the original content and this site.