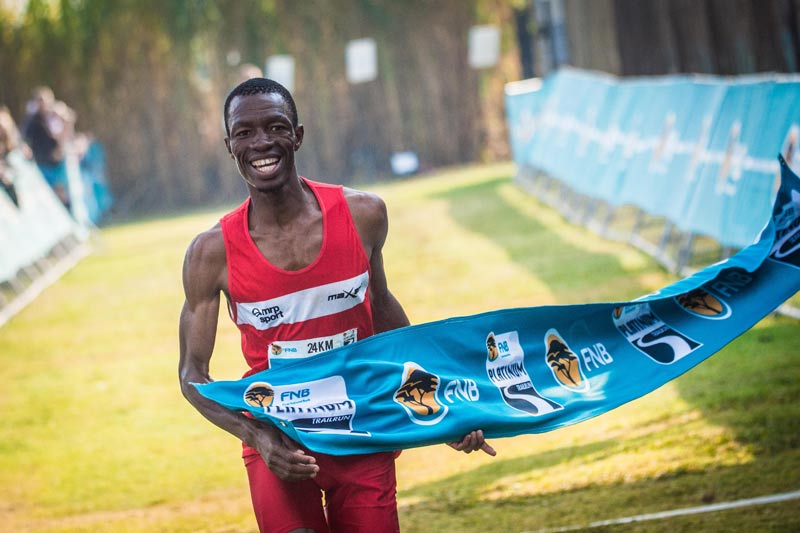 Teboho Noosi (Lesotho) successfully defended his title at the 7th annual FNB Platinum Trail Run at the ATKVBuffelspoort today (Sunday 02 June 2019), with NoukhosiTshuma(Tembisa, Johannesburg) claiming victory in the women's race.
Teboho Noosi defends FNB Platinum Trail Run 2019 title
"I came to defend my title," says a very happy Noosi who completed the Long(+-24km) Route in an impressive time 01 hour 25 minutes 22 seconds. "This is a nice course. I didn't get competition though as I was alone from the start. I am training for a trail run that's taking place overseas in August. I feel good." Givemore Mudzinganyama came in second, while Obed Kopano finished third.
The 2019 FNB Platinum Trail Run forms part of Teboho Noosi's training for the Sierre- Zinal Race in Switzerland. Noosi will be going for the course record that has stood for 16 years.
In the women's race Noukhosi Tshuma claimed victory in a deserving time of 01 hour 54 minutes 24 seconds. "I like to take part in trail runs. This is the first time that I take part in the FNB Platinum Trail Run. The race was nice. I was pushing my team mate, so I was relaxed. When we were about 14km into the race I saw another lady coming, so I told my team mate that I was leaving. I just kept pushing until the finish. I am very happy to win especially because it's my first time running this race." Andronica Mokgotla came in second, while Kate Roberts finished third.
Ofentse Mokotelakwena (Rustenburg) was a force to be reckoned with in the FNB Platinum Trail Run Medium (+-12km) Route men's race.Mokotelakwena crossed the finish line in a lightning fast 47 minutes 36 seconds. "My race went well. I managed to run sub 50 minutes. I am happy with my result. This race motivates me to look forward to the Joburg 10K in September (referring to the FNB Joburg 10K CITYRUN)." Ryno Van Vollenhoven came in second, while Katlego Nthathe finished third.
Roné Reynecke (Rustenburg) took the lead in the FNB Platinum Trail Run Medium (+-12km) Route women's race crossing the finish line first in a deserving time of 54 minutes 35 seconds. "I enjoyed the FNB Platinum Trail Run. It's a very scenic route, a bit technical in the beginning for round about 3 – 4km, but the rest is very scenic. I really enjoyed it. I take part every year. I would definitely recommend this event to family and friends. The route is very nice. I like the vibe and there are a lot of food stalls and things for the children to enjoy at ATKV." Elizabeth Dlhiwayo came in second, Simonay Weitsz finished third
Shadrack Motswiniwas the first runner to cross the finish line in the FNB Platinum Trail Run Short (+-8km) Route race.His finishing time was 37 minutes 31 seconds. Itumeleng Khumalo came in second, while Ryan Mathaba finished third.
Phyllis de Fouw was the first woman home in the FNB Platinum Trail Run Short (+-8km) Route race in a time of 46 minutes 20 seconds. Cindy Stacey came in second, while Wildine Smith finished third.
"Congratulations to all participants and sports enthusiasts for a breath-taking performance. This event continues to grow robustly every year and it's arguably one of the best races in the South African sporting calendar. It doesn't only provide an adrenaline rush adventure to professional athletes, but a joyous memorable experience for our clients, families and friends. Well done to all the winners, we look forward to seeing more people next year," says Mike Vacy-Lyle, FNB Business CEO.
In addition to the Long Route (+-24km), Medium Route (+-12km) and Short Route (+-8km) the 2019 FNB Platinum Trail Runalso included a 2.5km Trail Run for the kids. This proved to be the perfect introduction to the sport of trail running and added to the family weekend away.
The first 1000 trail runners to enter (and pay – Long/Medium/Short) received an official event t-shirt. All event finishers were rewarded with an event medal (Kids Event included).
image credit: Tobias Ginsberg
Platinum Trail Run TOP 10 RESULTS 2019
Long (+-24km)
Men
1 Teboha Noosi 01:25:22, 2 Givemore Mudzinganyama 01:30:46, 3 Obed Kopano 01:30:49, 4 Tranquil Gumbo 01:32:17, 5 Michael LefaTlou 01:48:57, 6 Tichaona Magomar 01:49:06, 7 Rajab Austin 01:51:02, 8 Lucky Miya 01:55:00, 9 Travis Michelson 01:59:23, 10 Attie Chambers 02:01:47
Women
1 Noukhosi Tshuma 01:54:24, 2 Andronica Mokgotla 01:55:58, 3 Kate Roberts 01:56:32, 4 Lara Ashley Wicksteed 02:02:13, 5 Marelise Retief 02:03:05, 6 Petrie Ehlers 02:18:21, 7 Rianette Van Der Linde 02:25:34, 8 Caitlin Tracey 02:27:14, 9 Naclanche Steyn 02:28:24, 10 Donna Van Zyl 02:28:27
Medium (+-12km)
Men
1 Ofentse Mokotelakwena 00:47:36, 2 Ryno Van Vollenhoven 00:48:01, 3 Katlego Nthathe 00:51:40, 4 Peter Mohlala 00:52:49, 5 Craig Andrews 00:53:32, 6 Maraope Spencer 00:53:54, 7 Sello Ramaloko 00:55:04, 8 Lesley Anderson Chifumbi 00:56:12, 9 Tyron Bothma 00:56:15, 10 Charles Choni 00:56:54
Women
1 Rone Reynecke 00:54:35, 2 Elizabeth Dlhiwayo 01:00:38, 3 Simonay Weitsz 01:02:16, 4 Bavani Roman 01:08:53, 5 Floene Bruwer 01:11:36, 6 Elna Moodie 01:12:14, 7 Francelle Viljoen 01:12:15, 8 Esmari van Zyl 01:13:31, 9 Anita Kolbe 01:14:21, 10 Alex Maritz 01:15:31
Short (+-8km) Race
Men
1 Shadrack Motswini 00:37:31, 2 Itumeleng Khumalo 00:38:02, 3 Ryan Mathaba 00:39:29, 4 Corne de Fouw 00:43:10, 5 Ruan Harmse 00:43:19, 6 Rethabile Qekisi 00:44:00, 7 Goitseone Dipale 00:44:33, 8 Lean Scholtz 00:44:34, 9 Anthony Allen 00:50:32, 10 Bonang Makgae 00:52:16
Women
1 Phyllis de Fouw 00:46:20, 2 Cindy Stacey 00:48:50, 3 Wildine Smith 00:50:15, 4 Nina Duriewe 00:52:59, 5 Kaylen Scholtz 00:53:58, 6 Geraldine Smith 00:55:36, 7 Coleen Schmidt 00:55:39, 8 Dorinda Hayes 00:57:54, 9 Janine van der Walt 00:59:19, 10 Shani Engelbrecht 00:59:19