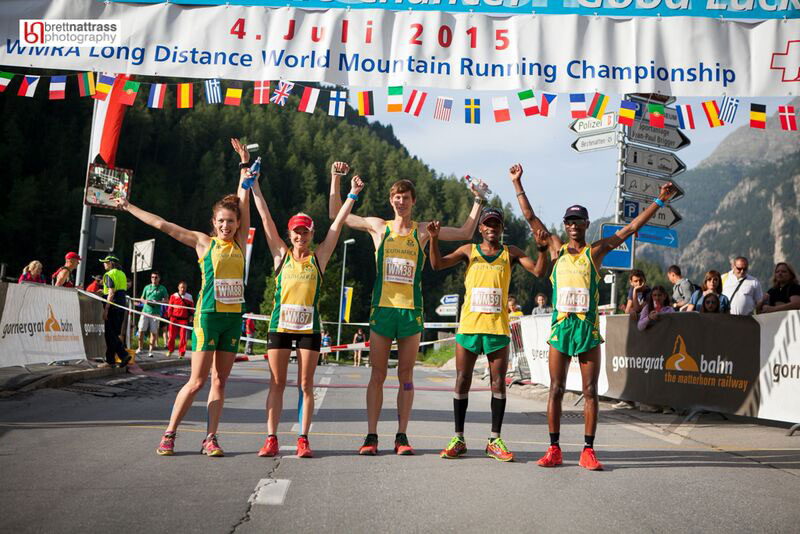 World Long Distance Trail, Zermatt – Today we raced the 2015 World Championships at the Zermatt Marathon. The route was nothing but unbelievable and it took our athletes through small villages up the Swiss valley into the half way mark at Zermatt.
World Long Distance Trail Champs Zermatt Marathon
At halfway there was a strong contention of runners within 5 minutes of each other, this included Lucky Mia and Johardt, both looking very strong and feeling great. Funny enough the race winner, the Italian Tommaso was running with Lucky in around 12th position here.
Thabang soon followed but immediately took to his asthma pump, this was worrying for me but he was in strong spirits. Soon after we had both Megan and Karine following both sitting in relatively strong positions.
From Zermatt the runners heading up into the Swiss Alps where they had to climb to Sunnegga, roughly the 30km mark and roughly a gain of 600m from Zermatt. This was winding forest single track which showed spectacular views of the Matterhorn and the surrounds.
After Sunnegga athletes where treated with a brutal climb up the valley to a beautiful dam and probably the only "flat" section on the route, although flat is a very relative word in the Swiss alps. After that athletes slowly headed to Riffelberg – the finish, an altitude of 2600m and with roughly 300m in the last 3km. This climb was the sting in the tail with even the top athletes having to push their hands on their knees to give them extra boost.
In the end everyone of the athletes performed above and beyond of what was expected and we, as Trail Run SA are so proud of them. They ran with spirit, they ran with passion and most of all the had fun. They swallowed every moment and I think they will come home with war stories. Well done to you all, we are so proud to call you, " our super heroes".
World Long Distance Trail Cahmps – SA Team Results
(unofficial from DataSport, we think overall in World Champs)
Johardt Van Heerden – 21st
Lucky Mia – 36th
Thabang Madiba – 46th
Megan Mackenzie – 28th
Karine Bezuidenhout – 37th
To the public of South Africa, the fans – thank you, your support has been overwhelming and we are grateful for every sms, whatsapp, email, tweet and so on, without your support this would not have been possible. To all the athletes sponsors who helped the athletes in your own way, thank you!
Tomorrow we head home holding our flag up high – until next time..
Report and Images: @BrettNattrass