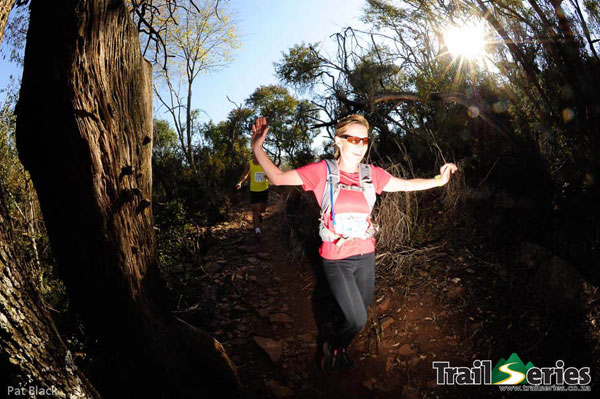 Race 3 in the Gauteng Winter Trail Series 2013 dished up another epic day of racing as the weather gods smiled down upon the beautiful Segwati Game Ranch.
It was another clear dawn as the runners made their way to the start line and set off for the pen-ultimate race of the 2013 Gauteng Winter Trail Series. First out of the starting gates were the 13.2km long course Championship runners, who took on the meandering trails, passing some curious bystanders on the way. These were no ordinary bystanders mind you, but 4 legged creatures that had some runners trip and stumble as they looked into the eyes of wildebeest, giraffe and zebra to name but a few.
You would have been excused if you thought you were back at race 2, as it was Tranquil Gumbo who again took the honours in a ripping time of 51:49 with race 1 winner, Andrew Lowndes making Gumbo sweat by finishing a mere 28 seconds behind, in a time of 52:17, to repeat last week's 1-2. This has set up a thrilling finale for next week's 4th and final race of the Series, to be held at Pelindaba with it all to play for, and I will tempt fate to say records will be broken! Van Rooyen Lesharo rounded out the top 3 in the long course with a time of 55:16.
In the women's long course championship race, Leilani Scheffer once again proved her mettle winning in the only sub-60 minute time. She came home in a fantastic time of 59:24 with another podium regular, Takalani Ndandani coming home in 2nd in a time of 01:01:46. Rounding out the podium for the first time this Series was Jen Theron, who posted a great time of 01:05:51.
In the short course challenge race, trail hotshot Patrick Colborne continued to stamp his authority on this year's Winter Series by winning his 3rd consecutive race and goes into race 4 with an unassailable lead over the rest of the field. 17 year old Colborne crossed the finish line in a blitzing time of 31:02 for the 7.4km course with another junior, Anrich Zimmerman, once again taking 2nd place, but improving his time margin from last week as he came home in 32:56, just under 2 minutes down. Third over the line and winner of the Open Category went to Michael Bayes who finished in a shade over 35 minutes, coming in at 35:18.
The ladies short course challenge race proved to be another nail biter as only 12 seconds separated the top three as the leading ladies flew down the last bit of single track. Gritting her teeth and squeezing out every bit of effort to take top spot was Annerie Beetge who crossed the finished line in 43:17 to take the plaudits and top-spot on the podium. Hot on her heels and finishing an agonising 2 seconds behind Annerie was Kirsty Standing, who came home in a time of 43:19. A further 10 seconds back and claiming 3rd place over the line was Shannon McVicar finishing in a terrific 43:29.
But as usual, it was the young-guns that dominated the short course event, with not just Colborne taking first place for the third time, but Junior Anrich Zimmerman coming in second overall (for the second time), just less than two minutes behind and first Minimee Kyle Farnham coming in fourth overall in a time of 36:27. In fact, of the top ten finishers in the short course challenge, 7 of them were junior runners between the ages of 10 and 17! First Peewee was sixth overall in the form of Cameron Curtis – only ten years old and beating open runner Claudio Da Luca by a conclusive 31 seconds!
It was another fantastic day of racing and it all bodes well for the final race of the Series, next week Sunday (30 June) in Pelindaba.