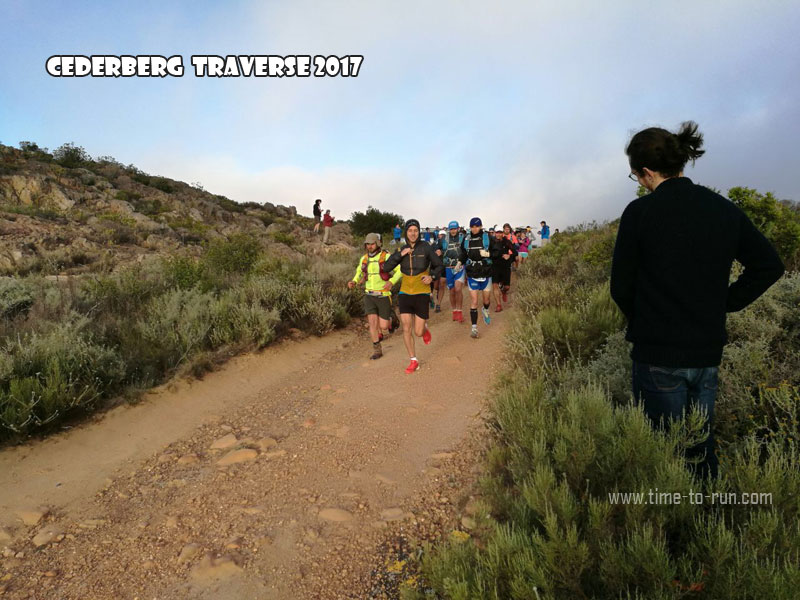 On the 14th October 2017, James Bosenberg participated in the Cederberg Traverse. On the good and bright side, James achieved a podium finish and can be proud of enduring the toughness of what the course had to throw at him.
What follows are his own words, warts and all.
Cederberg Traverse 2017 in my own words
I am not really sure where to begin. At the start sounds logical but given I decided to do a 100km race with 5400m of elevation in the heart of the Cederberg Wilderness, do I even know what logical is?
Digging Deep.
I write this five days after finishing and to be honest, I still have no idea what to say other than it took absolutely everything I had to will myself to the finish line. I remember patches of the run but not its entirety. I am not trying to be dramatic, not looking for kudos, just trying to give an honest account of the events that unfolded on the 14th of October 2017. Everyone will have their own story to tell but this is mine. Disclaimer, there will be no sugar coating.
In my pre-race article I wrote about my preparation, how it changed from last year to this year and how I felt in better shape to tackle this thing despite losing two months to a cycling accident. The original course was tough but largely runnable, a 'fair to mild' course as far as 100k mountain races go. I was looking forward to unleashing my new training on it and felt calm throughout the process.
About a month before the race we received an email from the organisers about final prep and race day logistics. I glanced over it but a start time of 7am and a start line of Pakhuis caught my eye. Huh? The race starts at 5am at Sanddrift, what is this? What it was, was a complete route change and essentially a new race. No 100km races are created equal and there a lot of factors that make up the nature of a course. Such as, the amount of elevation gained, the altitude, the technicality of the trail (how easy is it to move over the terrain), where the climbs/descents are situated, the gradient of said climbs and descents, all play a role and what makes the sport of trail running so fascinating.
This route change created a lot of uncertainty and try as you might to forget about it, it felt like there was a spanner thrown in the works. Especially when your training has been largely specific to the course you know. A course I had covered numerous times. An extra 1700m of elevation gain might not sound like a lot over a 100k but it represented an increase of 45% and something I had undercooked in training.
This route change was a result of the fires that decimated the old route approximately 9 months ago as well as the lack of rain to stifle natures recovery. While I can totally understand this, the land custodians should have known longer in advance that the old route would not be possible and informed the organising team so that we had more than a 4 week heads up.
Back to the race, I chose to avoid a 2-hour drive to the start in the morning and instead found accommodation nearby to sleep-in a little and control my morning as best I could. With so much beyond your control in a mountain running ultra, you latch onto the things that you can. I was up a little before my alarm and settled into my pre-race routine. Coffee, food, kit -check, bathroom break, dress and go. The weather was a far cry from the 34 degrees the day before with the clouds rolling in and the wind picking up. Chilly enough to start with a wind breaker and buff.
As per usual, the route was not marked but the GPS track log was made available beforehand to ensure safe passage to Sanddrift. About 31 of us lined up at the Cape Nature sign for Rocklands, a world-renowned bouldering area, to kick-start the mayhem and embrace what lay ahead.
Cederberg Traverse 2017 by James Bosenberg . followed by – Cederberg Traverse – Algeria onwards