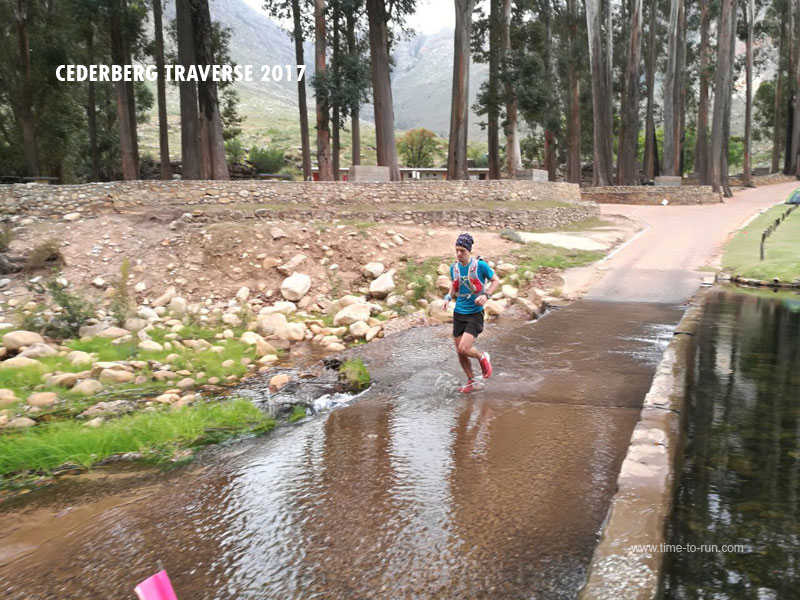 Cederberg Traverse , 14th October  2017 – James Bosenberg achieved his podium finish however it came at a heavy cost emotionally and physically, however he came through it.
Cederberg Traverse – Algeria onwards
The start was undulating but largely downhill and was a great way to ease the body into what was going to be a long day out. Longer than I would have liked but more on that later.
I was feeling a little off colour for some or other reason and let the leaders push on, thinking I will let my stomach settle and keep the others in sight but that we had a long way to go and the strategy was to get to Algeria, the halfway point, in relatively good shape for a strong 2nd half.
After 15k we reached the first big climb of the day. The weather was bang on and I was starting to feel pretty good. I was on my own at this point with 3 others ahead but within range and where I wanted to be. The climb was a relatively long one at 7km but the gradient not too severe and meant a long descent was coming, something I was looking forward to bombing! After topping out at 1100m, we then traversed an undulating trail for around 10k before a 6k descent at -16% gradient, brutal on the quads. It was here I was looking forward to just letting go and dancing downhill.
When I dropped over the edge and saw trail markers, I knew I would not be dancing. There was no trail, no boulders to rock hop down, just grassy patches, scree, slippery rock and a messy descent. My mood was shifting dangerously to irritable and I struggled to control this.
Things started to get worse as I completely forgot we had one more cheeky climb before the 10k contour that snakes its way to Algeria and it was here that my spirit started to break. I was no longer having fun and by the time I hit that contour, I had decided to pack it in and head to a warm fire, a cold beer and food. I was gatvol.
I had trained hard for last year's route, a route I knew intimately, a route that had less climbing, less technical terrain and was more of a run. This was an adventure. Adventures have their place but for me I wanted to run, to unleash my training over the 100k and get some of my own back after my nutritional problems of the previous year. This course was savage, unrelenting and would not allow me to get into any sort of rhythm.
I eventually ran into Algeria at 55km and 08h05 run time on the clock. I was feeling physically better than last year but emotionally and mentally spent. I told Erin, my mate, mentor and coach, that I was done. He said to me. "Let's not decide anything just yet, let's eat, hydrate and get you warm". I thought, whatever, try me.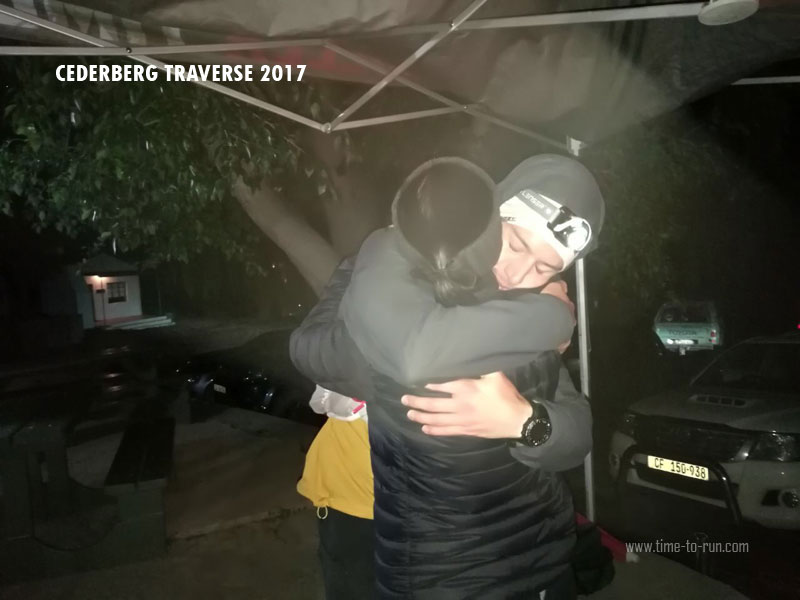 Running that length of time over that kind of terrain not only puts your body in a fragile state, but your emotions too. I was on the verge of a breakdown and went inside to try and gather myself. My girlfriend came with and when we were safely in the confines of four walls, I broke down and cried. I cried out of anger and frustration of what the route was doing to me, crying because this was not what I had signed up or trained for. I cried because I was giving my all but it still didn't feel good enough. I cried because I knew I would go on, knew I would be running alone in the wild at night, in the cold, crying because I couldn't bear facing another 8+ hours out there when the fun had gone.
Holly and Erin were once again the voice of reason and strength. I ate, drank copious amount of coke (did they ever take the cocaine out?!) and a hot cup of coffee which was a godsend. I readied myself for the pain to come. How or why I got up, I don't really know. Did I go on because deep down I really wanted to test that quitting threshold? Or find a new level of pain and hurt? Who knows, possibly a combination or maybe something completely different. Jim Ryun once said, "Pain is a natural part of being a runner. You either deal with it or you quit." I have yet to find that quit threshold.
1st place,at this time, was around 40min to an hour ahead of me with 2nd roughly 25min ahead and getting ready to leave and head into the fray again. Third place was still contemplating if he was going to go on or not but was not keen on leaving anytime soon which bumped me up a spot.
I left Algeria around 37min after checking in, 7min over the compulsory time, but about 50 minutes better than last year.
I put my head down and braced myself for the climb that starts 100m past the oasis of Algeria. It was slow going and a slog but after 5km you top out to this breath-taking view. I stopped, took my iPod out of my ears, took out my phone and snapped a picture. It was the happiest and calmest I felt all day and in that one view of one of the most beautiful valley and peaks I have ever seen, I thought, perhaps this is why I have come out here, why I carried on. You cannot see this any other way than by foot and by climbing that damn mountain. To be honest, I don't remember most of the route, apparently it is magnificent, but I do vividly remember this spot and will remember it for a long time to come.
The weather was also getting warmer and the descent into the valley was relatively 'runnable' as I began to sing out loud and enjoy it.
I checked into the next check point after Algeria, somewhere around the 66km mark and the couple there were amazing. They had these paper plates of goodies, each with their own motivational quote on them and it made me smile. Thank you for making such an effort, you have no idea how much the small things matter at a time like that.
The sun was beginning to fade and the terrain along with it. The wind was beginning to pick up and the clouds were getting thicker the higher we went up. From 67k to around 87km, the course is largely uphill, that's 20k of net uphill. I knew there was another sharp climb to come but it was so dark, I couldn't make out what was around me or where I was going.
I felt like I was climbing for sometime and that surely, I was coming up to the saddle towards Maltese Cross where the course runs downhill all the way to the finish.
I stopped to check the GPS and saw myself standing at 750m, I shook it as I knew it had to be wrong. I cannot be at 750m? The high point is 1550m? I then looked at the tightly packed contours and cursed under my breath. The thing is, once you leave Algeria and you crest that first climb, there really is nowhere to bail. Nowhere. Extraction is at best 6 hours and in those temperatures without shelter, few would survive. No, you suck it up and carry on. In total darkness, in a territory that is unfamiliar, the iPod is king. Seriously, that little thing kept the demons at bay. Thank you, Apple. My contact details can be found on your system.
For the first time ever, I began to fall asleep while on the move. The trail had lulled midway through the climb and was weaving and going cross eyed. Hmm time for a caffeinated GU! It did the trick and I continued, albeit slowly, onwards.
After reaching the high point, where temperatures were in the single digits and mist was pretty real, a flash lit up the space around me and I shouted for joy and the prospect of human life and company. I called out into the dark with a smile on my face and asked if they were at Maltese Cross? They didn't answer so I tried again. Nope. Nothing. It then dawned on me that it was a camera trap with no human needed for it to operate. Another blow.
After what felt like forever, the lit-up beast of Maltese Cross came into view and I was elated, although the photo snapped of me would suggest otherwise.
It was then, largely downhill, with one last technical descent to negotiate before the sandy jeep track home.
It was just before the descent that I saw three head torches, the first I had seen all night, and I started to wonder where the hell they had come from?! I knew I had at least 40min as I left Algeria with fourth yet to check in. Sure, I was beat up but were the other not too?! I put my head down and kept going. I looked up after a few minutes and saw they were still there! But also, very evenly spread out…and in front of me? I stopped and only when I saw more 'headlamps' did I realise it I had been looking at Orion's Belt in the night sky. Oh boy, get me home.
Cederberg Traverse – Finish in sight
Arriving at the Observatory gate was a feeling I cannot really describe. It represents safety, a mere handful of kilometres left and more importantly, no more damn climbing.
I shuffled over the last few k's and headed into the Sanddrift Campsite feeling completely spent but absolutely rapped.
After approx. 101km, 5400m of climbing and over 17 hours of running, I eventually crossed the finish line just after midnight having set out at 07h00.
It has been 5 days since Saturday and I am still conflicted on how it went. It stirs a whole spectrum of emotions. Anger, disappointment, content, joy. Conflicting I know, but then I think that is endurance racing. Four seasons in a day. My nutrition was largely spot on and something I had hoped to get right and did.
I had anticipated a good race physically and mentally, a runnable 100k with trails that were technical but still manoeuvrable at relative speed. What I got was a brutal course, an adventurer's course.
I love the Cederberg, its wildness, its rawness, but I wasn't searching for an adventure. I was searching for a trail running race that I could throw down on, this was not it.
Was it a complete loss? Of course not. I found a new pain threshold, pushed that quit boundary further than I could ever imagined it could go, spent countless hours being uncomfortable and realised I have some awesome and patient friends!
Thank you to all those who made this possible. To Energy Events and Time-to-Run for the entry, to my friends and family for their support and patience and for all those who sent encouraging words.
It will be awhile before I lace up the shoes for a long run again, but as sure as the sun will come up tomorrow, I will be back out there running wild and free, with a smile on my face.
this is the last article in the series of 2. The 1st article – Cederberg Traverse 2017 by James Bosenberg
Cederberg Traverse 2017 Articles by James Bosenberg