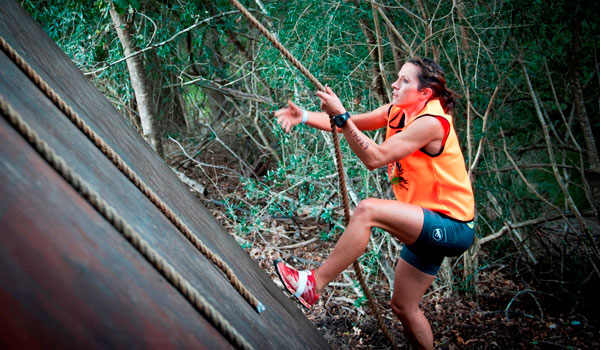 Tensions were rife at Lievland Wine Estate and Wiesenhof Legacy Park (Stellenbosch) on Saturday, 05 April 2014 when the best of the best gathered to take on the much anticipated IMPI Elite Race. 
Claude Eksteen and Carla Van Huyssteen triumphant
IMPI Gauteng winners, Claude Eksteen (North Beach, KZN) and Carla Van Huyssteen (Pietermaritsburg) claimed victory in the men's and women's IMPI Elite Race in impressive times of 01 hour 47 minutes 50 seconds and 02 hours 05 minutes 25 seconds respectively.
"Today was awesome," said a very happy Eksteen.  "IMPI Cape Town is definitely tougher, features more steep climbs as well as a real trail run route.  The obstacles are similar to IMPI Gauteng, but the terrain is much harder.  This is by far the best obstacle race course that I've done to date.  The IMPI Challenge is something different, but the biggest draw card is the atmosphere.  The event is relaxed and fun, while being an awesome challenge.  I'll definitely be taking part in the IMPI Elite Race in Gauteng in September and Cape Town in October".  Christiaan Greyling came in second, while Matthew Daneel finished third.
According to Van Huyssteen, competition was tough in the women's Elite Race.  "Chantel Nienaber was pushing me the whole time.  Just when I thought I could take it easy, I'd catch a glimpse of Chantel behind me.  I kept reminding myself to push it as Chantel is a fighter.  The IMPI Cape Town features a hard run, with naturally hard obstacles, but the nice thing about this event is that the obstacles are doable and a lot of fun.   I am really proud about today's win and am looking forward to IMPI Gauteng, followed by another IMPI Cape Town later this year".   Chantel Nienaber came in second, while Dominique De Oliveira finished third.
After the excitement of the IMPI Elite Race, over 2000 everyday adventure enthusiasts got an opportunity to test their skills at the IMPI Challenge Cape Town.
IMPI Challenge continues:  The excitement of the IMPI Challenge Cape Town continued at 08:00 on Sunday, 06 April 2014 at Lievland Wine Estate and Wiesenhof Legacy Park, Stellenbosch.  Family and friends were invited to join in on the fun and enjoy the IMPI Festival Village vibe.
Event Information:
Combining trail running with an adventure style obstacle course, there are four structures to choose from when entering the IMPI Challenge.
Traditional IMPI Challenge:  Conquer 18 obstacles over 10 – 12km
IMPI Dash – Compacted Challenge:  Families have the chance to compete together.  The course will be 5 – 7km with 12 obstacles (ages 10 – 15 years, all adults welcome).
IMPI Elite:  The course will be 15 – 20km with 25 tough obstacles.
IMPI Mini:  This mini course will be around 1km and feature smaller versions of some of our favourite obstacles (ages 6 – 10 years, all adults welcome).
The race categories cater for a variety of athletes, from elite sportspersons, competent and beginner runners and families looking for a fun experience.  Participants could enter individually or as part of a team (teams varied in size from 2 – 10 people, although team members started together, they did not need to finish together).
Best Dressed:  One of the many highlights of the IMPI Challenge, IMPIs were encouraged to let creativity reign.  The best dressed individual and/or team stood the chance to win awesome prizes compliments of our sponsors.
Photo Credit ~ Cherie Vale / NEWSPORT MEDIA
RESULTS:  IMPI ELITE CAPE TOWN / Lievland Wine Estate and Wiesenhof Legacy Park (Stellenbosch)
Saturday, 05 April 2014
ELITE MEN
1.       01hour 47 minutes 50 seconds / Claude Eksteen
2.       01hour 49 minutes 05 seconds / Christiaan Greyling
3.       01 hour 50 minutes 03 seconds / Matthew Daneel
4.       01 hour 57 minutes 43 seconds / Edward Lambert
5.       02 hours 06 minutes 58 seconds / Trevor Lagerwey
ELITE WOMEN
1.       02 hours 05 minutes 25 seconds / Carla Van Huyssteen
2.       02 hours 08 minutes 04 seconds / Chantel Nienaber
3.       02hours18minutes19seconds / Dominique De Oliveira
4.       02 hours 39 minutes 01 seconds / Nadia Malan
5.       02 hours 41 minutes 09 seconds / Cyrielle Bonnard