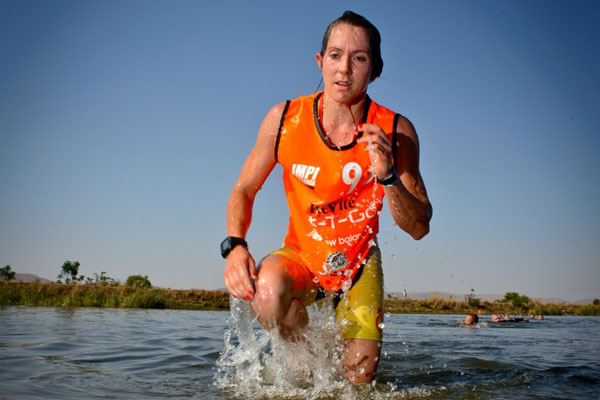 Top multi-sport athletes, Ian Don-Wauchope and Carla Van Huyssteen set the course ablaze on Saturday, 27 September 2014 when they took on the IMPI Elite Race at the picturesque Van Gaalens Cheese Farm (Hartebeespoort / North West Province).  Don-Wauchope conquered the course in a lightning fast time of 01 hour 46 minutes 42 seconds, while Van Huyssteen successfully defended her title in the women's race in a deserving time of 02 hours 04 minutes 18 seconds.
"I really didn't expect to win," says Don-Wauchope.  "I only heard about the IMPI Challenge on Friday.  We were in Johannesburg for a memorial service.  Sue and I always wanted to take part, so we made arrangements to spend the night.  I haven't done any strength or upper body training.  The plan was literally to take part and learn as much as possible before we take on our next event.  The IMPI Elite Race was fantastic.  It definitely ads a new dimension to trail running.  I fully support IMPI Director, Pieter Du Plessis's ethos of making the IMPI Challenge a true trail run with obstacles.  We are now very keen to take on the IMPI Elite Race in Cape Town in October".  Eduan Neeb came in second, while Greg Avierinos finished third.
According to Van Huyssteen, all four IMPI structures are equally important.  "For the athlete that enjoys competition the IMPI Elite Race is ideal, while participants that enjoy competing together as a team will love the IMPI Challenge.  There literally is an IMPI event for all participants.  I had a very nice IMPI Elite Race today and really enjoyed the obstacles.  All in all the day was great fun.  The obstacles are challenging, but not life threatening.  I plan to compete at the IMPI Elite Race in Cape Town in October.  My focus at the moment is on mountain biking, but I will do my best to include some running in between my training as I'd like to be in top form when I compete".  Nicolette Griffioen came in second, while Adrienne Moolman finished third.
Combining trail running with an adventure style obstacle course, the IMPI Challenge is a spectator friendly event that is ideal for the entire family!
Next on the IMPI calendar:
Date:                 Saturday, 18 October 2014 and Sunday, 19 October 2014
Venue:             Lievland Wine Estate and Wiesenhof Legacy Park (Stellenbosch)
Categories:     IMPI Challenge, IMPI Dash, IMPI Elite and IMPI Mini
Competitors can enter individually or as part of a team (teams vary in size from 2 – 25 people, although team members start together, they do not need to finish together).
There are four structures to choose from when entering the IMPI Challenge:
IMPI Challenge:  10 – 12km with18 obstacles (age 18+ years); R400 per entry
IMPI Dash:  5 – 7km with 12 obstacles (ages 10+, all adults welcome). R300 per entry
IMPI Mini:  1km with smaller supervised obstacles (ages 6 – 10 years).  R80 per entry for unlimited circuits of the course.
IMPI Elite:  15 – 20km with 25 tough obstacles (age 18+ years); timed event with prize money; R550 per entry.Best Dressed:  One of the many highlights of the IMPI Challenge, IMPIs are encouraged to let creativity reign.  The best dressed individual and/or team stand the chance to win awesome prizes compliments of our sponsors.
RESULTS / IMPI ELITE GP#2: Top 10 Men and Women
Date:  Saturday, 27 September 2014
Venue:  Van Gaalens Cheese Farm (Hartebeespoort / North West Province)
IMPI ELITE GP#2: Overall Results
Date:  Saturday, 27 September 2014
Venue:  Van Gaalens Cheese Farm (Hartebeespoort / North West Province)
MEN
| | | | | |
| --- | --- | --- | --- | --- |
| Rank | Name | Surname | Race Number | TIME |
| 1 | Ian | Don-Wauchope | TA450 | 01:46:42 |
| 2 | Eduan | Neeb | TA919 | 01:48:50 |
| 3 | Greg | Avierinos | TB084 | 01:50:08 |
| 4 | Louis | Smit | TB107 | 01:55:58 |
| 5 | Adriaan | Cronje | TD431 | 01:56:59 |
| 6 | Christiaan | Greyling | TE443 | 01:57:50 |
| 7 | Nathan | Hunt | TE875 | 02:06:56 |
| 8 | Herman | Mulder | TD298 | 02:07:51 |
| 9 | Bennie | Roux | TA963 | 02:09:22 |
| 10 | Vaughan | Van Der Merwe | TB349 | 02:11:34 |
WOMEN
| | | | | |
| --- | --- | --- | --- | --- |
| Rank | Name | Surname | Race Number | TIME |
| 1 | Carla | Van Huyssteen | TD809 | 02:04:18 |
| 2 | Nicolette | Griffioen | TA646 | 02:12:10 |
| 3 | Adrienne | Moolman | TC515 | 02:14:30 |
| 4 | Jetaime | Ribbink | TC021 | 02:29:57 |
| 5 | Danel | Botes | TB788 | 02:34:47 |
| 6 | Delise | Marais | TB126 | 02:38:42 |
| 7 | Henre | Kuhn | TB650 | 02:58:43 |
| 8 | Sue | Don-Wauchope | TD010 | 03:21:21 |
| 9 | Elke | Berg | TE039 | 03:25:29 |
| 10 | Marisa | Van Der Linde | TB241 | 04:07:31 |