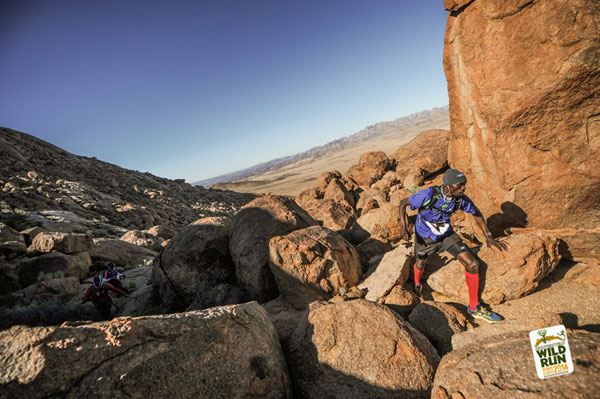 After four incredible days and 150 unforgettable kilometres, the first Richtersveld Wildrun™ came to a stunning conclusion on Saturday at Sendelingsdrif in the Ai/Ais-Richtersveld Transfrontier Park.
Of the 57 runners that started the challenge on day 1, 53 managed to finish, albeit a bit worse for wear than when they set off from Sendelingsdrif on Wednesday, 4 June.
Bernard Rukadza dominated the race from the outset, winning the first three stages comprehensively and only narrowly missing out on a grand slam of stage wins after a few navigational errors on the final day. American, Matt Hart gave his all and managed to secure his stage win on the final day after chasing Bernard for three days prior.
In the ladies field Tracy Zunckel made her intentions clear from the start, winning both days 1 and 2. She, however took a tumble on the third day and though she toughed it out and finished the day, she moved down to third place overall. Katya Soggot had a strong run overall and walked away as the first Richtersveld champion after finishing second on days 1 and 2. The two top ladies ran together for the whole of day 4 and crossed the finish line together, a fitting finish to a great race.
It was a challenging and unforgettable run and every runner who took part will have a new collection of war stories to tell their friends. For full results and more information on the Richtersveld and other Wildruns™, visit the website at www.wildrun.com.
Results:
Men:
1.       Bernard Rukadza              13:20:46
2.       Matt Hart                            14:13:57
3.       Filippo Faralla                     16:42:00
Women:
1.       Katya Soggot                      18:04:56
2.       Melanie Nijland                19:22:40
3.       Tracy Zunckel                     19:36:43