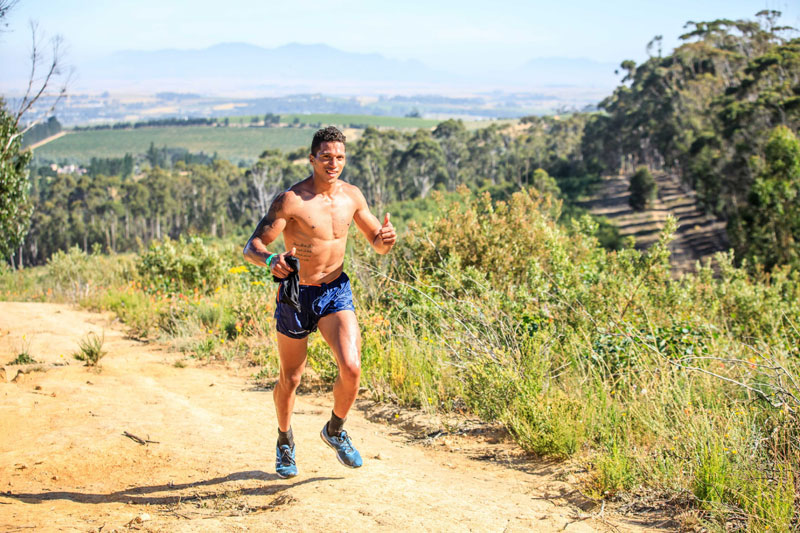 Anele Bans (reigning IMPI Elite Race Cape Town Champion) and Ashley Robinson (professional Muay Thai fighter, Kickboxer, stuntman and personal trainer) will be back for round two on Sunday, 08 April 2018 when they take on the Fedhealth IMPI Challenge Elite Race at Coetzenburg (Stellenbosch).
Round two at FedhealthIMPI Challenge Cape Town
In November 2017 Bans completed the IMPI Elite Race's 26 obstacles that were spread over a 17km fun trail run route at the Wiesenhof Wildlife Park (Stellenbosch)in an impressive time of 01 hour 59 minutes 42 seconds.
"I must compliment the event organisers on their venue selection, they've been great at it," says Bans. "I enjoy IMPI because of the vibe and the awesome support that the Elite competitors get. It keeps me going. Challenges are part of the game when taking on an OCR, but at IMPI I've always struggled with the obstacles that require me to carry something. My strength, however, lies in running as I come from a road and trail running background.I really enjoy running uphill."
"I'm looking forward to racing against Ashley again," continues Bans. "He was a big challenge in November, but I knew that he didn't have OCR experience. He might want to win this one. I'll stick to my game plan as it worked well for me last time."
Making his IMPI Elite Race debut on the day (November 2017), Robinson crossed the finish line in 02 hours 01 minute 30 seconds. "I originally entered the IMPI Elite Race to test my endurance against the Elite competitors who train for obstacle course races," says Robinson. "Being able to keep up with these guys while completing each and every obstacle was very satisfying. I really enjoyed meeting all the athletes and chatting to them about different training methods. My goal on Sunday will be to beat both my and Anele's previous best times. I've added some personal obstacle exercises to my martial arts training. I feel that the combination will give me the upper hand. I would definitely recommend the IMPI Challenge to friends and family. It's a good mental and physical test. It also creates friendships and encourages teamwork."
The only female competitor to successfully complete all 26 obstacles in November, Dominique D'Oliveira claimed gold in the women's elite race in a deserving time of 02 hours 24 minutes 10 seconds.
Although struggling with an injury since January, D'Oliveira is hoping to be back in action on Sunday. "The IMPI Challenge Elite Race balances a variety of challenging obstacles with a tough run route," says D'Oliveira. "For me the toughest part is the running, but I am growing to love it. My strength lies in completing the obstacles. In my current situation, if I am able to race, my primary goal will be to look after my body. If, however, I am unable to compete, I will definitely be there to support."
photo credit Chris Hitchcock
EVENT SCHEDULE: 2018 Fedhealth IMPI Challenge
Date: IMPI Challenge: Venues:
Saturday, 07 and Sunday, 08 April 2018 Fedhealth IMPI Challenge #1 Coetzenburg, Stellenbosch (Cape Town)
Saturday, 16 and Sunday, 17 June 2018 Fedhealth IMPI Challenge #2 Virginia Trails (KZN)
Saturday, 06 and Sunday, 07 October 2018 Fedhealth IMPI Challenge #3 Van Gaalens Cheese Farm (Gauteng)
Saturday, 17 and Sunday, 18 November 2018 Fedhealth IMPI Challenge #4 Wiesenhof Wildlife Park, Stellenbosch (Cape Town)
The five charities supported by the Fedhealth IMPI Challenge in Cape Town (IMPI #1 and IMPI #4) include:
1. CANSA
2. Cape of Good Hope SPCA
3. Woodside Special Care Centre
4. Prochorus Community Development
5. The National Sea Rescue Institute (NSRI).
IMPI Warriors have the chance to show their support by making a donation to one or all of the charities when entering online.