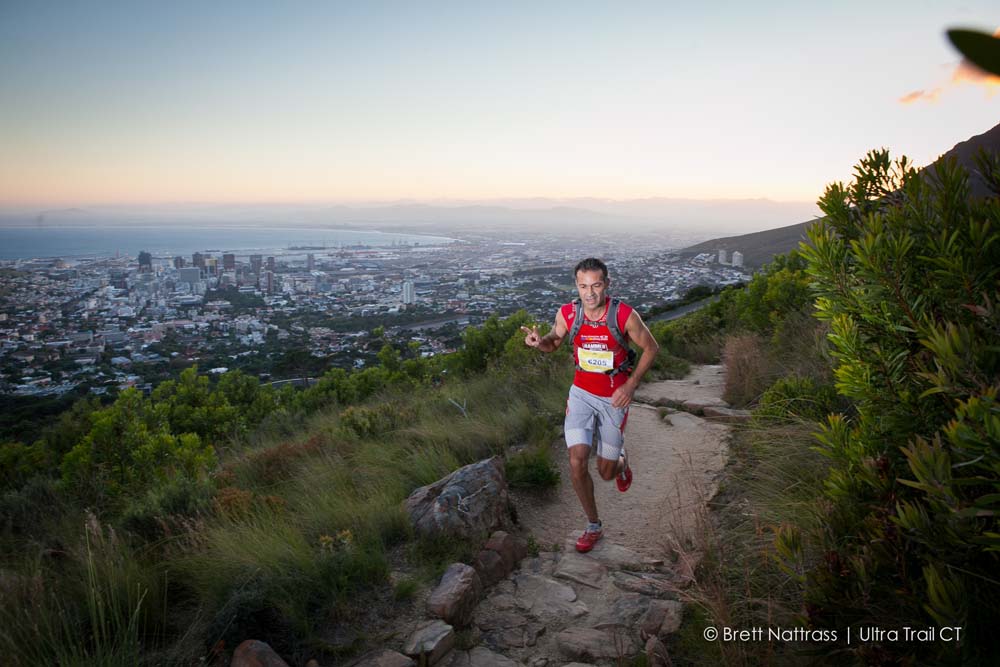 Ultra Trail Cape Town 2014 – I've been running for a few years now but havn't run an Ultra run since 2012. Come 2014 & for some reason I find myself having run 3 in 2014, namely The Bastille 50KM, The inaugural Marloth Mountain Challenge 60.3KM over the majestic Langberg Mountains around Swellendam and then the 3rd one, a race which could easily become the jewel in the crown, the Ultra Trail Cape Town with 62KM & 100KM options.
This article is by Derrick Baard, a stalwart of the Cape Trail and Adventure running scene, he has been a runner since his days at school and has maintained his enthusiasm for the sport of the decades
ULTRA TRAIL CAPE TOWN 62KM
I had no idea what I would I would be racing after Marloth and just decided to focus on that event.
However I was fully aware of the looming Ultra Trail Cape Town event with all the great pre race marketing that race Director, Nic Bornman was pasting all over the place. So, after a few days of recovery after Marloth, I thought, what next and it was an easy decision to enter the 62KM event.
The inspiration for Nic Bornman creating the event was borne from him working and living in Japan as an Architect and running was a way to relieve stress from his urban environment and having Ultra Trail Mt. Fuji and Ultra Trail Mont Blanc as inspiration.
Nic Bornman came back to Cape Town and wanted to put on an equivalent event to these two iconic races, which is a mammoth task and something which he did quite successfully. We have the most amazing natural billboard of any city in the world, namely Table Mountain and this served as the backdrop to the event. The 25th October finally arrived and all runners lined up outside in the early hours at 5AM on a gusty morning outside Cape Town High School, in the Government Avenue. The race started with us being led out by Nic Bornman down the kilometre long Government Avenue and through the streets of the CBD before we started climbing the steep, cobbled streets of the historic Bo-Kaap. We finally got off road and onto the trails of Signal Hill and looking back there was a long single line of headlamps snaking its way up along the route and I thought how awesome it was to be out with my Tribe on the mountains. The route was impeccably marked and subsequently a pleasure to race on, where you could focus on the racing and not having to figure out where to go.
My plan was to take the climb up Platteklip on the front face of Table Mountain easy and pick the pace up after getting to the top of the climb. I pretty much stuck to the plan although the pace of the 100KM group was relatively brisk up front with some legends on the local scene battling it out. I had Victor "The Hunter" Gugushe tailing me up Platteklip but I managed to build up a bit of a buffer between Victor and myself on the back of Table Mountain down to Constantia Nek. It took me exactly 3 hours to get to Constantia Nek, a bit quicker than I anticipated but I was feeling really strong. I kept telling myself to run my own race but truth be told, I got caught up trying to catch the one runner in front of me through the Constantia Winelands only to discover that he was a relay runner. It's amazing how things can change in a race and from feeling strong, I started to feel tired and nauseas. I decided to try and consolidate and manage my race from 40K's into the race.
I have raced Victor Gugushe once before in a 3 day stage race, so I knew his pedigree and it's a good one. Victor caught me coming out of the winelands and was looking good and running a great well paced race. We ran and chatted together for a few kays till the next check point at Cecilia Forest where he pulled away from me. I mentioned to Victor while we were running up the beautiful Greenblet that he was now almost literally in my back garden and where I train almost everyday and along routes which I know like the back of my hand. I was really struggling from here and I knew the running over the contour path above Kirstenbosh Gardens and Newlands Forest on tired legs wouldn't be easy but I trudged on nonetheless with a walk run walk strategy.
The nausea was really kicking in and I decided to only consume my Hammer Perpetuam and not the usually easily digestible gels and that seemed to work.
I finally got through Newlands Forest and to the final check point at the University of Cape Town where I had a chat and a bit of Coke with the friendly Volunteers and Marshalls. The Coke really helped with the nausea and I started to feel a bit stronger again as I climbed up the super steep climb up to The Blockhouse perched on the lower slopes of Devils Peak. I know from trail running that even though you can't see anyone in front or behind you, certainly doesn't mean that they aren't there. I thought I had lost too much time on Victor but tried to hunt down The Hunter nonetheless. As I came round the contour path on Devils Peak I could see Victor in the distance about 5 minutes ahead. In the end, he finished 20 minutes ahead after I flaked out again in the last few kays going down the steep concrete roads that come off Table Mountain.
I was glad to finally enter Government Avenue and run into the grounds of Cape Town High School where I spent 5 years of my life and where my running career started 28 years prior with the Cross Country Schools race circuit.
The Ultra Trail Cape Town 2014 has come and gone but with all the historic places and the natural beauty run past, up, down and around it definitely has the opportunity to become one of the iconic races in South Africa and the world.
All images provided by Brett Nattrass – Ultra Trail Cape Town Images