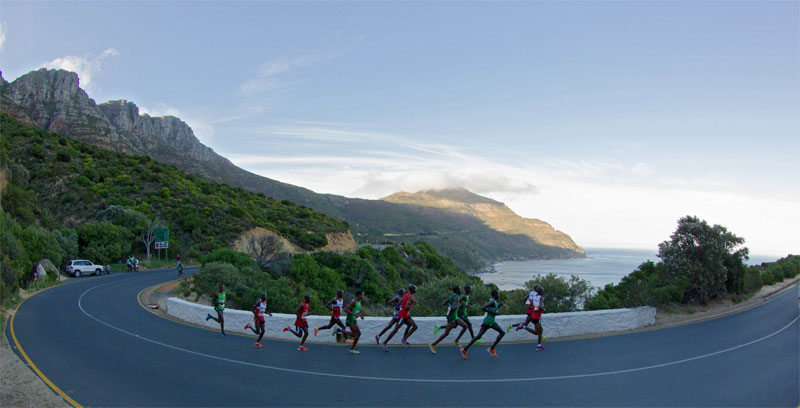 The firmly established international running weekend drew 2430 visitors from 83 countries and a total of 30 351 entries for the three events – trail races over approximately 11 and 23 km on Good Friday, a testing standard half-marathon and a tough 56 km, encompassing magnificent views of the Cape Peninsula coastline on Easter Saturday.
The event follows the traditional Easter and thus varies from late March to April. This year happens to fall in a sequence of top international standard marathons over 42,2 km – Paris, London and Boston. A wonderful 16 days for road running fans spoilt by Kenenisa Bekele's spectacular marathon debut, Mo Farah debuting over the distance and humbled in the process and Wilson Kipsang proving that his world record set at Berlin was no one off as he bossed a quality London field.
In the midst of this it is impossible for Two Oceans to compete with the Dollar, Euro or Pound. Nonetheless the sponsors offered a million rand bonus for a record in both male and female 56 km races which did entice 30 entrants from Kenya and 14 from Ethiopia, the two best performed nations on the 42,2 km marathon planet.
The weak exchange rate apart, the grueling nature of the race including significant climbs and taxing downhills over Chapman's Peak and Constantia Nek is sufficient to deter the speedsters who can earn more with less effort on the pancake courses offered for world record breaking opportunities.
Race previews were exceptionally difficult and the media conference held in The Cullinan Southern Sun on the eve of the race provided no clear cut female or male favourites. Despite the numerous entries, confirmation of participation too was unclear, although the late inclusion of the high class South African standard marathoner Hendrik Ramaala was a welcome surprise, albeit that he would be presumed to be a Masters 40 contender rather than a race victor, having celebrated his 42 nd birthday in February.
Without a sub-2.10 pedigree below the 40 age group in the line up the record and Old Mutual cash looked secure.
There is little doubt that these outstanding records can be attributed to the isolation period, because phenomenal athletes like Thompson Magawana and Frith van der Merwe would surely have been blazing the Majors and raking in titles and cash.
The wind, less severe than 2013, abetted the sponsors and compounded the task of the title chasers. Last year's winner, David Gatebe failed to make the golds and appropriately three runners from mountainous Lesotho filled three of the first four positions. On the day Lebenya Nkoka was a worthy champion by a minute and 41 seconds. However, the performance of Hendrik Ramaala was a huge effort on debut. An excellent 3 hours, 11 minutes and 33 seconds stands credit alone.
His South African flag flying was assisted by Michael Mazibuko in 6 th, hometown runner Mthandazo Qhina in 9 th and Othaniel Phahlane completing the top ten which included a Kenyan, an Ethiopian and a Malawian to keep the prize money in Africa.
Marathon world record holder Wilson Kipsang, fresh from his London triumph six days before, fired the gun to set the record field off on their journey.
This included special occasions for many completing their tenth and admission to the Blue Number Club, twenty for double laurels and the icon Bruce Fordyce gaining his triple. Another former Comrades winner, Shaun Meiklejohn took 2 nd in the 50 age category with a silver medal.
Anthony Nyabanyaba, a top performer in the 1980's and now representing SANDF Free State, distinguishes still with victory in the 60-69.
Gert Thys, chastened after last year's bullish approach, ran 3:22'02 which earned 3 rd in the 40-49 won by Hendrik Ramaala, followed by fellow gold medallist Henry Moyo which proves that Two Oceans is still a game for older people.
This was confirmed in the 70 + category by Mr Two Oceans Chet Sainsbury celebrating his 32 nd finish with 3 rd at 72. This was won by possibly the most remarkable performance of the day. Once again, Brian Key of Foresters Running Club won the 70 age group in a sub-5 hour time of 4:53'38, earning a Sainsbury medal at the tender age of SEVENTY FIVE.
A magnificent event catering for everyone above 18 years of age regardless of ability.
Report by Peter Wrensch