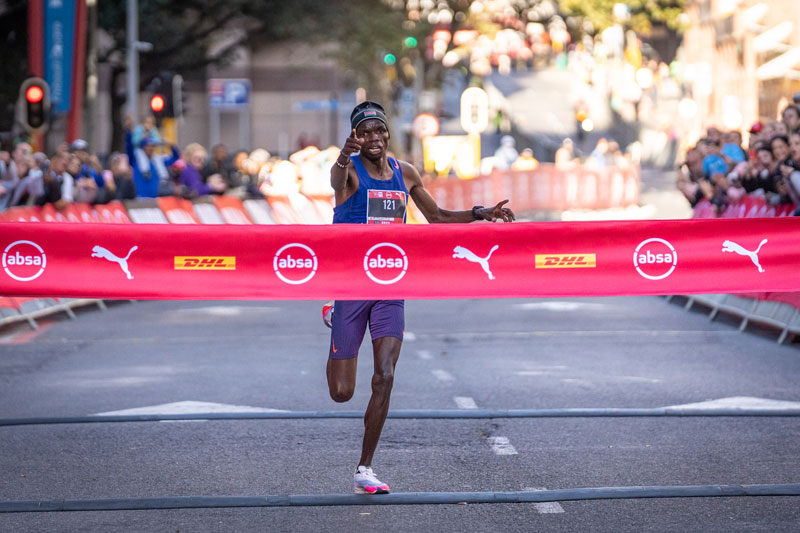 Cape Town – Kenya's Daniel Simiu Ebenyo lived up to the billing as race favourite while Uganda's Stella Chesang moved into new territory as she dragged compatriot, Jesca Chelangat to a sub 31min finish in the 2022 Absa RUN YOUR CITY CAPE TOWN 10K on Sunday 15 May.
Ebenyo crushes field as Chesang smashes All-Comers Record at Absa RUN YOUR CITY CAPE TOWN 10K
All ingredients were in place for fast times and exhilarating racing as a fast route, near perfect weather conditions and arguably the best field ever assembled on South African soil lined up at Woodbridge Island in Milnerton for the 9am start of the 7th annual Absa RUN YOUR CITY CAPE TOWN 10K. Clear skies greeted the 10 000 runners as they wound there way from Milnerton to the CBD of Cape Town to finish outside the Absa building at the bottom of Long Street.
While the masses enjoyed the running experience along the coastline and were able to fly on the highway on their own two feet and not in a car, the elite upfront were creating a storm. As expected, defending champion, Daniel Simiu Ebenyo was aggressive from the start. In typical Ebenyo fashion, the 26-year-old took control of the race from the gun – even earlier than in 2021. Whereas in 2021, Ebenyo flew away from the field after 3km, in this year's edition, he broke away from the bunch within the first kilometre.
Five kilometres came and went in 13:36 and the gap to the chasing pack was already 21 seconds. No one was able to catch the high-flying Kenyan as he entered the Mother City on his own. The revamped route proving to be every bit as fast as promised with less twists and turns and virtually no incline at all. Ebenyo took full advantage and was in full control of the race. At the 8km mark it appeared as if last year's runner up, Isaac Kipkemboi, was beginning to close the gap. But any thoughts of a possible late charge were quickly put to bed as Ebenyo hit the final kilometre in Long Street and opened the afterburners to fly across the line in 27:34. Only Joshua Cheptegei has gone faster on South African soil with his All-Comers record of 27:16, clocked in Durban in 2018.
Behind him, Isaac Kipkemboi of Kenya had to play bridesmaid yet again, but the Kenyan was exceptionally happy with his 28:04 time. Having the race of his life, local runner Anthony Timothy Timoteus was the first South African over the line in 5th, clocking 28:29, shaving almost 20seconds off his personal best time (previously 28:46).
While Ebenyo was utterly dominant in the men's race, the women's race was an altogether different affair. Race favourite, Genzebe Dibaba, holder of four world records, a world champion and an Olympic silver medallist, went straight to the front. The goal, a sub 31min if not a sub 30min 10km. The Ethiopian has only graced the roads on two occasions, clocking 14:48 for 5km in Carlsbad, USA in 2016 and winning the Valencia Half Marathon in January this year in 65:18. But she would not have things her own way, as 2018 Commonwealth Games 10 000m champion, Stella Chesang, a 31:14 10km runner (Absa RUN YOUR CITY DURBAN 10K, 2018), compatriot, Mercyline Chelangat (31:33) and defending champion, Jesca Chelangat, paid close attention to Dibaba. The women flew through 5km 15:15 before Dibaba started to push and opened a small gap over Chesang and the two Chelangats. But Chesang was having none of it, and quickly closed the gap and forged ahead. By 8km, Chesang was will in control of the race and ended with a massive personal best as she breasted the tape on 30:40 with Jesca Chelangat second in 30:48 – both breaking the All Comers record of 30:55 set by Stella Chepkuriu.
"I love racing in South Africa," said Chesang after the race. "I set my previous best here in Durban and have always run well here. I was very happy with my run and know I am in good shape now. Breaking 31minutes was my target and I did that."
"What a great showcase of the 2022 Absa RUN YOUR CITY CAPE TOWN 10K. Today was a true demonstration of what our campaign, Together we can be more, Siyabangena means. Through this race, we saw runners and walkers come out in numbers and become an active force for good, while working towards achieving their fitness goals. It was inspiring to see South Africans from all walks of life, young and old make their mark today. Congratulations and a big thank you to everyone who participated in the race, including all the Team Absa members who joined us on Strava – Our goal is to donate R1 for every km run by Team Absa members on Strava. We look forward to the next race in Kwa-Zulu Natal and hope to see colleagues, customers and community members joining us in July." says Absa Managing Executive, Geoff Lee.
image credit: Mark Sampson
Absa RUN YOUR CITY CAPE TOWN 10K Results
TOP 10 MEN
1 Daniel Simiu Ebenyo 27:34, 2 Isaac Kipkemboi 28:04, 3 Namakoe Nkhasi 28:24, 4 Asbel Kiprop Rutto 28:25, 5 Anthony Timoteus 28:29, 6 Stephen Mokoka 28:33, 7 Desmond Mokguba 28:35, 8 Reghen Magwai 28:40, 9 Thabang Mosiako 28:43, 10 Melikhaya Frans 28:43
TOP 10 WOMEN
1 Stella Chesang 30:40, 2 Jesca Chelengat 30:48, 3 Genzebe Dibaba 31:02, 4 Sarah Chelangat 31:35, 5 Mahlet Mulugeta 31:47, 6 Mercyline Chelangat 31:52, 7 Neheng Khatala 32:06, 8 Diana Chesang 32:48, 9 Tayla Kavanagh 33:02, 10 Glenrose Xaba 33:12
CHARITY SUPPORT: When entering the Absa RUN YOUR CITY CAPE TOWN 10K online entrants could choose to support five local charities: 1. Reach for a Dream (RFAD), 2. help2read, 3. Cotlands, 4. Cape of Good Hope SPCA and 5. Die Burger Kinderfonds.
NEXT UP: 2022 Absa RUN YOUR CITY Series
1. Absa RUN YOUR CITY DURBAN 10K
Date: Sunday 10 July 2022
2. Absa RUN YOUR CITY JOBURG 10K
Date: Saturday 24 September 2022